Veganism is trending in the hospitality industry – there's no arguing with that. And for a city such as New York, it's no wonder it keeps up with life without any problems. The bustling city that never sleeps is known to cater to the needs of everyone. And vegans have not been left out!
New York City is home to around 200 vegan restaurants – quite an overwhelming number if you ask me. And, of course, there are even more places that aren't 100% vegan yet offer several plant-based options. The opportunities in NYC are endless!
Top vegan restaurants in NYC
Over the last few months, we've gone over the best food establishments in different parts of the United States – Houston and San Francisco being some examples. This time, let's have a look at New York City.
It doesn't come as a surprise that NYC provides vegans with more options than we could wish for. From fast food places to fine dining restaurants, NYC has you covered. Whether you're in East Village, Manhattan, or on the south side of Brooklyn, there is most likely a plant-based restaurant not far from you. But which NYC vegan restaurants are worth checking out first?

Eat clean and leave a lasting impact on our planet. That is what the kosher and vegan restaurant Beyond Sushi lives by – well, we could call it a restaurant chain, as they have several locations in New York City.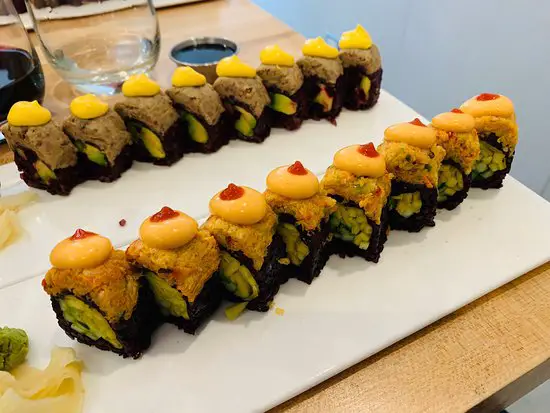 You would guess that the chain is all about sushi, but that's not entirely correct.
The plant-based establishment does serve beautiful sushi. Choose from classical flavors such as tuna and salmon. Or order rainbow and dragon specialty rolls. But the Japanese staple dish is not all you can find on the menu! The menu is globally inspired, featuring soups, bowls, shared plates, and lunch specials. And don't forget to leave room for dessert. 
All the locations host a happy hour. So, if you're on a budget but still wanna try Beyond Sushi, pop by one of their restaurants on weekdays from 5 to 6.30 PM.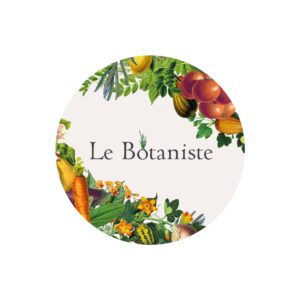 Le Botaniste is an organic, plant-based, and carbon-neutral restaurant in New York City. The establishment recognizes that our diets not only directly affect our health but also our planet. With 4 locations in the city, you can find them in the Upper East Side, Upper West Side, Soho, and Midtown East.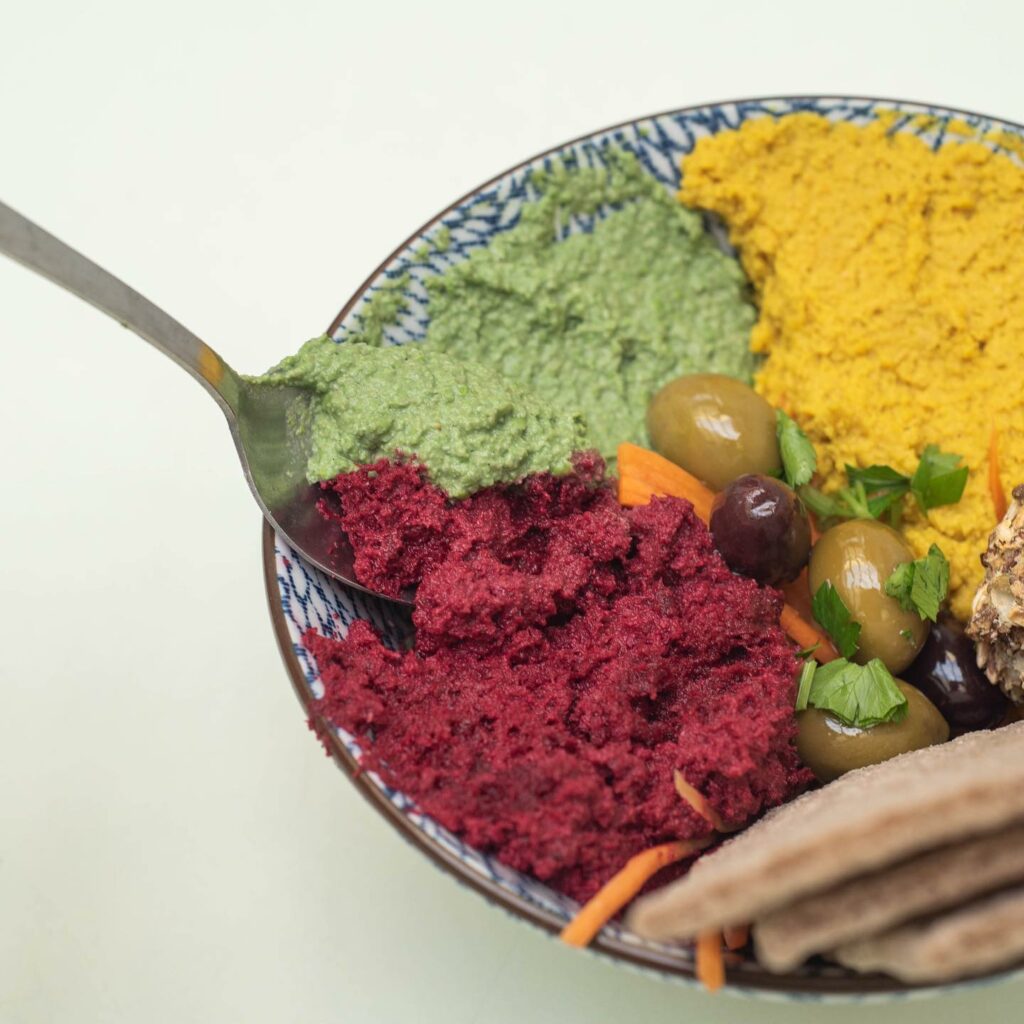 Le Botaniste proves that healthy and clean food doesn't have to lack taste. They offer delicious starters such as turmeric lemon hummus and coconut ceviche – both served with a gluten-free cracker. Once you're done with your chosen starters, order one of their colorful bowls. Their botanical salad containing salad mix, quinoa, superseed avocado, root veggies, turmeric onions, red sauerkraut, pea shoots, and saffron aioli dressing sounds so tasty! Additionally, you can find daily specials and plates to share on the menu.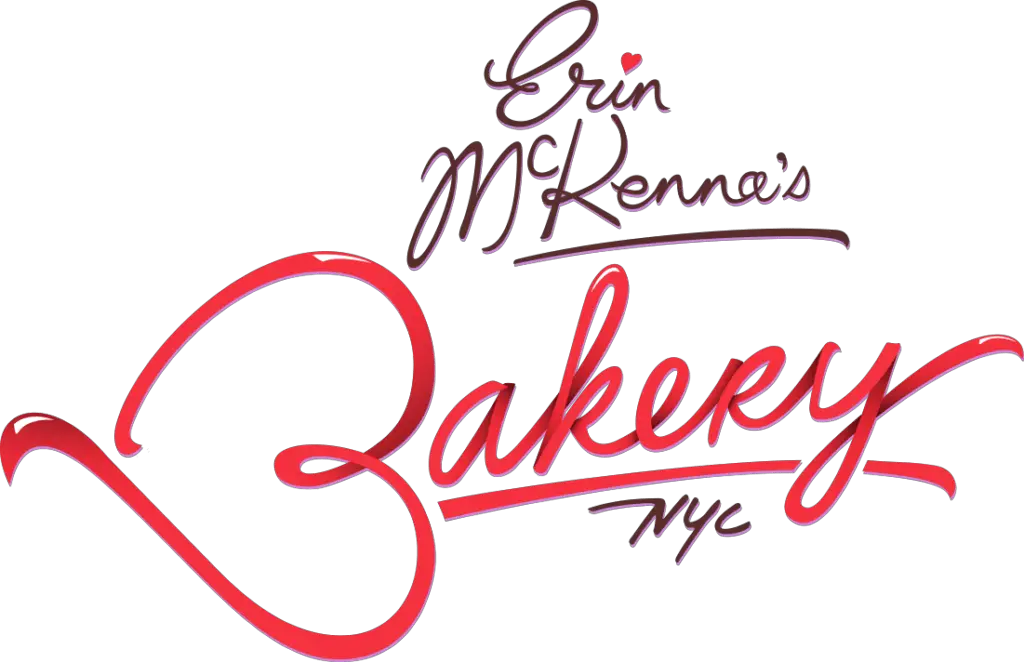 I don't know about you, but nowadays, I get more excited running into a vegan bakery rather than a vegan restaurant. Not because I don't appreciate savory food, but getting your hands on a vegan dessert is usually trickier than finding a vegan dish.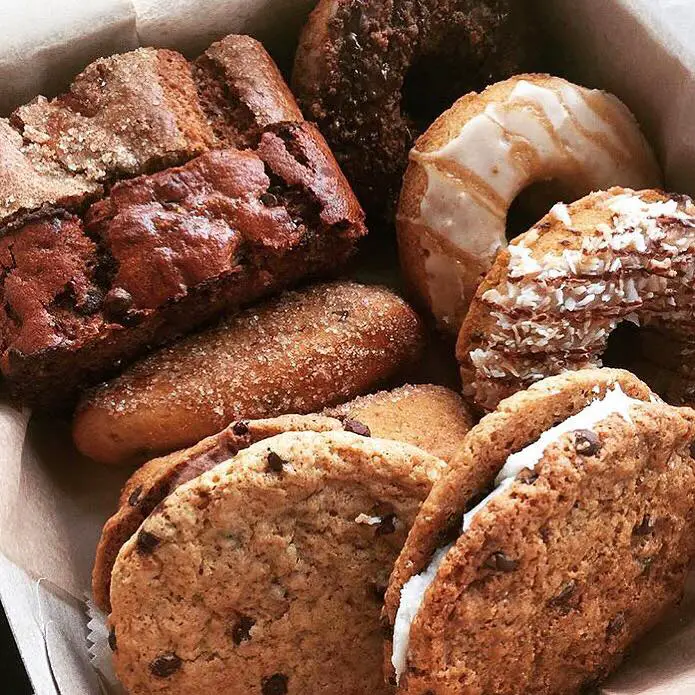 Unlike traditional baking, Erin McKenna uses no eggs or milk when baking its confectionaries – everything is free from animal-based ingredients and 100% vegan! The stunning little bakery sells donuts, cookies, cupcakes, loaves, and slices of cake. With more flavors than you can count, there is anything your sweet tooth might crave. They even offer a few savory bites!
As I said, everything at Erin McKenna is vegan – but that's not all. Everything sold at the bakery is also kosher and gluten-free! Can it get any better than that?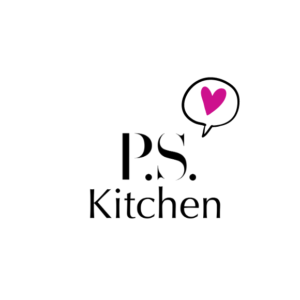 P.S. Kitchen is another 100% vegan restaurant that has won the hearts of New Yorkers. The restaurant and bar has a sophisticated atmosphere, and the vegan menu offers seasonal and globally inspired dishes.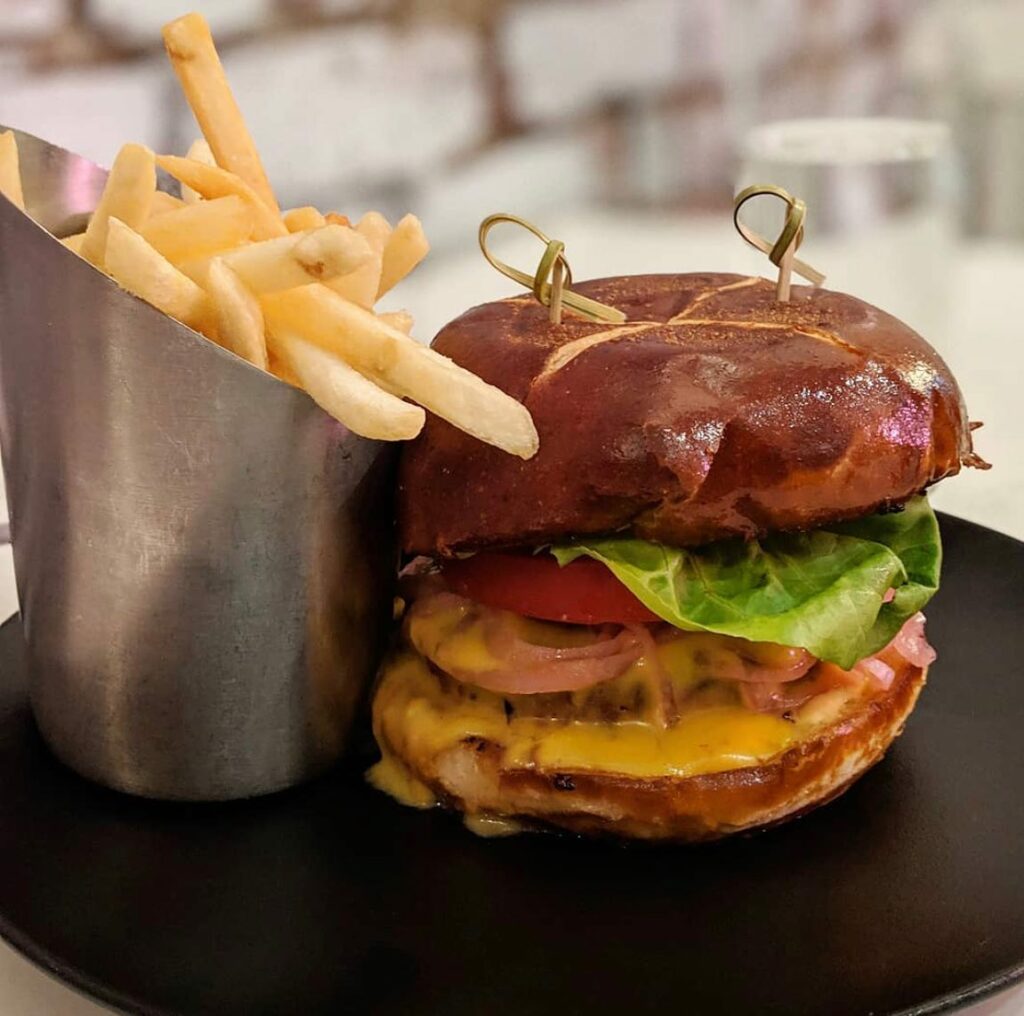 While the menu might look simple and not that exciting at first glance, every dish has been crafted to perfection. Whether you choose one of their burgers, wraps, or salads or go for french toast, your tastebuds will be pleasantly surprised. And the artisanal dishes always come served so well you almost don't want to eat the food and ruin the presentation.
Good food is a base for success for every business in the food industry. But the values and mission of the business are just as important. And the values of P.S. Kitchen are something we can admire. The plant-based restaurant isn't just committed to providing New Yorkers with food that is good for them and the planet. They also create jobs for those marginalized in New York and donate all the profits to sustainable charity work.

Bar Verde is a must-visit place for all New Yorkers who love Mexican food. The establishment takes traditional Mexican cuisine, adds inspiration from other Latin countries, and gives it a vegan twist. The result? Mouthwatering and filling plant-based Mexican staple dishes!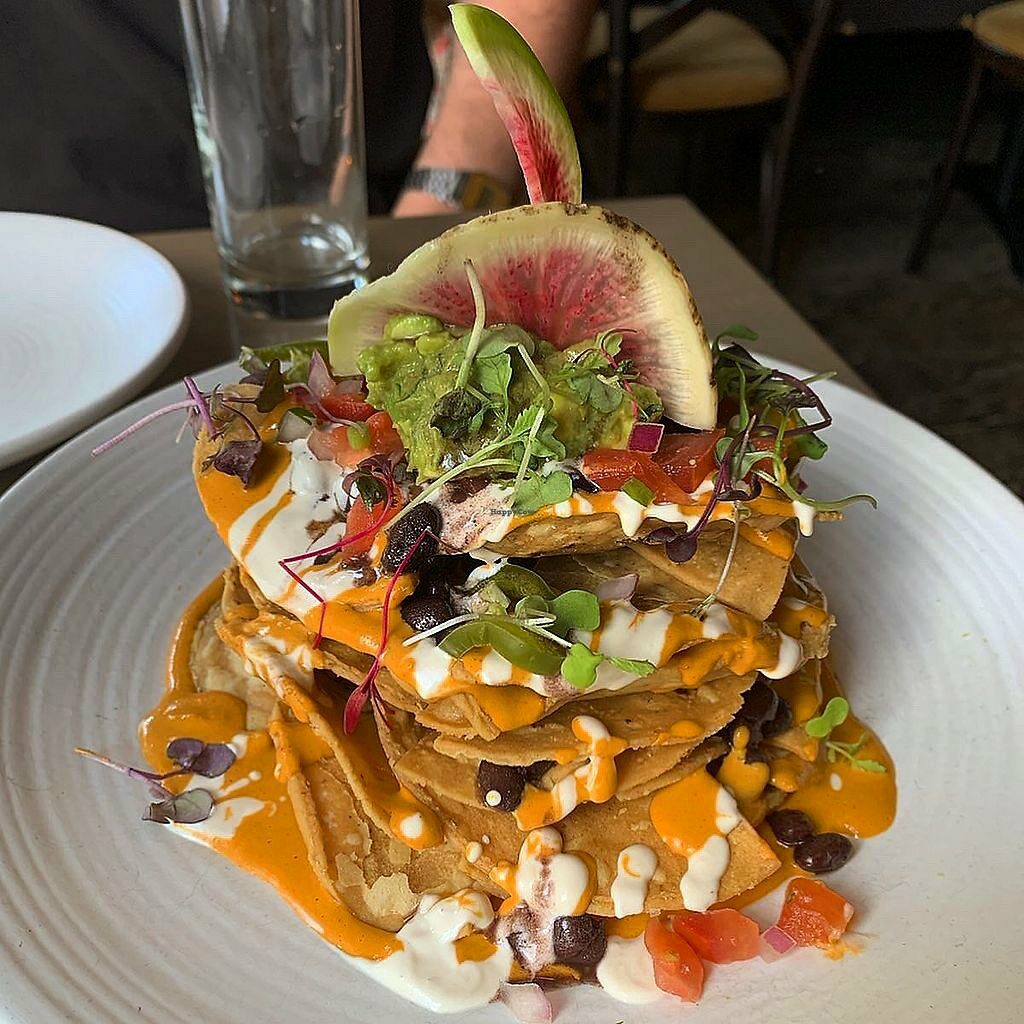 Bar Verde is a brilliant place to visit with friends, family, or anyone else. The more people with you, the more plates you can order to share – you don't want to miss out on the guacamole, blue corn tostadas, and hearts of palm ceviche! But the choice isn't just limited to shared plates. The restaurant serves many different and unique main courses. Balance it all together with a drink of organic and sustainable tequila.
It's fair to say that Bar Verde is one of the top-rated vegan places in NYC for a reason. The food is amazing, the environment is warm and laid-back, the prices aren't outrageous, and the service is always friendly.
Best vegan restaurants in NYC Manhattan
NYC is huge, to put it simply, and driving from Staten Island to Queens to grab dinner isn't that convenient. Luckily for us, there is no need for that – there are plenty of plant-based options in every district of New York. To make choosing a restaurant easier for you and give you more inspiration, we've put together an extra list of vegan places in each district. We've left out the establishments already mentioned above. So, what are the best vegan restaurants in Manhattan?
Best vegan restaurants in NYC, Brooklyn
Brooklyn does not disappoint plant-based people, either. There are plenty of plant-based restaurants, fast-food places, and pizzerias to choose from. Here are some you should visit the next time you find yourself in Brooklyn.
Best vegan places in NYC, Queens
While finding vegan options at restaurants is not challenging in Queens, the district doesn't come with many places that are 100% plant-based. But the following two are full of tasty vegan food!
Best vegan restaurants in NYC, Bronx
Vegans don't have to starve in the Bronx, NYC, either. The district is home to a few vegan restaurants.
Best vegan restaurants in NYC, Staten Island
Staten Island doesn't offer us nearly as many 100% vegan restaurants as Manhattan does, but there are still a few. And they are worth a visit!
Frequently Asked Questions
How many vegan restaurants are in NYC?
New York is home to many 100% vegan establishments. There are around 200 plant-based restaurants in the city, to be exact. You can check the number of vegan-friendly places anywhere on Happycow.