Funyuns were one of my favorite chip snacks as a kid, I remember going to a little no-name supermarket near my house with my mom quite often to share a bag because she loved them as well. Oddly enough I have never met someone other than us in real life that liked them.
I'm no longer a fan though, as Funyuns are not vegan. 
I wouldn't have ever known they contained milk if not for me being a statistic-gathering data-hog that looked at every ingredient and nutrition label before I have it and frequently check-up on things. I've always been that way even before going vegan. 
I mean, why would Onion flavored corn rings (Funyuns) have milk in them?
It seems absurd to me, but that's unfortunately the case.
The Full ingredient list for Funyuns is: Enriched corn meal (corn meal, ferrous sulfate, niacin, thiamin mononitrate, riboflavin, and folic acid), vegetable oil (corn, canola, sunflower, and/or soybean oil), salt, corn starch, soy flour, sugar, corn flour, onion powder, buttermilk, maltodextrin (made from corn), hydrolyzed soy protein, monosodium glutamate, dextrose, caramel color, partially hydrogenated soybean oil, natural flavors, garlic powder, turmeric, gum arabic, and extractives of onion.
What about Flamin' Hot Funyuns?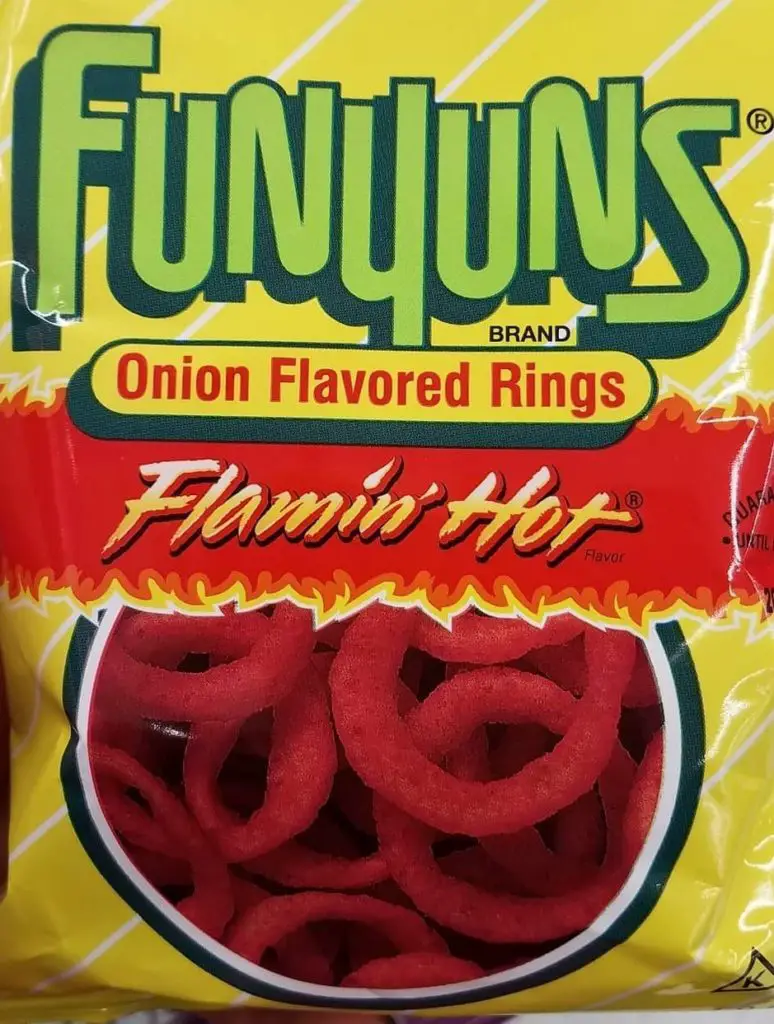 I never actually had these before, but apparently they're a thing. Fritolay, Funyuns parent company, seems to have a Flamin' hot version of EVERYTHING they sell now.
Unfortunately Flamin' Hot Funyuns are also non-vegan.
Not only do they contain buttermilk like the original Funyuns do (and thus milk/dairy), but they also contain Whey, Skim milk, and Cheddar Cheese.
While I'd expect them to also have buttermilk as the original ones do they have multiple other dairy products in them, and cheddar cheese? Now that's definitely not what I would have expected.
The full ingredient list for Flamin' Hot Funyuns is: enriched corn meal (corn meal, ferrous sulfate, niacin, thiamin mononitrate, riboflavin, folic acid), vegetable oil (corn, canola, sunflower and/or soybean oil), salt, less than 2% of the following: corn starch, corn flour, buttermilk, sugar, monosodium glutamate, yeast extract, cheddar cheese [milk, cheese cultures, salt, enzymes], artificial color [red 40 lake, yellow 6 lake], citric acid, whey, onion powder, maltodextrin (made from corn), lactose, garlic powder, natural and artificial flavor, skim milk, sodium diacetate, gum arabic, extractives of onion.
Are there any vegan products like Funyuns?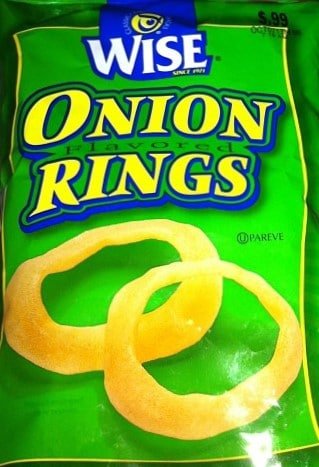 There's plenty of copy-cats of Funyuns, but most contain whey and thus aren't vegan either, however there's a few that aren't.
Trader Joes's has some, but when I tried them awhile back they weren't very similar and if I remember correctly tasted too onion-like in my opinion, but they're not consistently sold anyhow so they're hard to find.
Other than those the only onion ring Funyun type vegan snack I was able to find that is sold more than locally is the pictured brand above. Wise Onion Rings are vegan.
I've never personally seen them, however this is because I don't live on the east coast of the USA and they're typically only sold in the states that are on the Atlantic Coastline.
If you're there they're apparently pretty common and can be found in less big-name grocery stores, as well as Walmart and Rite Aid.
If not, like me, and you want to try them you can find them on Amazon (click here), although they aren't sold individually so unless you're having a party, a Funyun addict in need of a vegan alternative, or a store owner, it might not be right for you.  But if you like them per bag they aren't really expensive at all.