Hot Cheetos were always extremely popular in everyone else's family but mine. For whatever reason, despite us not being against spicy food and despite growing up eating cheetos we never had the spicy variety. Everyone in my school classes had them and loved them, and I remember they'd often leave cheeto-dust on many things as quite frankly nobody ever washed their hands from what I saw (eewww!) at my school. It's one of the things I remember most about elementary school. Those Flamin' Hot Cheetos marks on my notebook from a classmate.
Despite them being everywhere in school I have NEVER to this day ever had a Flamin' Hot Cheeto.
It looks like I never will either as Flamin' Hot Cheetos are NOT vegan.  Well, at least the crunchy normal ones aren't. There are some that are though! I'll talk more about that below.
They contain whey protein concentrate, regular whey, Cheddar cheese, and buttermilk, all making them non-vegan. You can see on most bags of Cheetos they say "Made with Real Cheese" which, well, since apparently "real" cheese is cheese that's made out of cow-milk, they're not vegan.
The full Ingredient list for Flamin' Hot Cheetos is: Enriched Corn Meal (Corn Meal, Ferrous Sulfate, Niacin, Thiamin Mononitrate, Riboflavin, and Folic Acid), Vegetable Oil (Corn, Canola, and/or Sunflower Oil), Flamin' Hot Seasoning (Maltodextrin [Made From Corn], Salt, Sugar, Monosodium Glutamate, Yeast Extract, Citric Acid, Artificial Color [Red 40 Lake, Yellow 6 Lake, Yellow 6, Yellow 5], Sunflower Oil, Cheddar Cheese [Milk, Cheese Cultures, Salt, Enzymes], Onion Powder, Whey, Whey Protein Concentrate, Garlic Powder, Natural Flavor, Buttermilk, Sodium Diacetate, Disodium Inosinate, Disodium Guanylate), and Salt.
Some Hot Cheeto also have lime seasoning on them, such as the ones pictured above, although their ingredients otherwise are the same.
Are Hot Cheetos Vegan Anywhere In The World?
While Hot Cheetos in the US, Canada, Mexico, and pretty much everywhere in the world are never vegan, the UK pulls through once again and has a vegan version of them.
If you're from the UK or are buying them in the UK there are some that are in fact vegan. Check the back and make sure there's no "made with real cheese" tagline on the front of the bag as it can vary, but the flamin' hot cheeto puffs in the UK are typically Vegan.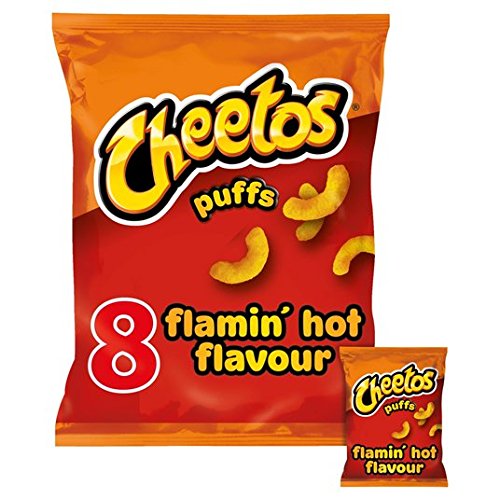 If you aren't from the UK, you're mostly out of luck. You won't be able to find vegan hot Cheetos in any stores, however if you really want some hot cheeto's you can buy them online such as on Amazon. To my surprise they aren't too expensive despite being imported from the UK, so if you really were a fan on them or want to try them then here's your way. The only vegan ones for sale that I could find are sold here on Amazon.
I haven't personally tried them and never tried the US/Canadian (non-vegan) ones so I can't say how similar they are, but apparently they aren't too similar though and are more barbecue-like than cheesy, but apparently still good. So they might not exactly fit the niche you're looking for if you liked hot Cheetos, but I mean they're technically vegan hot Cheetos.
Any Other Options?​
Unfortunately without going into recommending a completely different type of chip/snack (such as BBQ flavor, or generic jalapeno flavor) there's only one other option, and that's specifically Flamin' Hot Munchos Potato Crisps, which cannot be ordered online from Amazon or anywhere easy, so if you want to give them a shot you'll have to try to find them at Walmart or Target, although they're not a standard product for their stores so there's a good chance they do not have them.
In the UK, there are vegan flavors available, or you can order from Amazon. The most important thing is to look for a package that has no "Made with real cheese" tag on it. Also check the ingredients list to make sure there is no cheddar cheese, buttermilk, protein concentrate or regular whey in it.
Are Flamin hot Cheetos vegan?
They contain whey protein concentrate, regular whey, Cheddar cheese, and buttermilk, all making the Flamin Hot Cheetos non-vegan.
Are hot Cheeto puffs vegan?
The standard ones that have "Made with real Cheese" on the packaging are not vegan. You can get a vegan version in the UK or on Amazon.
Are baked hot Cheetos vegan?
Unfortuantely they contain Cheddar cheese, whey protein concentrate, buttermilk and regular whey as well, so they are not vegan.