Nerds are something almost everyone in the west has had as a child, and I must say it was one of my favorite candies as a child. I always preferred sweeter candies rather than chocolate ones. But are Nerds vegan?
Unfortunately, Nerds generally are not vegan. This is because they're sold with multi-colors/flavors, and almost always contain a red or pink flavor which has carmine in it, and carmine is not vegan. Nerds may also contain traces of egg because of their location in the manufacturing plant that produces products containing egg.
The full ingredients list for the typical strawberry & grape nerds package is as follows:
Dextrose, Sugar, Malic Acid, Less than 2% of: corn syrup, natural flavors, carnauba wax, color added: Blue 1 Lake, Blue 2 Lake, Red 40 Lake.
So are Nerds Never Vegan?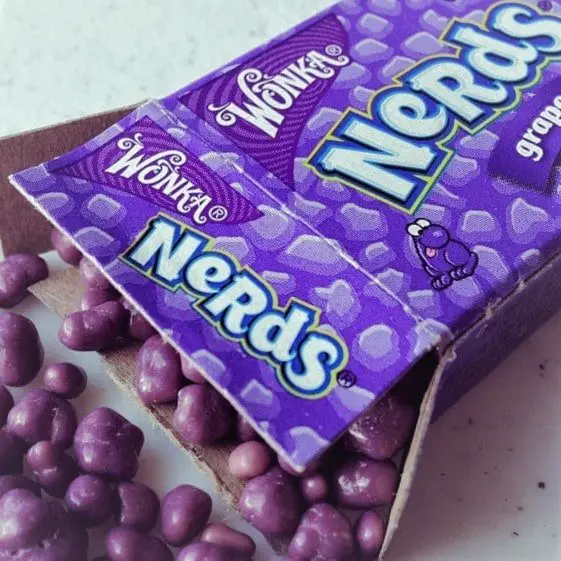 Nerds aren't always vegan, but they can be! You can buy specific flavors online such as on Amazon. The only flavor that I could find on Amazon which does not contain Carmine is the Grape mini-boxes. The Strawberry nerds are the ones that contain the Carmine, while the grape nerds only contain two coloring agents (blue and red 1/2), and thus the grape ones are vegan while the strawberry ones aren't.
While I have never seen them sold individually Amped Apple & Road Rash Raspberry should also be vegan as they do not have any red/pink pigments. They're generally sold bundled with another flavor that contains carmine though, which isn't vegan. 
Are Nerds Ropes vegan?

Nerd Ropes aren't vegan either, and there's no chance of finding one that is vegan.
Nerd Ropes generally contain tons of colors rather than the individual specific colors which are vegan, so they all have carmine coloring in them which is not vegan. They also are made with Gelatin which also isn't vegan.
The full ingredients for nerd ropes are as follows:
Dextrose, Sugar, Corn Syrup, less than 2% of: Malic Acid, Gelatin, Confectioner's Glaze (Lac-Resin), Glycerin, Citric Acid, Carnauba wax, natural flavors, color added: Carmine color, blue 1 lake, blue 1, blue 2 lake, red 40 lake, red 40, yellow 5 lake, yellow 6.
Are Nerds Gummy Clusters vegan?
It's – unfortunately – not a hard question. Nerds Gummy Clusters aren't Vegan for sure. It contains gelatin and carmine, so It is not even vegetarian.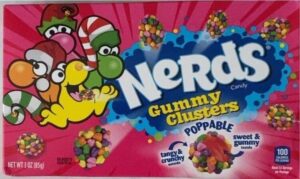 Conclusion: Which Flavors of Nerds Are Vegan?
Unfortunately, not many. Generally, everything that contains red colors – in that case, carmine – isn't suitable for Vegans. So, what's left for us? The grape flavor is definitely vegan and not only plant-based but It's delicious!
The Nerd Rope is another question. None of them are cruelty-free since there are many kinds of flavors in one package. They are not even vegetarian, since they contain gelatin as well.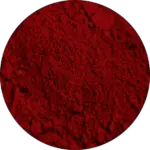 What's the wrong with gelatin and carmine?
Gelatin is a flavorless food ingredient, commonly derived from collagen taken from animal body parts.
Carmine is extracted from some scale insects such as the cochineal scale
How to Tell if Candy Is Vegan?
Definitely, the easiest way to make sure that It's vegan if it has a "Vegan" label on the package. However, there are many candies that are cruelty-free but don't have a label. How to find them? Check the ingredients carefully! Most of the candies contain the following animal ingredients commonly:
Carmine
Gelatin
Confectioner's glaze (It comes from bugs as well)
Dairy (luckily they are allergen, so they are marked with bald letters)
Honey
Bone char
The last one is a tricky one, unfortunately, since they ad it to the white sugar, to make it brighter. So It does not appear on the list as an ingredient.
What Candies Are Vegan?
We already found plenty of brands that are certainly vegan, or at least, they have animal-free flavors. Here is our list and link to the detailed explonation:
Of course, there are plenty of other vegan candies out there. If you have any suggestions, feel free to contact us and we can make this list much-much longer!