Nerds are something almost everyone in the west has had as a child, and I must say it was one of my favorite candies as a child. I always preferred sweeter candies rather than chocolate ones. But are Nerds vegan?
Unfortunately, Nerds generally are not vegan. This is because they're sold with multi-colors/flavors, and almost always contain a red or pink flavor which has carmine in it, and carmine is not vegan. Nerds may also contain traces of egg because of their location in the manufacturing plant that produces products containing egg.
The full ingredients list for the typical strawberry & grape nerds package is as follows:
Dextrose, Sugar, Malic Acid, Less than 2% of: corn syrup, natural flavors, carnauba wax, color added: Blue 1 Lake, Blue 2 Lake, Red 40 Lake.
So are Nerds Never Vegan?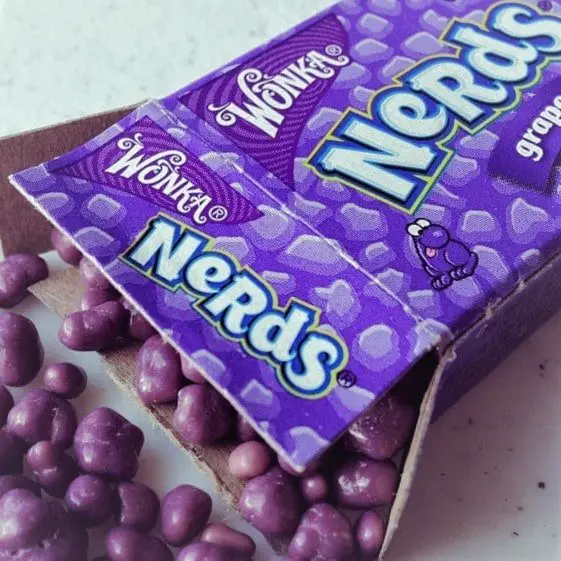 Nerds aren't always vegan, but they can be! You can buy specific flavors online such as on Amazon. The only flavor that I could find on Amazon which does not contain Carmine is the Grape mini-boxes. The Strawberry nerds are the ones that contain the Carmine, while the grape nerds only contain two coloring agents (blue and red 1/2), and thus the grape ones are vegan while the strawberry ones aren't.
While I have never seen them sold individually Amped Apple & Road Rash Raspberry should also be vegan as they do not have any red/pink pigments. They're generally sold bundled with another flavor that contains carmine though, which isn't vegan. 
Nerd Ropes aren't vegan either, and there's no chance of finding one that is vegan.
Nerd Ropes generally contain tons of colors rather than the individual specific colors which are vegan, so they all have carmine coloring in them which is not vegan. They also are made with Gelatin which also isn't vegan.
The full ingredients for nerd ropes are as follows:
Dextrose, Sugar, Corn Syrup, less than 2% of: Malic Acid, Gelatin, Confectioner's Glaze (Lac-Resin), Glycerin, Citric Acid, Carnauba wax, natural flavors, color added: Carmine color, blue 1 lake, blue 1, blue 2 lake, red 40 lake, red 40, yellow 5 lake, yellow 6.