Ring pops were always a rare occasion in my family, I'd like to say it was because they were messier than other candies, which was true (shockingly), but in reality it was because my dad wouldn't ever buy them since they costed more than other candy.
Classic Ring Pops are in fact vegan. As far as I've found all flavors are vegan everywhere that they're sold. Ring Pops don't include any commonly used non-vegan ingredients such as gelatin or carmine in them. There has been history of certain food coloring categories that have tested on animals but there has not been any published testing within the past couple years.
The full list of ingredients for Ring pops is: Sugar, Corn Syrup, Lactic Acid, Sodium Lactate, and depending on the flavor can also contain Artificial Flavor, Tumeric, Blue #1, Natural Flavors, Red #3, and Red #40.
What about Ring Pop Gummy's?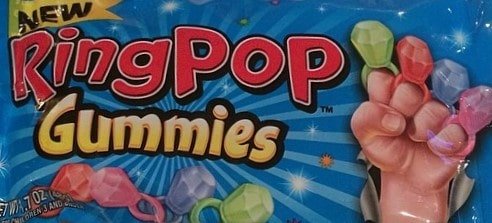 Ring Pop Gummies are NOT vegan. I didn't even know they existed until researching into ring pops for this article, but they are apparently a thing.
Ring Pop Gummies aren't vegan because they contain Gelatin in them. Most gummy candies contain gelatin and as gelatin is made from boiling bones it is not vegan.
The full ingredients for Ring Pop Gummies are: Glucose Syrup, Sugar, Water, Gelatin, Sorbitol, Citric Acid, Malic Acid, Artificial Flavor, Pectin, Palm oil, Carnauba Wax, Red #40, Yellow #5, and Blue #1.
Where can you buy Ring Pops?
Ring pops aren't the easiest candy to find, but they aren't the hardest to find either.  They can usually be found at CVS/Walgreens, sometimes at Grocery/Department oriented stores such as Walmart or Target, but rarely are found at strictly grocery stores such as Kroger's.
You can also buy them for relatively cheap online at places such as Amazon (click here to view on Amazon). Unlike most candies, you can buy just a couple rather than having to buy in bulk, although they sell in bulk too, so they're a pretty good option if you just want a couple for nostalgia reasons.