I'm not a big fan of fizzy drinks and never have been, but I do have to admit a can of regular coke every now and then is my guilty pleasure. With their products on the market in more than 200 countries, Coca-Cola Company is known to us all and many of us love their iconic soft drinks. But is coke vegan?
Should vegans find a new favorite beverage or give up soda addiction altogether? No need for that, all the classic coke drinks are vegan-friendly just like Monster Energy and Full Throttle. Although there are some drinks produced by this huge beverage corporation that are not free from animal derivatives. The company has stated that ¨the vast majority of our drinks, including Coca-Cola, are suitable for vegetarians and vegans¨.
This is pretty much the only soda I drink, maybe a bit more than I should. I was slightly surprised when I had a look at the ingredients list for the first time. There are only 6 of them, I had always assumed it contained loads more. Lets look through them and see whether they're all vegan-friendly or not.
Carbonated Water – Water containing dissolved carbon dioxide gas, completely vegan.
High Fructose Corn Syrup – According to the official Coca-Cola American website, the sugar in coke is high fructose corn syrup. Meaning we don't have to worry about the potential use of bone char.
Caramel Color – Unlike actual caramel, caramel color is suitable for vegans, so try not to mix those two up. Caramel color is made by heating simple sugars such as

glucose, fructose, malt syrup, or molasses.

Phosphoric Acid – A mineral acid derived from inorganic phosphate rocks. Small amounts are commonly added to soft drinks to give them that sharp flavor.
Natural flavors – A gray area for vegans as natural flavors are often plant-based but can also come from sources such as eggs, meat, dairy, fish. The specific flavors that Coca-Cola uses remain a well-kept secret. However, the company has stated that the classic coke is suitable for vegetarians and vegans. I reckon we don't need to worry about this.
Caffeine – Can be found in more than 60 plant species, suitable for vegans.
So it looks like the answer is: yes, the classic Coca-Cola is vegan! I'm not the only one who let out a big sigh of relief here, right?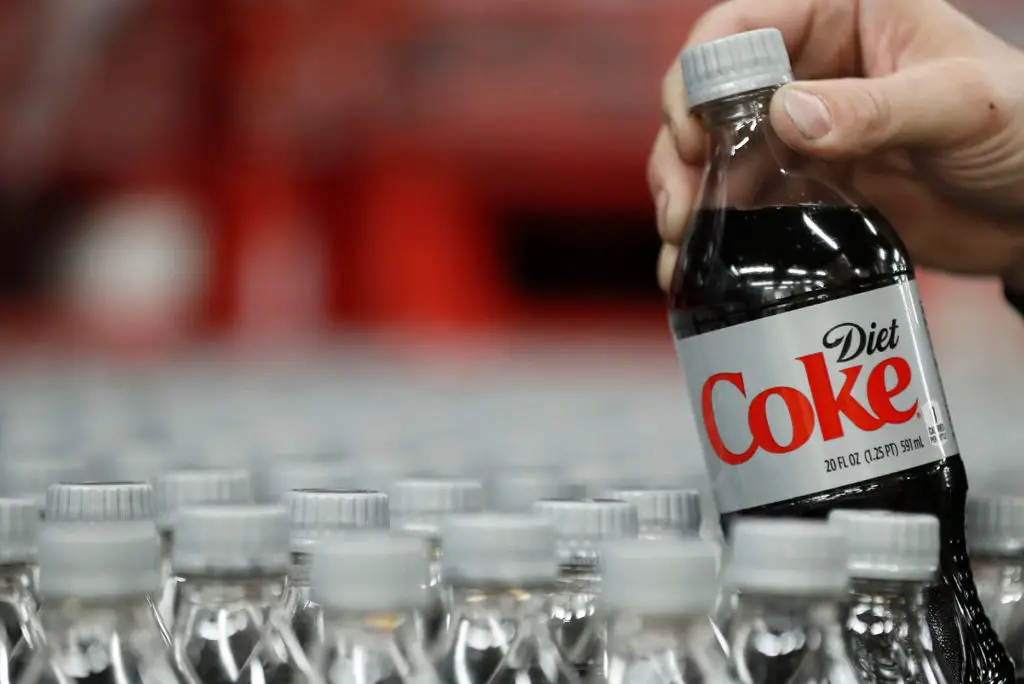 This no-calorie alternative to regular coke contains a few other components that we don't see in the classic drink. Here is the whole list of ingredients.
Carbonated water, caramel color, aspartame, phosphoric acid, potassium benzoate (to protect taste), natural flavors, citric acid, and caffeine. Contains a source of phenylalanine.
Basically, they have just added some artificial sweeteners here to avoid using sugar. One of them can be a bit troubling for vegans for ethical reasons. 
Aspartame – An artificial sweetener commonly used as a sugar substitute. While it is not animal-based, it has been widely tested on animals.
Many reach for diet coke as it's often seen as a ¨healthier¨ choice compared to regular coke, which certainly isn't the case. But looking purely from a vegan perspective, I have to give the green light. There are no direct animal products found here.
Is coke zero sugar vegan?
The following list of ingredients has been taken from Coca-Cola's official website.
Carbonated water, caramel color, phosphoric acid, aspartame, potassium benzoate, (to protect taste), natural flavors, potassium citrate, acesulfame potassium, caffeine. Contains

phenylalanine.
This list is quite similar to diet coke and we're happy to see that none of these components are sourced from animals. Meaning we can continue to enjoy this popular Coca-Cola drink too!
Flavored Coca-Cola drinks
Now, these drinks are not my cup of tea. But some people prefer flavored drinks to those classic ones mentioned above. Are these vegan as well, or something you should avoid?
Coca-Cola Cherry –  Carbonated water, high fructose corn syrup, caramel color, phosphoric acid, natural flavors, caffeine.
Coca-Cola Vanilla – Carbonated water, high fructose corn syrup, caramel color, phosphoric acid, natural flavors, caffeine.
Coca-Cola Cherry Vanilla – Carbonated water, high fructose corn syrup, caramel color, natural flavors, phosphoric acid, caffeine

.
All those different flavors share the exact same ingredients, all of which we have already covered. So we're in luck, the flavored Coca-Cola beverages are vegan too!
Coca-Cola non-vegan drinks
It is worth keeping in mind Coca-Cola Company is a massive beverage corporation with well over 200 brands and there are a few products that are not free from animal-based ingredients. For example, small traces of fish gelatin can be found in Lilt and Schweppes Orange Squash. Gelatin can be used as a stabilizer, as a gelling agent, or to create a beta-carotene color. Milk and vitamin D from lanolin can also be found in some of the drinks.
Here is a list of non-vegan beverages published by the Coca-Cola U.K website.
Lilt and Lilt Zero

Kia-Orange Orange Squash No Added Sugar

Schweppes Indian Tonic Water and Schweppes Orange Squash

Honest Lemon and Honey

Glaceau Vitaminwater Zero Sunshine and Multi V

Costa Coffee Ready-to-Drink Latte, Caramel Latte, and Americano.
For some reason, there isn't a list like that on the American website. Nevertheless, after some research, those seem to be the drinks to avoid in the United States.
Minute Maid Juices To Go Ruby Red Grapefruit Drink

Jugos del Valle Strawberry Banana Juice Nectar

Jugos del Valle Strawberry Juice Nectar

Far Coast (World of Coca-Cola only)

FUZE Refresh

Minute Maid Fruit and Creme Swirls
Frequently Asked Questions