Thanks to its creamy texture and rich mix of flavors blended together perfectly, pesto sauce is beloved all around the world. But is pesto vegan? This sauce has several different varieties but whether you prefer basil pesto or red sun-dried tomato pesto – one of the main ingredients in this Italian sauce is a hard cheese. 
Is pesto vegan?
Parmesan cheese and Pecorino Sardo are most often used. And it is not uncommon to find animal-based flavoring in pesto, either. So it's easy to see that most pestos aren't vegan.
While traditional pesto contains dairy and isn't suitable for people following a vegan diet, it is easy to make your own vegan-friendly version of this savory sauce! It's not impossible to find plant-based jars in grocery stores either.
Is traditional pesto vegan?
Originating in Genoa, pesto sauce is definitely not only loved by Italians. This creamy sauce is perfect in everything – whether you add it to your pasta, use it as a pizza sauce, spread it on your sandwich, or dip your veggies into. Honestly, the possibilities are endless.
Traditionally pesto recipe consists of pine nuts, basil, crushed garlic, salt, olive oil, and firm cheese such as Parmesan or Pecorino Sardo. Cheese gives pesto its creamy texture and enhances its flavor. And obviously makes the sauce non-vegan as it contains dairy.
When it comes to pesto jars sold in grocery stores, it isn't that uncommon to see different flavorings derived from animal-based sources such as dairy, eggs, or meat in the ingredients list either. So most pestos found in stores or used in restaurants are sadly not vegan-friendly. I was very disappointed but not surprised to discover that my favorite Mellow Mushroom pesto isn't an exception as it contains dairy and eggs.
Homemade vegan-friendly pesto
Just because the traditional recipe for pesto calls for cheese doesn't mean that we need to boycott the sauce altogether. Pesto is one of those things that is so simple to veganize. We just need to either leave out the cheese or find a plant-based alternative to swap it with.
To make your own creamy pesto sauce in the comfort of your home without any kind of animal cruelty being involved, you'll need the following ingredients.
Fresh basil leaves – To give your sauce that gorgeous green color and rich flavor.
Pine nuts – This adds a note of nutty flavor that's important in pesto. You can also swap the pine nuts with walnuts, cashews, or even sunflower seeds if you'd like to.
Garlic – Well, because no Italian dish is quite right without it. Have you ever had pesto that didn't have that strong hint of garlic?
Nutritional yeast – You can simply leave out the cheese in your sauce. But nutritional yeast is a brilliant thing to replace it with! It has a strong cheesy flavor to it so will greatly help to make your pesto taste like the real thing. And the taste isn't the only great thing about nutritional yeast – it is also rich in different vitamins, especially B12.
Olive oil – To blend all the tastes together. You can also use other high-quality oils if you're not a fan of olive oil.
Salt and pepper – I don't think this one needs any explaining. Everything needs some seasoning.
Lemon juice – This is optional, but just a drizzle of lemon juice really brings it all together.
Simply throw all the ingredients in the food processor and blend them together. Or you can use a mortar and pestle if you want to do it in the old-fashioned traditional way. Here is a quick and easy way to make your pesto, and if you've got a bit more time on your hands, why not try out this vegan pesto pasta recipe?
Vegan-friendly jarred pestos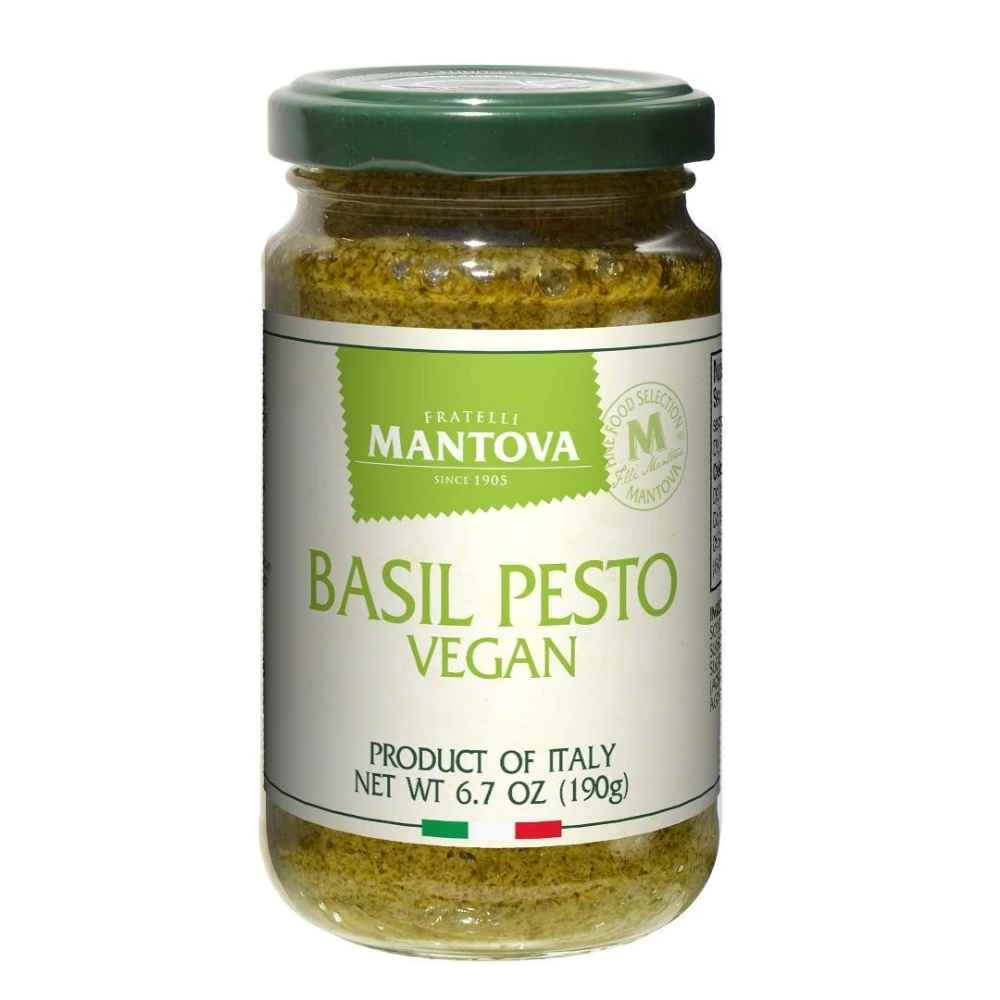 We don't always have the time or energy to mess around in our kitchens and make everything from scratch – there is nothing wrong with that. Sometimes it's just easier to grab everything ready-made from the grocery store on your way home from work and have a quick meal once you get home. 
Fortunately for us – there are also several plant-based pestos available in supermarkets. Here are just a few that I have tried and would definitely recommend.
Legnano Vegan Green Pesto Alla Genovese – This authentic Italian pesto has been my go-to pesto sauce for a very long time now. What makes it even better, is the fact that it's GMO-free and suitable for gluten-free folks.
Mantova Vegan Basil Pesto – Again, a product of Italy that has that traditional pesto flavor. It's rather affordable compared to some other vegan pestos – that's always a plus, right?
Sacla Free From Basil Pesto – This is not only dairy-free but also free from wheat and gluten. It seems like the traditional cheese has been replaced with tofu here, and you really couldn't tell the difference.
Zest Vegan Basil Pesto – This jar of green heaven is made using brazil nuts, cashew nuts, and hazelnuts.
Non-vegan jarred pestos to avoid
As we already covered above, most pesto sauces are not vegan-friendly due to containing dairy and sometimes other animal-based ingredients. So it's impossible to list all of the non-vegan pestos. But lets go through some of the most popular pestos that you can find on the shelves in your nearest grocery store – you can walk right past them next time and not waste any time reading through the list of ingredients.
Classico Traditional Basil Pesto
Barilla Basic Basil Pesto
Prego Basic Pesto
Mezzetta Basil Pesto
All those pesto sauces contain cheese as one of their main ingredients and are very easily identified as non-vegan.
Frequently Asked Questions
No, pesto is not traditionally vegan.
Most pesto sauces are not vegan-friendly as they contain cheese. However, you can make your own plant-based pesto sauce or choose from several vegan pestos.
The traditional recipe of basil pesto contains cheese and is not vegan. But it's so simple to make veganize this sauce!
No. This pesto contains dairy like most pestos sold in grocery stores do.
Is Mellow Mushroom's pesto vegan?
Unfortunately, the Mellow Mushroom's pesto has dairy and eggs in it. So it is not suitable for vegans.