You may have grown up enjoying tasty chocolate M&M's, especially if you have recently switched to a vegan lifestyle. I mean, they are one of the most popular candies out there. M&M's have been around since the early 1940s. They have had decades to win people's hearts.
If you were an M&M lover before going vegan, you are probably curious to know whether or not M&M's are vegan-friendly. Can plant-based eaters enjoy this tasty treat? Let's find out. 
Are M&M's vegan?
The short answer is no, M&M's are not vegan-friendly. They contain milk-based ingredients, so It isn't dairy-free. Are any M&M's vegan? Well, no. That is true for all of them. You can no longer eat milk chocolate, peanut, peanut butter, pretzel, or any other flavor of M&M's.
If you once enjoyed M&M's, you are not alone. I loved them too, but I had to give them up when I became vegan. There are some options you can try instead that we will cover later.
Let's see the ingredients
Milk Chocolate (Sugar, Chocolate, Skim Milk, Cocoa Butter, Lactose, Milkfat, Soy Lecithin, Salt, Artificial Flavors, Natural Flavors)
Sugar
Cornstarch
Less than 1% – Corn Syrup, Dextrin, Coloring (Blue 1 Lake, Yellow 6, Red 40, Yellow 5, Blue 1, Red 40 Lake, Blue 2 Lake, Yellow 6 Lake, Blue 2), Carnauba Wax, Gum Acacia
What about other M&M flavors? Some ingredients vary between different flavors and styles. Some contain nuts, and others have pretzels, but they all contain milk ingredients. 
At the bottom of each ingredient list, the packaging states that M&M's contain milk and soy. Milk is the main ingredient that makes this candy not safe for vegans, but there are a few other weird things to note.
Colors like Red 40 are known for being tested on animals. When things are tested on animals, they are not vegan. Even if food colors do not come directly from animals, they are often still harmed in the process of getting this ingredient into your food.
The candy coating for sweetness is made from coloring and sugar. There is no way to be positive that the sugar in the candy is free from bone char. It is hard to say whether or not M&M's are even safe for vegetarians. The popular candy in the United Kingdom contain Carmine and Beeswax. 
Mars Inc. has not suggested any plans on changing this anytime soon. This is unfortunate, considering that M&Ms have been around for more than 80 years. They have had quite some time to catch up and create a vegan recipe, but they still haven't even tried.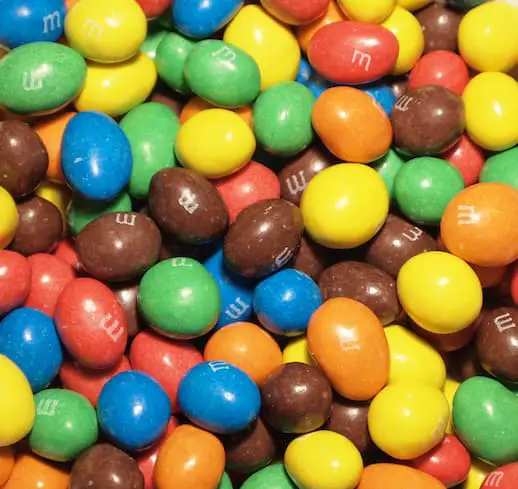 Here is a list of vegan M&M's alternatives.
We may not be able to indulge in this sweet treat anymore, but there are other options. A few years ago vegans were not as lucky as we are today. These days there are a handful of alternatives to non-vegan candies like M&M's, with more to come in the future.
For now, you can enjoy the following vegan alternatives to M&M's.
No Whey! Foods
The brand No Whey! Foods has two vegan candies similar to M&M's:
No Whey! Foods Chocolate No No's
No Whey! Foods Peppermint No No's
As the packaging states, these are milk-like chocolate candies that are entirely free of milk. You can order No Whey! Foods' version of M&M's on Amazon.
If you want a minty version of the popular brand, you can try the No Whey! Foods Peppermint No No's. These are also milk-free. Instead of plain milk-free chocolate, they have an added peppermint flavor.
Unreal
Unreal has two plant-based treats similar to M&M's:
Unreal Dark Chocolate Peanut Gems and Unreal Dark Chocolate Crispy Quinoa Gems are vegan-friendly. They are naturally colored with vegetables and use nothing artificial. It is nice when brands are clear about their vegan ingredients and the colors they use being cruelty-free. 
The quinoa version is perfect for those looking for something similar to Crispy M&M's. The Unreal gems with peanuts are an excellent alternative to Peanut one. 
They also make 100 percent plant-based dark chocolate peanut butter cups, dark chocolate crispy peanut butter cups, and dark chocolate almond cups. When it comes to getting your vegan fix of chocolate, Unreal has your back. This brand makes it clear that tasty M&M-like candy can be made entirely vegan.
A final note on the brand named Little Secrets
Don't be fooled by other vegan websites that claim these candies are vegan. Some vegan websites claim that Little Secrets' M&M-like candy, in sea salted peanuts, dark chocolate, sea salted almonds, and peppermint are vegan. Little Secrets has reported that they are not vegan. 
Little Secrets Dark Chocolate Pieces, Little Secrets Sea Salted Peanut Dark Chocolate Pieces, Little Secrets Peanut Butter Dark Chocolate Pieces, and Little Secrets Toasted Coconut Dark Chocolate Pieces are not certified vegan. These chocolate treats can make an excellent vegetarian alternative to M&M's, but unfortunately, we cannot confirm that they are vegan. 
Little Secrets carries some products that do not use animal-derived ingredients, but that does not ensure that they are vegan. Use caution when eating candy from Little Secrets. 
It is best to go with Unreal or No Whey! Foods tasty versions of vegan M&M's instead. These contain no animal products or questionable ingredients.
Frequently Asked Questions
If you can't find the answer to your question, feel free to ask us! We will find out for you!
Are M&M's vegan?
Unfortunately, M&M's are not vegan for sure. First of all, the main ingredient is skim milk, secondly, It's not even vegetarian since it contains carmitin. Furthermore, many food coloring – such as Red 40 – are non-vegan despite the fact that thy are artifical colors, since they tested on animal. However there are some similar vegan-friendly options. Instead of M&M's, try Unreal or No Whey! Foods M&M's alternatives.
How are M&M's really made vegan?
No authentic M&M's are vegan as they contain milk ingredients. Maybe someday Mars Inc. will make them vegan by removing all of the non-vegan ingredients. Until now, there are many vegan options for M&M's.
Are Dark Chocolate M&Ms vegan?
No, unfortunately not even the Dark Chocolate M&M's suits the vegan diet. While most dark chocolate is vegan, M&M's contains skim milk, milkfat, and lactose. Furthermore, It also has an artificial flavor which can be non-vegan or even non-vegetarian!
Are peanut butter M&M's vegan?
Peanut butter M&M's are not vegan, but there are vegan alternatives like Unreal Dark Chocolate Peanut Gems.