Prego is the #1 selling brand of Pasta Sauce and is available at virtually every grocery store in North America, but they have much more than Tomato Sauce.
They also make Pizza Sauces, Alfredo Sauces, and generic "cooking" sauces, amongst other products.
Unfortunately, not all of them are vegan. There's a few that contain meat and a few that contain dairy/eggs, however the vast vast majority (90%+) contain no animal products and are purely vegan.
Prego's Vegan Classic Italian Pasta Sauces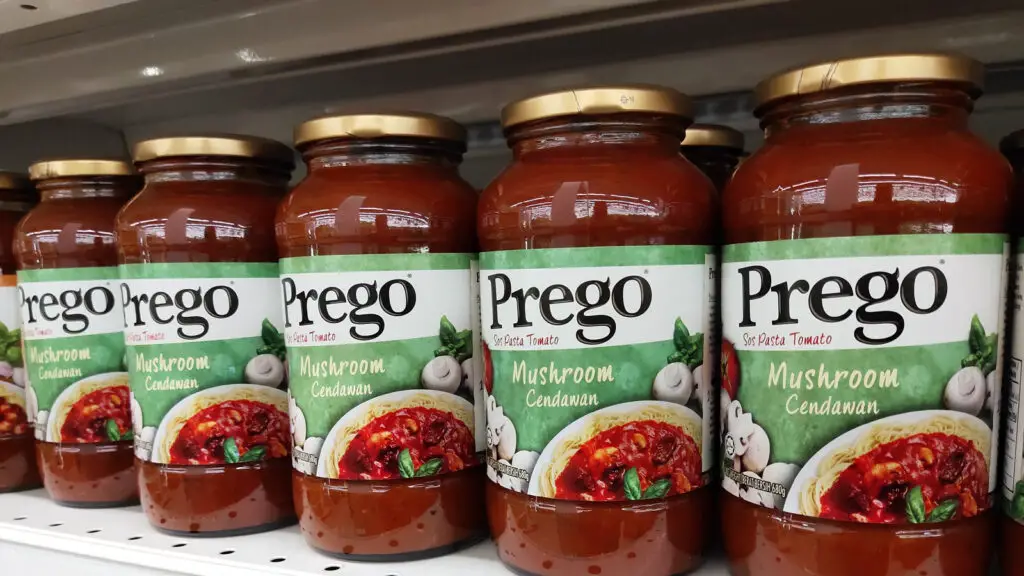 Traditional Sensitive Recipe
Chunky Garden Harvest (Tomato with Leafy Greens)
Garden Harvest Chunky Zucchini
Traditional Light Smart
Traditional Sauce
 Roasted Garlic & Herb
Marinara
Tomato Basil Garlic
Lower Sodium Roasted Red pepper & Garlic
Lower Sodium Traditional
Garden Harvest Chunky Combo
Garden Harvest Chunky Tomato, Onion, & Garlic
Lower Sodium Mushroom
Fresh Mushroom
Chunky Garden Mushroom Supreme
Garden Harvest Mushroom & Green Peppers
NEW: Prego+ Meatless Meat Sauce
The Prego+ meatless meat sauce is a new addition as of early 2022 – it's basically their traditional sauce with a TVP-like soy crumble added into it — we'd recommend it if you want some extra protein, and it's good, but the "meatless meat" crumbles aren't as tough as "real meat" so if you're trying to impress your non-vegan family members opt for some beyond meat crumbles instead.
Those are all the "Classic" Pasta sauces they have that are vegan, the others contain meat (beef) or dairy/eggs.
Prego's Vegan Farmers Market Pasta Sauces
Mushroom
Garden Vegetable
Tomato & Basil
Classic Marinara
Roasted Garlic
The only non-Vegan sauce at the moment marketed under Prego's Farmers market label is the Four Cheese one, which contains dairy cheese.
Pregos Vegan Alfredo Sauces
Unfortunately there's no Alfredo sauces that they currently sell that do not contain dairy and/or eggs.
To clarify all of these Alfredo Sauces Prego makes aren't vegan: Homestyle Alfredo, Savory Bacon, Light Homestyle, Roasted Garlic, Creamy Cheddar, Basil Pesto, Artisan Four Cheese.
Hopefully they come out with an almond-milk based one or something soon, as it's definitely not difficult to make delicious vegan Alfredo sauce.
Prego Vegan Cooking Sauces
For whatever reason all of their cookings sauces contain dairy/eggs in them as well.
To clarify these cooking sauces Prego makes aren't vegan: Garlic & Italian Herb, Tomato & fresh Ricotta, Creamy Lemon Parmesan, Creamy Marsala, Carbonara.
Other Vegan Prego Sauces
Classic Pizza Sauce
Pizzeria Style Pizza Sauce
They also have a pesto sauce, but unfortunately they put (dairy) cheese in it so it's not vegan.
Prego Ready to eat Vegan meals
It boggles my mind why all the noodles they use in these packs contain egg whites, as never have I seen regular wheat pasta contain egg whites in them. But they managed to make it happen, so even the Roasted Tomato & Vegetable penne ready to eat meal by Prego isn't vegan. What a shame.
Frequently Asked Questions
Is prego marinara sauce vegan?
Yes, the Marinara Sauce by Prego is free of animal by-products, so they are vegan. According to campbells.com, the ingredients are: Tomato Puree (Water, Tomato Paste), Diced Tomatoes In Tomato Juice, Canola Oil, Contains Less Than 1% Of: Salt, Dehydrated Onions, Dehydrated Garlic, Citric Acid, Spices, Basil.
Is prego mushroom sauce vegan?
Thankfully, the Prego Mushroom sauce is free of animal products and is safe for vegans. 
Is prego pasta sauce vegan?
Yes, most of the Classic pasta sauces by Prego are vegan. The ingredients you need to look out for on the labels are beef meat or dairy.