Getting Vitamin D is important, and unless you live in a tropic climate around the equator you really should be taking a Vitamin D supplement during winter time at least.
For most folks, unless you work outside, it'd be wise to take Vitamin D all year long, as just like with Vitamin B12 you really won't get any bad effects from having extra in your life.
If you are in a hurry and just want my recommendations and trust me feel free to skip the below of what you can expect till you hit a picture, but if you aren't very informed on the topic of Vitamin D or aren't sure you should trust what I recommend, feel free to spend the extra few minutes to learn about what fits my criteria and why my criteria is what it is when it comes to Vitamin D.
So what can I expect from the below recommendations?
All of the below recommendations are based off a few principles that are important to me, and I think should be important to you. Let's get to those principles. First off, the 7 recommendations will include multiple low-cost alternatives, as well as a couple higher-cost ones that have some benefits, as well as my favorite option, which is what I feel is the best compromise between quality and value. I come from poor routes and know what it's like to pinch pennies, so if you're in a similar situation but strive to be healthy there will be some options for you.
None of the Vitamin D Supplements will contain a Calcium supplement. This is because Calcium supplementation has been linked to many negatives, including actually hurting your bones. The reason for this isn't entirely known, but it's clear there's a link, so I will not include any products with extra Calcium in it.
None of them will be from no-name brands in the Vitamin supplementation industry, as I don't want to unintentionally recommend a product that has pollutants in them. Because of this, all of the products will be from companies that have had multiple of their products tested and found to have lower than average (compared to competitors) heavy metal content and other pollutants.
They will also of course all be vegan & cruelty free.
I want Vitamin D3, not just D2, do you recommend any of those?
All but one of them, the last recommendation will be vitamin D3, as while D2 can provide you enough Vitamin D a lot of people do not absorb and use D2 efficiently, or nearly at all, and thus for most people it's better to get D3 to ensure you get your Vitamin D in, rather than risking it with D2. If you get Vitamin D testing done it's fine to get D2, but if you're not testing yourself you should stick with D3.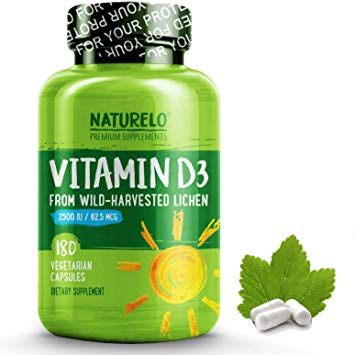 This one is my overall favorite as it's a good size supply at a relatively cheap price, from a brand that's had many 3rd party tests on its products, and has tons of supplements under its brand. While it's not significantly different than Doctors Best, another D3 I recommend below, it has a little more data behind it saying that it's likely good quality, and the price is almost identical to Doctors best, so I say this one wins out over-all.
It does only come in a larger 180-day supply, while doctors best has a smaller bottle, but personally for the bit better quality, I feel this product has it's worth the investment in buying more at once. Plus it makes me not need to order multiple bottles every time I buy myself some Vitamin D.
If you want to go to this one, the one I use, then you can click here to go to it's Amazon page and check it out further by clicking here.
Positives:
Very pure despite being one of the cheapest Vitamin D supplements (per serving) mentioned here, contains slightly more D3 than claimed when tested (free D3!), good bottle size that lasts winter + a little mixed in throughout the year.
Negatives:
Doesn't have any oil or Vitamin K or b12 added to it, so you'll have to get a separate supplement for that if you want to supplement with them (you should, especially b12).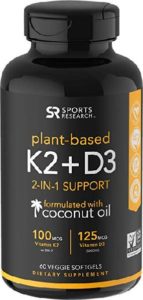 While I'd say this is hands down the best option when it comes to Vitamin D, as it has oil to help absorb the D3, and K2, which helps in numerous ways when taken with Vitamin D in particular, I personally do not usually buy this one as it's a bit more expensive, and I try to keep to a moderately tight budget.
But if you don't eat many greens, or simply want to ensure you optimize your body, it's a great one since it has K-2 in it as well as coconut oil to aid with absorption. If you have the money for it and don't mind splurging a bit this is the one I'd recommend most of all. If that sounds like you then you can check it out further here on Amazon.
Positives:
Really hits every marker that you could want, has a perfect balance of K-vitamins and D3, as well as has coconut oil to help with the absorption and preserving the quality of the Vitamins during storage.
Negatives:
A little pricey if you wouldn't otherwise buy a Vitamin K supplement, not the best choice for someone who's on a budget.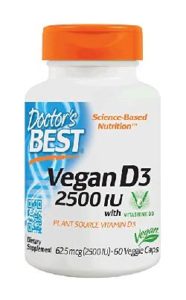 While this isn't my current favorite, I've bought this D3 numerous times and had good results from it. It doesn't have any Vitamin K or B12, or anything added with it, and doesn't have any fat in it, so if you get this one you need to make sure to take it with a meal that has at least a bit of fat in it (avocado, oil, nuts, etc).
It'd also be wise to get a vitamin K supplement to go with it, albeit it's not a must like taking this D3 with a meal that has a decent amount of fat in it. If you're okay with that then you can pick up Doctors Best Vegan D3 by clicking here.
Positives:
Absurdly cheap even in small supplies, doesn't contain any nasty additives despite its low price
Negatives:
Lacks K-2, B12, and other vitamins that are great for people to take, doesn't contain any oil or other things to aid in the absorption of the D3 and thus you'll really need to ensure you eat some fat (avocado, nuts, stir-fry) with it to absorb it.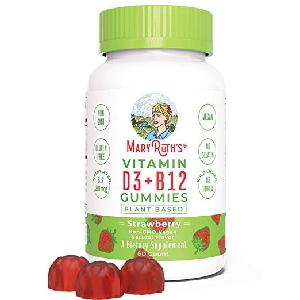 Since this Vitamin D is in Gummy form, and has a good amount of B12 in it, it's a bit more expensive. But if you don't have a good b12 supplement, simply like gummy's, or want a Vitamin D supplement for your vegan kid that won't take pills, then I'd say this one is a pretty good option.
The flavor is actually pretty yummy and that's somehow accomplished without a lot of sugar in it (1g per serving) or any junk in it. My only warning for these is they're a bit hard compared to some non-vegan gummy products (if my memory serves right). Not hard as in crunchy of course, but as in they're quite firm gummy's.
You can check it out on Amazon by clicking here, and apparently they have a sugar-free one as well on there, but I haven't tried it so I can't speak on its flavor.
Positives:
Quite Yummy, contains another vitamin that everyone should supplement with (B12), the only good quality Vegan D3 I've found that's in gummy form.
Negatives:
A little tough rather than "gummy"-like, a little pricier than D3 pills, not available in bulk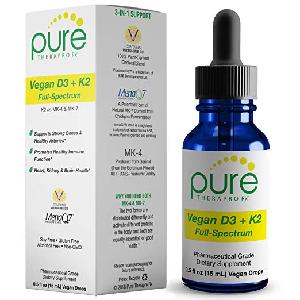 While Pure Therapro's Vitamin D3 isn't the cheapest, it does have K-2 in it which helps tremendously and makes its price quite reasonable, so if you are interested in K-2 and want a liquid D3, then this would be a great choice for you.
I would like to say though, while I've heard great things about this D3, including from folks I've met in real life, I haven't tried this one myself and seen the results personally. However from the Data and what I've heard, it's probably either the best or the second best D3 supplement on the market right now.
While you can get this one on the companies website it's usually cheaper on Amazon, so I'd recommend just buying it from Amazon if you get it.
Positives:
Very high quality, contains both D3 and K2, not a large supply which means cheapest upfront cost compared to larger supplies
Negatives:
By far not the cheapest of products due to having K-2 added into it and only being a small supply in each bottle, company isn't as established and well-tested as most other companies here.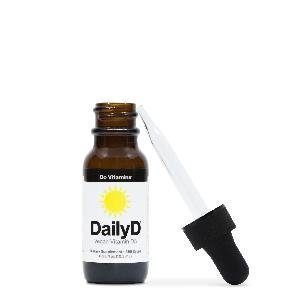 If you don't mind using liquid Vitamin D this Vitamin D is phenomenal, a great value, and is dang-near unbeatable for strictly vitamin D, as despite it's cheap price (per serving) it's a very high quality D3 that's easily absorbed.
The only real downside is they don't have anything else (like K2) added in, and the bottle is glass and thus is breakable, but in a way that's a positive as well, as it means there will be no contaminants in your Vitamin D.
DoVitamins DailyD does get sold out quite often in my experience, so before you decide on it make sure to check if it's even in stock currently. You can do this by clicking here.
Positives:
Has had multiple independent 3rd party tests done and it's absurdly pure and effective, low-cost solution if you're willing to buy in bulk as they only offer a year supply
Negatives:
Only comes in a year supply, doesn't contain any K-2 or anything else along with it, gets sold out quite frequently.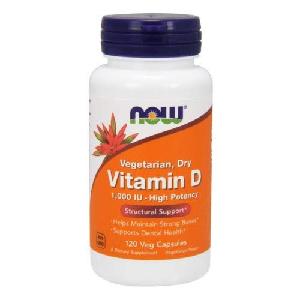 While I'd recommend one of the above Vitamin D3's over this Vitamin D2 for pretty much everybody, Vitamin D2 is cheaper and if you know (or don't mind testing yourself to see) if vitamin D2 is converted efficiently in your body, go ahead and get some Vitamin D2.
If you don't want to get a Vitamin D test sometime in the future to see if your body converts D2 efficiently, then stick to the Vitamin D3's listed above, as they're much easier absorbed and don't need to be converted like D2 needs to be converted.
This is by far the cheapest D2 that I've found that's vegan and from a trusted brand that has a great track record for purity and effectiveness. You can get it on Amazon by clicking here if you want to give D2 a try.
Positives:
Absurdly cheap due to being D2 and not D3, clean and good quality from a trusted brand, can be just as effective in some people
Negatives:
It's D2 and not D3 and thus some people won't find it effective, if you take D2 you should get a bloodtest for Vitamin D to make sure it's working for you.
Do you really need to supplement with Vitamin D?
While you don't NEED to, it's essentially always beneficial to do so even if you're outside a ton and live near the equator. There's no real downsides to supplementing with Vitamin D pills or drops, so if you have the money for it I'd say you should probably take one.
I'd also recommend a B12 supplement and if you're a bit of a health-nut maybe even one on these tumeric supplements, as both are very beneficial to everyone vegan or otherwise.