Nowadays, there are plenty of vegan fast-food options at various popular restaurants. According to the Vegan Society, a vegan excludes every animal ingredient, such as meat, dairy, eggs, and honey. In that case, the vegan options that fast food chains offer must be free from animal products.
While most popular fast-food restaurants don't offer an exclusively vegan option, plenty of others do.  Companies such as Beyond Meat and Impossible Foods introduced many different kinds of plant-based meat that offer great opportunities to the fast-food chain to make different kinds of vegan options—more than french fries and plain salads.
Which fast food restaurants have vegan options? Burger King, Panda Express, and Del Taco have pretty good vegan menu items among the top American fast-food chains. For example, Burger King has pretty good vegan options like Impossible Whopper. However, there are some negative examples as well. McDonald's introduced McPlant in the United States a few years ago, but it wasn't permanent. How sad.
On the other hand, there are exclusively vegan fast food restaurants, which is heaven for plant-based eaters. Slutty Vegan Atlanta is one of the best vegan fast-food restaurants right now. Slutty Vegan offers more than 10 different 100 percent plant-based burgers with Impossible or Beyond meat patty, and they have vegan cheese and bacon as well.
Let's see which restaurants have the best vegan options!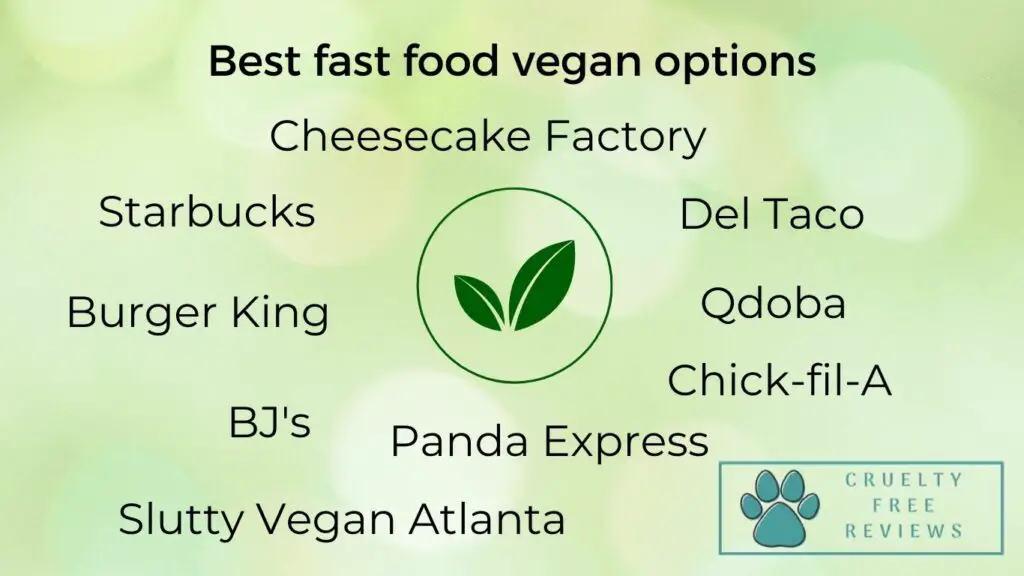 Slutty Vegan Atlanta – Every vegan burger
If you are searching for the best vegan fast food option, then you should head right to Slutty. Slutty Vegan Atlanta offers dozens of different cruelty-free junk food with either Beyond or Impossible plant-based meat. Also, they have vegan cheese, which is not common and meat-free bacon. Take a look at Slutty's menu!
Burger King – Impossible Whopper
Burger King is one of the most popular takeaway restaurant chains in the United States. Furthermore, Burger King has one of the best vegan options among the fast-food chains. They introduced Impossible Whooper in 2019. While the patty itself is plant-based meat, the impossible burgers are not. You have to order it without cheese and mayo. Check out Bk's vegan options!
Panda Express – Beyond Original Orange Chicken
Panda Express is a quite famous Asian-styled fast food restaurant with many plant-based protein options. Panda Express has many great vegan options, such as Super Greens and Eggplant tofu. However, the best vegan fast food item is Beyond Original Orange Chicken which is entirely plant-based and very spicy.
Cheesecake Factory – Evelyn's Favorite Pasta
The Cheesecake Factory is a well known-American restaurant chain that started as a bakery. Nowadays, more than 300 restaurants are operating across the United States. But, more importantly, The Cheesecake Factory has one of the widest and healthiest vegan options. The best plant-based menu item is Evelyn's Favorite Pasta, which is – almost – naturally vegan. You have to exclude the cheese.
Furthermore, there are plenty of other great vegan options:
Pasta Pomodoro, 
Impossible Pasta Bolognese,
Impossible burger,
Veggie Burger, 
Avocado Toast,
Crispy Brussel Sprouts, 
Korean Fried Cauliflower, and 
Fire-Roasted Artichoke Hearts.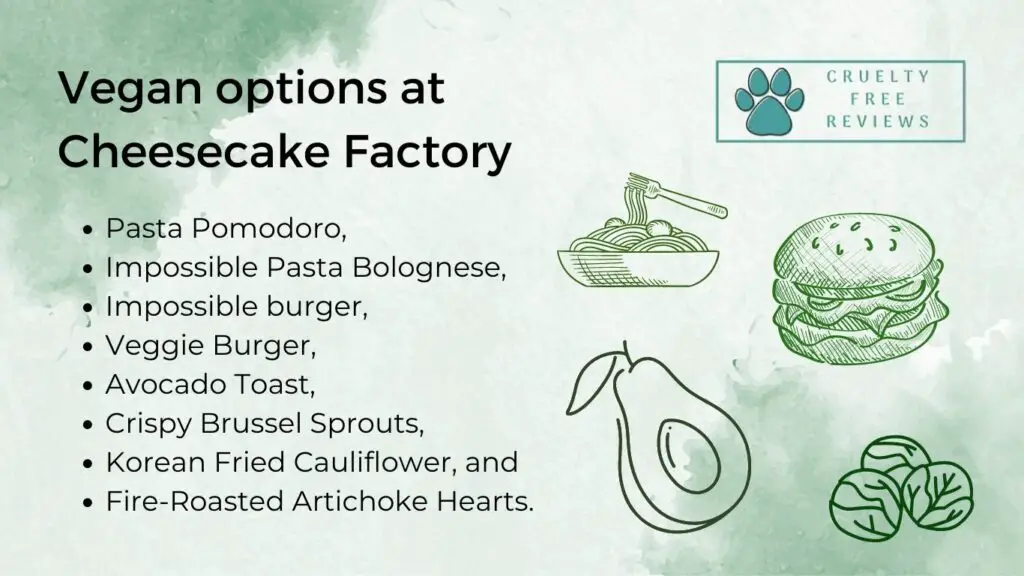 Starbucks – Impossible Breakfast Sandwich
If you are searching for the best vegan breakfast option, then Starbucks is your place. Starbucks is one of the most famous international coffee chains, which offers infinitely different plant-based coffee and also, they offer cruelty-free food as well. Impossible Breakfast Sandwich can be vegan if you remove cheese and eggs.
Del Taco – 8-layer veggie burrito
Most of the Mexican-styled fast-food restaurants have pretty good plant-based options. Del Taco even has a dedicated page for vegetarian and vegan options just like Taco Bell. 8 Layer Veggie Burrito is a pretty good offer; there are plenty of different tasty items in it, and you have only to remove cheese to make it 100 percent vegan. 
Bj's – Vegan Lentil Ancient Grains Soup
Bj's Vegan Lentil Ancient Grains Soup is a dedicated plant-based option. The Hearty Lentil soup is healthy since it is rich in vegetables and plant-based protein. Also, there are a few vegan appetizers such as Turmeric-Roasted Cauliflower or French fry basket.
Chick-fil-A – Spicy Southwest Salad
While Chick-Fil-A doesn't sound like a vegan-friendly fast food place, they have pretty good and healthy vegan options. Spicy Southwest Salad contains mixed greens, grape tomatoes, roasted corn, black beans, poblano chilies, red bell peppers, and chili lime pepitas if you remove animal products such as cheese and chicken.
Qdoba –  Impossible Fajita Bowl
The well-known Mexican-styled restaurant made a huge step toward veganism; it introduced IMPOSSIBLE Meat to the menu! While a premade Fajita Vegan Bowl isn't bad, a much better vegan option is Create Your Own Bowl. Choose the IMPOSSIBLE Meat Made From Plants option at Create Your Own Bowl, and there are plenty of other vegan items to make your perfect Plant-based fajita bowl.
What are the most common vegan food options at fast food restaurants?
A few plant-based options at most fast-food chains are usually vegan. Most of the time, the following menu items are free from animal ingredients: French fries, hashbrowns, side salads, house salads, fresh vegetables, and fruit cups. Another hand, there are always some exceptions; for example, McDonald's uses dairy in their seasoning, so their french fries aren't vegan. Also, cross-contamination will always be a huge risk.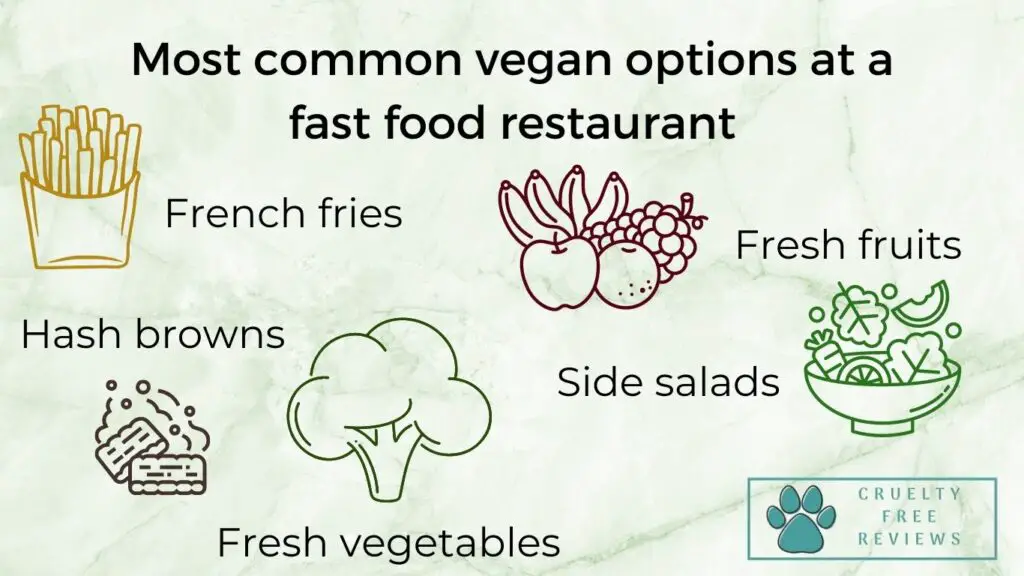 Which fast food restaurant has an Impossible Burger?
Impossible and Beyond burgers blow up the vegan options at the fast-food chain. Thanks to it, eating vegan junk food has never been so easy. Impossible burgers became one of the best vegan options in a few years. Here is a short list of where you can find them:
Cheesecake Factory
Qdoba
White Castle
Red Robin
Starbucks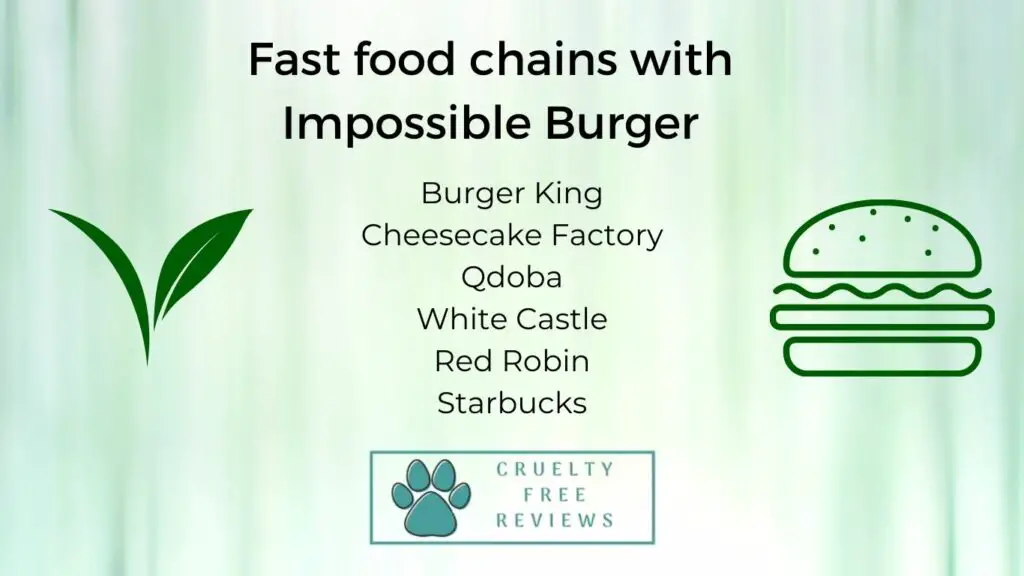 Are Fast Food vegan burgers healthy?
Vegan burgers are almost the same as the regular ones. While you are decreasing your meat intake, which is healthy, still most of them are processed food. Processed food not only harm your health, but it isn't good for the environment also. Veganism is about animal welfare, health, and environmental protection, so in short: vegan fast food isn't the best thing in general.
What are the healthiest vegan fast food options?
Many people choose the vegan lifestyle due to health awareness, so vegan fast food options should be healthy. Unfortunately, most of them are not healthy since they are pretty much the same junk food, just with meat-substitute. If you are searching for the healthiest vegan fast-food options, check out Cheesecake Factory's plant-based menu. Cheesecake Factory offers Veggie Burger, healthy vegan salad, and kinds of pasta such as Pasta Pomodoro. 
Which steakhouse has the best vegan items?
Probably you still have meat-eater friends, so you should be prepared if they want to eat something awful, like steak. I would modify the question "Which steak has the best vegan options?" to "What steakhouse has at least something plant-based?". Well, not many. If you must choose a fast-food restaurant, you should eat at Texas Roadhouse. While there are no dedicated vegan options, some acceptable side dishes exist, such as fresh vegetables. Oh, and don't forget the free peanuts!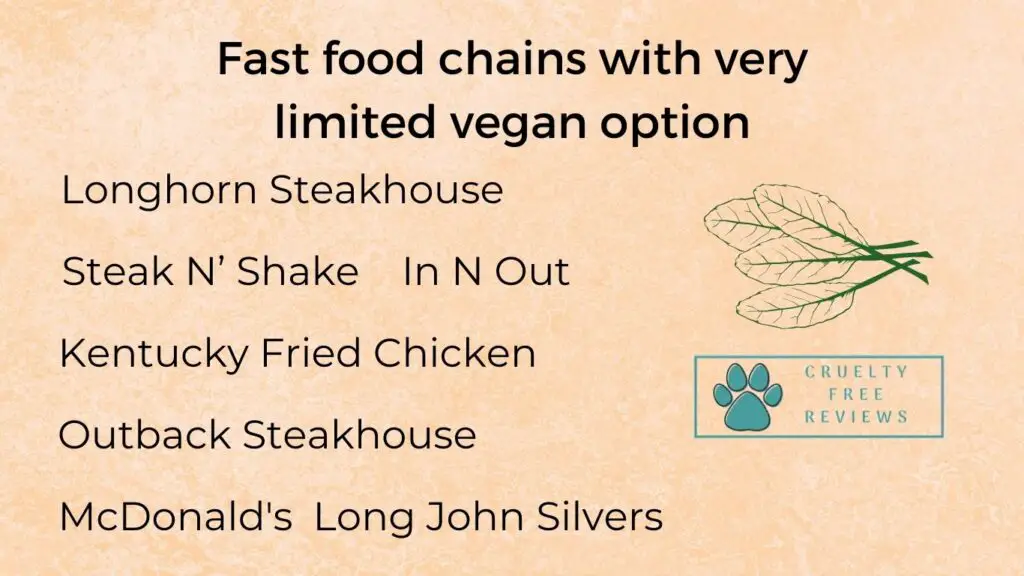 What fast-food chain has the worst vegan options?
Many restaurants offer pretty good vegan fast food; the rest of them are quite bad. McDonald's is as popular as Burger King, but their vegan offer is far from its competitor. McDonald's introduced Mcplant Burger, which contains Beyond Meat; however, it was just temporary, and now it has gone for good. Also, McDonald's french fries are not vegan since the seasoning contains dairy. So, it is almost impossible to eat vegan at the world-famous restaurant.
The other huge fast-food chain, KFC, also stepped toward vegans and sold Beyond Chicken for a while. However, the best fake chicken couldn't become permanent. So now, there are no vegan options at Kentucky Fried Chicken.