Eating at Applebee's can be a challenge for vegan eaters, but it is possible. Applebee's tends to have some great vegan options, but this can depend on the menu at the location you choose to visit. These options include a vegan burger, many sides, a few salads, and even an appetizer or two.
Maybe not at the level of Slutty Vegan, but Applebee's has some great vegan options including a vegan burger, multiple sides, salads, and maybe even an appetizer depending on your local Applebee's menu choices.
Is it easy to be vegan at Applebee's?
Applebee's vegan options were once pretty limited, but it is getting easier to be vegan at Applebee's.
Applebee's was not always so vegan-friendly. The cooking processes used to include things such as animal lard, but they updated their cooking processes as well as some of the items they serve. Many people who enjoy a plant-based diet may have no clue that Applebee's has added some vegan options.
Some locations still lack vegan options, but many carry the majority of the items listed here. Hopefully, their menu grows in the future to include more plant-based options. Let's take a closer look at the menu.
Vegan Appetizers at Applebee's:
In the past, Applebee's used oil that contained animal lard, but today you can enjoy both of these appetizers on a vegan diet. Thankfully all Applebee's use vegetable oils (soybean in particular) that are trans-fat free.
Applebee's Main-course Vegan Meal Options:
Those are all the vegan main courses you can order at this time. If none of those items sound appetizing, Applebee's has some decent sides to choose from that can build a simple vegan meal or add some bulk to one of the above salads. Let's take a look at all of the vegan sides at Applebee's.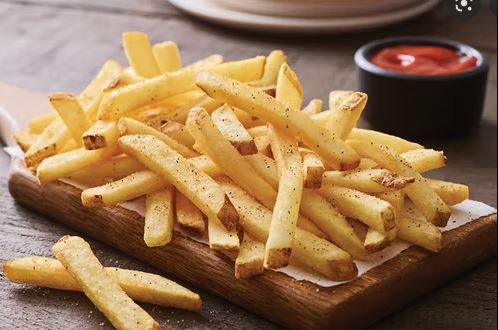 French Fries
Seasoned Fries
Steamed Broccoli (request no butter)
Apple Sauce
Baked Potato (request no butter)
House Salad (no cheese, see vegan dressings below)
Salad Greens with Fruit and Veggies
Grilled Onions (off-menu but can be ordered as a topping)
Guacamole
Some Applebee's locations may also carry corn. You can make the corn vegan by requesting no butter. Surprisingly, most locations do not have corn, so this vegan side is a treat for just a few of you. Other than the items listed above, there are no more vegan-friendly sides to order at Applebee's. Hopefully they add a few more sides for plant-based eaters in the future.
Applebee's Vegan Salad Dressings & Sauces
Lemon Olive Oil Vinaigrette
Fat-Free Italian
Champagne Vinaigrette
Sweet & Spicy Sauce
Balsamic Glaze
Salsa
Pico De Gallo
Chimichurri Sauce
Chunky Roma Pepper Relish
Black Bean Corn Salsa
Chunky Roma Pepper Relish
Also, there is a pretty good video on how to order vegan at Applebee's by Vince Lia: 
Is That All The Vegan Options at Applebee's?
Other than the drinks they serve, that is all they offer as far as Applebee's vegan options.
Like with all restaurants, Applebee's updates its menu regularly.  They also have a helpful Allergen Guide.
Keep in mind that the breadsticks, onion rings, and toasted brioche buns all contain ingredients that are not dairy-free or vegan-friendly, such as milk, eggs, and butter. Many pasta dishes and desserts available at Applebee's can be made vegetarian with a few changes, but unfortunately, they can not be made vegan. Their soups are not vegan either, and most contain beef broth. For now, you will have to skip those items and hope they make some changes in the future.
When you order at Applebee's there is always a risk of cross-contamination. That can be a deal-breaker for some. If you are not worried about that, there are enough items on their vegan menu to make a decent meal. Someday, if they make their Impossible Burger available at all locations, it will be easy to enjoy an entirely vegan meal at Applebee's.
Frequently Asked Questions