The Cheesecake Factory has a pretty good vegan menu, including their free bread (of course) and around 10 meal-options, as well as a few appetizers and other vegan goodies.
Unfortunately none of the Cheesecakes the Cheesecake factory makes are vegan-friendly, which is quite ridiculous in our opinion as you can even buy frozen cheesecake (made by Daiya) at many grocery stores now.
Other than Cheesecakes the Cheesecake factory has fantastic vegan-options (maybe not at a Slutty Vegan-level) though — we'd recommend the "Evelyn's Favorite Pasta" and the Mexican Tortilla Salad (Specify no sour cream, swap chicken for sauteed mushrooms).
There Are Quite a Few Options on The Cheesecake Factory Vegan Menu!
That's right! The Cheesecake Factory has a decent vegan menu. These items include vegan appetizers, tons of sides, and multiple main dishes. Even the free bread they bring out before your meal is vegan-friendly.
Unfortunately, there are still no vegan cheesecakes available on their menu, but other than the lack of dessert, the Cheesecake Factory has pretty great vegan options. Some may require a few changes, but they are simple.
Let's take a closer look at all of the vegan options at the Cheesecake Factory.
Vegan Appetizers & Sides at The Cheesecake Factory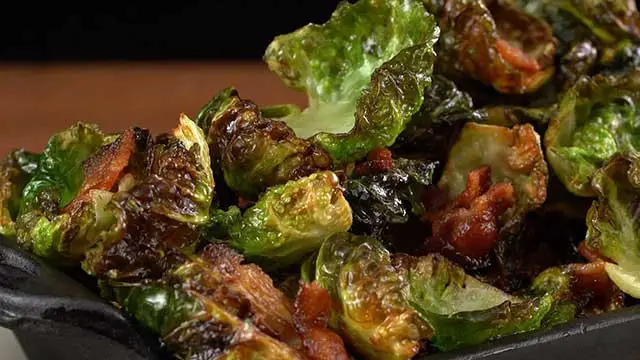 Free Sourdough Bread
Free Table Bread (brown-looking)
Crispy Brussel Sprouts (specify no bacon – maple butter is vegan)
Korean Fried Cauliflower (specify no ranch dressing and check on the dipping process before ordering as some locations dip the cauliflower in egg, making it not vegan)
Chips & Guacamole (specify no sour cream, but instead extra salsa)
Seasoned Edamame
Fire-Roasted Artichoke Hearts (swap garlic sauce for balsamic vinaigrette)
Grilled Asparagus
Steamed Broccoli
Fresh Corn
Green Beans (specify no butter)
Sweet Potato Fries
Sauteed spinach (specify no butter)
There are often a few other vegan options, but this depends on the location you visit and the season. If you are not interested in the above options or are curious about another item they have, ask your server. 
These days, most workers know what vegan means, and to help you order they can let you know if there are any other Cheesecake Factory vegan options at their location. It is always possible for ingredients to change or for vegan-friendly items to be created and added to the menu.
Vegan Meal Options at The Cheesecake Factory: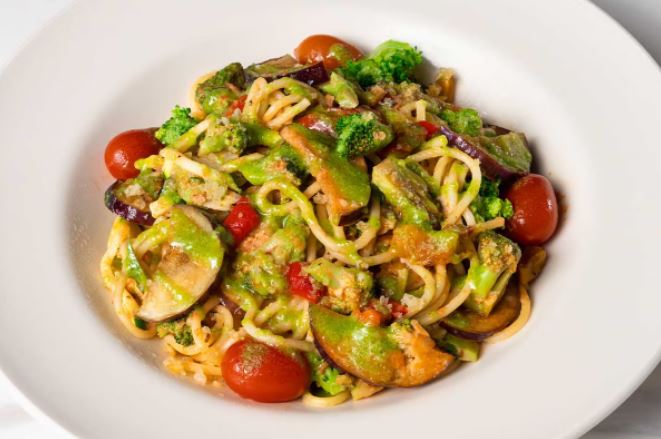 Pasta Pomodoro (Egg-free spaghetti tossed with marinara sauce, cherry tomatoes, and fresh basil. The last two ingredients imported straight forward from Italy.)
Impossible Pasta Bolognese
Shrimp with Angel Hair (request no shrimp)
Mushroom & Spinach Flatbread Pizza (specify no parmesan cheese, and you may be able to swap for vegan cheese depending on the location)
Veggie Burger (specify no mayo and swap cheese for vegan cheese or specify without)
Impossible Burger (confirm they use vegan cheese and a vegan bun because, at some locations, you may need to swap the bun)
Avocado Toast (It may sound like a breakfast choice, however, It is more like an appetizer.  The homemade bread is topped with mashed fresh avocado, arugula, red onion, marinated tomatoes, radish, and a pinch of olive oil.)
Few of the pastes which include the founder's favorite dish could be vegan with some modifications. However, if you want to go straight to the dish, you can order the bolognese pasta which is made with the popular impossible plant-based meat.
The popular plant-based patty is on the menu, just like in the Burger King. It is served with Vegan cheese, lettuce, tomato, pickles, onion, and special vegan-friendly sauce on a toasted bun. 
The veggie patty is made mainly from black rice, farro, black beans, mushrooms, and onions.
Vegan Salad Options at The Cheesecake Factory
You may prefer to enjoy a salad as your main course. If that is the case, then this restaurant has you covered there as well. Many of their salads are vegan-friendly, and some are tasty and large enough to be suitable as a meal, even for picky salad eaters. 
California Guacamole Salad (specify no feta cheese and swap the dressing out for another)
Mexican Tortilla Salad (swap the chicken for sautéed mushrooms and request no sour cream, keep it spicy)
Vegan Cobb Salad 
Wellness Salad
French Country Salad (specify no goat cheese)
Greek Salad (request no feta cheese)
Avocado Beet Salad (Glazed Beets, Avocado, Fresh Orange, Arugula and request no yogurt dressing)
French Country Salad (ask for no cheese and no candied pecans)
Tossed Green Salad
Little house salad
Vegan Cobb salad is a wonderful and healthy side that 
comes with crisp lettuce, grilled asparagus, avocado, roasted beets, green beans, tomato, cucumber, carrot, quinoa, farro, almonds, and toasted pepitas with house vinaigrette.
Dressings and Vinaigrettes
As for the Salad Dressings, most are vegan-friendly however what they have varies based on location
— generally, they'll have a few of the below to choose from, some locations may have almost all of them, and even more, if the location has their own unique dressing:
Lemon-Blueberry Vinaigrette
House Vinaigrette
Shallot Vinaigrette
Lemon Vinaigrette
Pomegranate Vinaigrette
Balsamic Vinaigrette
SkinnyLicious Mustard Vinaigrette
French Mustard Vinaigrette
Keep in mind that the Cilantro and other dressings with cream are not vegan-friendly. Depending on the season, some locations create a vegan-friendly flavor that has a name that includes the word cream but is vegan-friendly. Always feel free to ask.
Vegan Deserts at The Cheesecake Factory:
Unfortunately, all of the cheesecakes they currently offer contain dairy and eggs, making them not vegan-friendly. Even McDonalds has better options in this section.
At this time, there are no vegan items at The Cheesecake Factory to cover your dessert needs. Some locations will have fresh fruit bowls, but they are not really meant to be desserts. Sure, a bowl of fresh strawberries can hit the spot sometimes, but it is hard to enjoy them as a dessert when you are in a restaurant known for its delicious cheesecake. 
The fact that they lack a cheesecake safe for plant-based eaters is a bummer considering you can easily buy frozen vegan-friendly cheesecakes at many grocery stores. Adding a vegan cheesecake to the menu seems simple enough, yet they haven't done it yet.
There was a time when they did not offer many plant-based dishes, so maybe someday they will create some vegan dessert options too.
Cheesecake Factory as a vegan in summary
In a word, It's fantastic. The Cheesecake Factory offers plenty of vegan items for side and main dishes. Most of Its appetizers are vegan, however, there are plenty of delicious options you can make vegan such as Korean Fried Cauliflower. The fries – just like in the KFC- is made in dedicated fryer.
Furthermore, the main dishes are amazing. Most of the time, you do not have to change a thing. Namely, the Impossible Pasta Bolognese and Burger are just waiting for you! Also, there are many items that can be Vegan if you exclude a few animal ingredients. If you want to eat something more healthy, you still could do it! The Vegan Cobb Salad is as healthy as colorful it is.
In the end, the desserts. Cheesecake Factory offers various meals made with alternative meat, still, they do not have any vegan cheesecake option. In fact, they do not offer any vegan dessert.
Frequently Asked Questions