Chili's Vegan Options Might Not Be the Greatest, But There Are Enough
Chili's has some pretty decent vegan options. However, their vegan items are limited to sides, appetizers, and salads. With the few vegan-friendly items they have, you can still make a decent vegan meal.
There are better options out there for vegans to indulge in, such as Freebirds which gives huge portions and has great vegan options, or Qdoba which is a little more upscale version of Freebirds, or even Baja Fresh.
It is not like Chili's does not have any good vegan options, but they are not better than many other restaurants. Chili's is typically more expensive and maybe even slightly disadvantaged as many other places have vegan meat replacements while Chili's currently does not.
There are a few vegan-friendly options at Chili's, so if this is where you are going for your next meal, keep on reading.
Vegan Appetizers at Chili's
Bottomless Tortilla Chips & Fresh Salsa
Chips & Table-side (Unprepared) Guacamole
Basket of French Fries
Fried Pickle Slices (Without Ranch Dressing)
Chili's occasionally offers promotions that make the guacamole with chips and french fries bottomless and unlimited, but that is not always the case.
Make sure to get another salad dressing in place of the ranch dressing for the Fried Pickles, as it should not only be free, but having a dressing works as a great palate cleanser even if you don't use it to dip your pickles in!
Vegan Main Course (non-salad) Options at Chili's
Mexican Rice & Beans with Tortillas & Guacamole (Sides)
The vegan menu is pretty limited at Chili's. Unfortunately, this is one of those places where you have to put a bunch of sides together to make a meal. This creation is one of the only meals you can assemble that resembles something close to normal.
According to Chili's most recent allergen menu, the fajitas appear to contain dairy. This includes the vegetable Black Bean & Veggie Fajitas. Some locations seem to use butter instead of oil for the fajitas and sometimes include a non-vegan sauce that has egg in it. There are mixed reviews of whether or not these items can be made vegan or not with some substitutions. You can always ask. It is best to avoid them as it has proved challenging to get a clear and consistent answer from Chili's.
Vegan Side Options at Chili's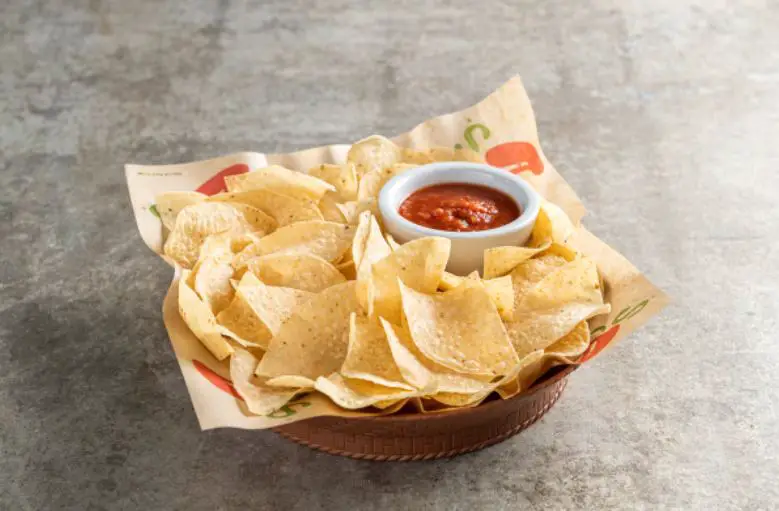 Side Mexican Rice & Beans
Flour Tortillas
Corn Tortilla
Corn On The Cob (Request no butter)
Pineapple Chunks/Slices
Mandarin Oranges
French Fries
Steamed Broccoli
Chips & Guacamole
Side House Salad
Garlic Dill Pickles
Black Beans
Roasted Asparagus
Mexican Rice
Avocado Slices
Fresh Guacamole
Those are all of the vegan sides and meaningful additions you could use to make a meal at Chili's Grill & Bar. While it could be better, rice, beans, tortillas, corn, fries, and chips & salsa or guacamole are more than enough to build a satisfying vegan meal.
Vegan Salad Options at Chili's
Caribbean Salad

(without meat and swap dressing)

The salad comes with fresh pineapple, mandarin oranges, dried cranberries, red bell peppers, green onions, cilantro, with honey-lime dressing. Unfortunately, the honey-lime dressing is not vegan.

House Salad (No croutons, swap dressing, or cheese)

In this case, It will be served with tomatoes, red onions, cucumbers with your choice of dressing.
The vegan dressing options at Chilis will be mentioned below.
Vegan Salad Dressings & Sauces at Chili's
BBQ Sauce
House-made BBQ Sauce
Citrus Balsamic Vinaigrette

Pico De Gallo
Those are all of the vegan dressings and sauces they have other than basic sauces like ketchup or the guacamole and salsa mentioned above.
What about the Soups & Veggie Burger?
None of the other menu items seem to be vegan at this time, including the veggie burger and all of Chili's soups.
While Chili's veggie burger is vegetarian, it is not vegan. It is a black-bean patty that contains egg and dairy, so vegans should stick to the rice, beans, and other sides mentioned above. Hopefully, they switch to a vegan black bean patty soon or get on the beyond meat bandwagon.
Keep in mind that there is always a chance of cross-contamination when you dine at restaurants like Chili's. If you are not worried about that, feel free to enjoy any of these options mentioned here.
Frequently Asked Questions
Chili's hase some really tasty vegan options like the Mexican Rice & Beans with Tortillas & Guacamole for main course, lots of vegan side options like flour and corn tortillas, french fries, chips, and of course, salads.
Yes, Chili's chips are considered vegan, because they do not contain any animal by-products. 
Unfortunately, Chili's does not have the Impossible Burger on their menu at this time. 
Other Articles to Check Out: