With close to a hundred restaurants all over the states, Chuy's is well known among all Mexican cuisine lovers. But how is Chuy's vegan menu? While there doesn't seem to be many vegan options at first glance, there are numerous vegetarian dishes including appetizers, salads, tacos, burritos, and enchiladas on the menu that can be ordered without cheese. Chuy's vegan options are rather decent, just like at most Mex-Tex restaurants.
Chuy's vegan appetizers
Offering a couple of fully vegan appetizers plus one vegetarian appetizer that can be easily turned vegan, Chuy's has you covered here!
Chips and Salsa – The chips and salsa are complimentary! Crispy chips and salsa with a subtle spicy kick to it, who can say no to a free serving?
Guacamole – Fresh avocados and Salsa Fresca mashed together creating their famous guacamole full of flavors.
Nachos – Order them without cheese and you'll get tostada chips with refried beans, jalapenos, lettuce, and pico de gallo.
Chuy's vegan sides
Create a whole custom meal out of the sides or snack on them next to your main dish.
Refried Beans – Creamy mashed-up pinto beans.
Charro Beans – Featuring flavors of onion and chile, these pinto beans are spicier than the refried beans.
Mexican Rice – Their classic fluffy rice with mild spice.
Green Chile Rice – Another classic, slightly spicier than the Mexican rice.
Tortillas – You can choose between corn, flour, and blue corn tortillas.
Fries – Fries are featured on the kids' menu, but who's to say you can't request them for yourself?
Chuy's vegan salads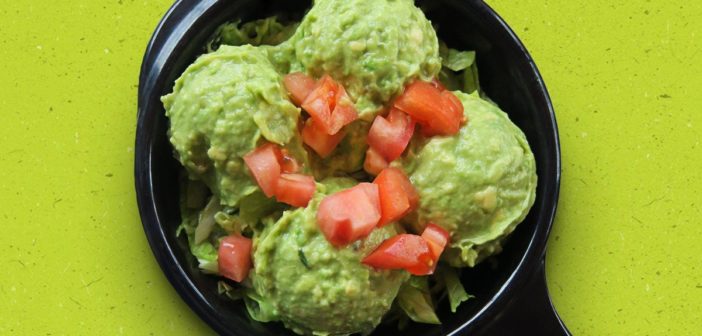 Looking at the restaurant's menu, none of their salads seem to be vegan-friendly., though you can still choose to order them and request the non-vegan ingredients to be left out.
Mexi-Cobb Salad – Order it without cheese and fajita chicken. You'll get a fresh salad mix thrown together with tomatoes, avocado, and green chiles.
Taco Salad – Order without cheese and meat. The salad will contain fresh salad greens, tortilla strips, guacamole, and tomatoes.
Only one of their salad dressings is suitable for vegans, that being cilantro vinaigrette.
Chuy's vegan tacos and burritos
It should be illegal to go to a Mexican restaurant and not have tacos or a good burrito. Fortunately, you don't have to worry about that when eating out at Chuy's.
Guacamole Tacos – Order without cheese. Soft flour tacos served with lettuce, tomatoes, and guacamole. Can request crispy tacos. Comes with a side of Mexican rice and refried beans.
Bean and Cheese Burrito – Order without cheese. A flour tortilla stuffed with refried beans and your choice of filling, top it either with Tomatillo or Ranchero sauce. It is served with Mexican rice.
Chuy's vegan enchiladas
Vegans can enjoy this delicious Mexican dish at Chuy's. We have one option here that requires a small modification to make it vegan.
Veggie Enchiladas – Order without cheese. Comes with spinach, onions, zucchini, red bell peppers, serranos, roasted green chiles, corn, and their signature Ranchero sauce. Or you can ask for their Tomatillo sauce instead.
The veggie enchiladas are served with Mexican rice and refried beans.
Chuy's vegan sauces
Unlike with the rest of Chuy's menu, you can't ask them to veganize a non-vegan sauce. But no need to worry, two of their signature sauces are completely free of any animal-derived ingredients.
Tomatillo – Fresh green tomatillos blended together with green onions, cilantro, and garlic, this sauce can be described as tangy.
Ranchero – Made with fire-roasted tomatoes, caramelized onions, bell peppers, cilantro, and spices. This mild red sauce is a great recommendation for kids.
Chuy's vegan desserts
Chuy's currently has no desserts that are vegan or could be veganized.
Chuy's vegan option for kids
Not many places have plant-based options on their kids' menus, so it comes as a surprise to see one here. As with almost everything else, you have to make some small modifications to make it fully vegan.
Mini Bean and Cheese Burrito – Order without cheese.
Have it served with their Ranchero sauce and a side of rice and beans or fries. Now, ordering off the kids' menu, a drink and a dessert are also included. As mentioned above, Chuy's doesn't have any vegan desserts therefore ask for the meal to come without the dessert when ordering for your little vegans.
How is Chuy's vegan menu for vegans?
With plenty of dishes that are either vegan or can be veganized, Chuy's is most certainly a great place for people living a plant-based lifestyle! Seeing as most of those items are vegetarian and can be made vegan simply by opting out of cheese, I think it would make sense to introduce a dairy-free cheese option to the menu. To really step up their game, perhaps even a plant-based meat alternative as some other Mexican restaurants like Taco Cabana and Qdoba do.
It is worth mentioning that all of Chuy's food is cooked on the same surfaces, so if cross-contamination is an issue for you, that's something to keep in mind.
Frequently Asked Questions
Most definitely! They have vegan appetizers, sides, salads, tacos, burritos, enchiladas, sauces and desserts as well. It is worth mentioning that all of Chuy's food is cooked on the same surfaces, so if cross-contamination is an issue for you, that's something to keep in mind.
Are chuy's refried beans vegan?
Yes, Refried Beans at Chuy's are one of the most beloved vegan sides.