First, does Costa have vegan options?
The British company is arguably the most well-known coffee chain, and you can find their locations pretty much everywhere throughout the country. Their coffee is pretty decent for a chain coffee restaurant, and some people even like it more than Starbucks. They have just as many, if not more vegan-friendly options, and they go beyond drinks. It is super simple to order vegan food and beverages at Costa.
New: Veganuary 2023 at Costa
The well-known coffee chain is celebrating Veganuary in 2023 with new vegan options:
Vegan Me'tball Wrap: Vegan me'tballs with marinara sauce, roasted red pepper & vegan cheeze in a barmarked tomato tortilla wrap.
Vegan Saus'ge Breakfast Bap:  Plant based sausages & vegan spread in a white bap.
Vegan BBQ Chick'n Panini
Chocolate & Caramelised Biscuit Vegan Loaf Cake: Chocolate sponge topped with frosting, caramelised biscuit paste and caramelised biscuit pieces.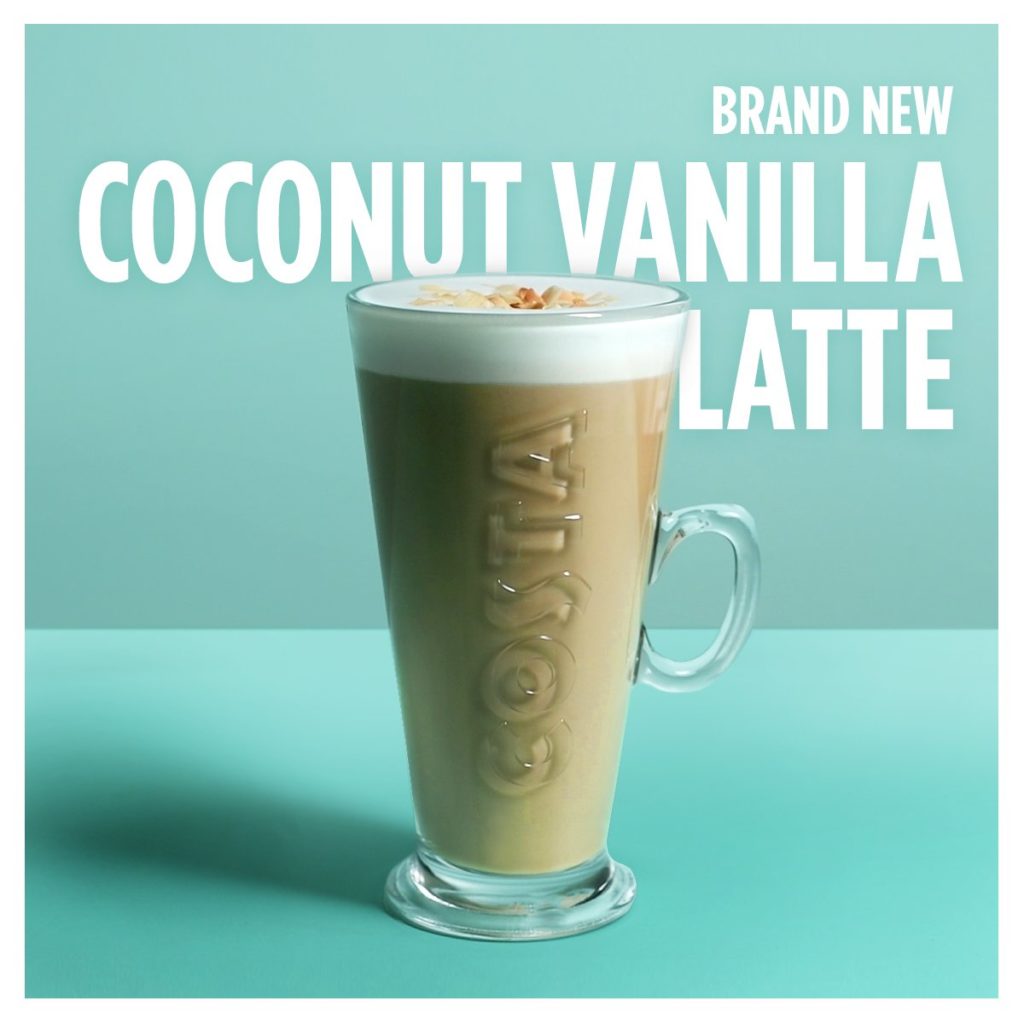 Vegan Coffee Options at Costa Coffee:
Costa Coffee makes it incredibly simple to order vegan-friendly coffee at all of their many locations. You can order any of the following drinks with no milk or creamer or substitute plant-based milk, and you're all good to go!
Coconut & Vanilla Latte
Spiced Cappucino
Flat White
Traditional Latte
Cortado
Americano
Caramel Cortado
Espresso
Ristretto
Macchiato
House Filter Coffee
(coconut/Soy) Milk Babbyccino
Iced latte
Iced Americano
Iced Cortado
Cold Brew Coffee (Black)
Coffee Frostinos (Now It is called Frappe. With caution, more below)
Mocha (At your own risk)
As mentioned above, order these with plant-based milk, such as coconut or soy, and you can enjoy any of these delicious drinks. A few of these drinks come with whipped cream, so you will need to request no whipped cream According to Costa, The Mint Choc Chip, Coffee, and Belgian Chocolate  Strawberry Frappes are all suitable for vegans. 
Feel free to add an extra espresso shot if you're looking for more caffeine; those are always vegan-friendly too.
If you want to spice up your coffee in other ways, all Costa Coffee Syrups are vegan-friendly except for their marshmallow and caramel-fudge syrup. Those two are not safe for vegans, but all the others are.
Mocha and hot chocolate are back on the Vegan menu once more. They changed the previous receipt last November and as a result, It does not contain milk products anymore. However, They cannot guarantee that milk will not get into it with cross-contamination. It is on you to take the risk!
Seasonal drinks
Unfortunately, naturally, every seasonal coffee contains dairy. However, with some modification, it can be vegan-friendly!
Gingerbread latte
Gingerbread and Cream Latte, a milky coffee laced with a generous slurp of sugar-free gingerbread syrup, topped with cream and adorned with a mini gingerbread person. You can order it with milk alternatives and soy-whipped cream. Unfortunately, the last one is not available everywhere, so probably just exclude it.
Black Forest Hot Chocolate
Costa's hot chocolate blended with cherry sauce, topped with cream, shimmer curls, and a drizzle of cherry sauce. The same goes this time again, ask for soy, coconut, or milk and exclude cream topping.
Latte inspired by Toblerone®
Costa's classic Latte combined with the indulgent chocolate and honey flavoured sauce inspired by the iconic Toblerone® taste with our light dairy swirl and Festive Twinkle.Despite the fact it comes with honey flavoured sauce, it could be vegan with milk alternatives and without cream topping. The sauce doesn't contain honey at all.
Hot Chocolate inspired by Toblerone®
Costa's Hot chocolate blended with the indulgent chocolate and honey flavored sauce inspired by the iconic Toblerone® taste with our light dairy swirl and festive Twinkle.You can make it vegan similar to the Toblerone latte. costa hot chocolate luckily vegan naturally.
Disclaimer
While you can make them vegan with some modification, cross-contamination is still a thing. Always tell the barista, that your goal is to make it vegan!
Non-Coffee Hot drinks
English Breakfast Tea (Decaf & Original)
The Earl
Jasmine Green Tea
Double Mint Infusion
Superfluity Infusion
Hot chocolate (At your own risk)
You can order these items as they are, or in the case of English Breakfast Tea, opt for the soy or coconut milk Costa Coffee offers. 
As we mentioned above, the hot chocolate basically does not contain milk. However They cannot guarantee that dairy products will not get into it with cross-contamination. You can try this hot drink at your own risk.
Unfortunately, according to one of our readers – a former barista at Costa -, the chai latte isn't vegan, since they are using Chai powder containing milk and honey. Thank you, Marta!
Cold beverages
Red Summer Berries Fruit Cooler (Smoothie)
Mango & Passion Fruit Cooler (Smoothie)
Strawberry Iced Infusion (Smoothie)
Vegan Food Items at Costa Coffee:
Smokey Ham & CheeZe Toastie
All Day Breakfast Panini
Smoky Chilli Beans & Rice Pot
Tomato & Basil Soup
Roasted Carrot & Coriander Soup
Fresh Fruit Salad
Sweet & Salty Popcorn
Natural Mixed Nuts/Protein-Nut Mix
White Toast
Borwn Seeded Toast
Cinnamon Raisin (Fruit) Toast.
All of these are naturally vegan, and you shouldn't have to modify them whatsoever. For some of these items, Costa uses vegan ham and cheese. Yum! Much-much better than Starbuck's offer.
Vegan Desserts at Costa Coffee:
Gluten-Free Vegan Fruity Flapjack
Chocolate Caramel & Hazelnut Cookie (not all locations)
Walking Gingerbread Cookies (seasonal)
Vegan Sugar-Free Gummy Bears
Costa Dark Chocolate Bar
Gluten-Free Iced Cake Slice
Ultimate Chocolate Slice
Jamaican Ginger Loaf
Rocky Road Brownie
Chocolate & Pecan Slice
Personally, the brownies are too dry for my liking, as I like my brownies gewy, but the gingerbread cookies are downright fantastic.
Some locations added a handful of freshly baked vegan-friendly desserts in late 2021, such as vegan cakes, banana bread, and gingerbread. These items will be clearly labeled, so you should be able to tell if your location carries them when you order.
Costa vegan drinks and foods in nutshell
In short, It isn't bad. Their food offer is increasing continuously. Costa even has Vegan ham and cheese for their sandwiches! About their signature coffee selection. Plenty of plant milk options are available at every location. Most of the coffee specialty could be ordered with sustainable milk.
FAQ's about Costa
Below we'll cover some of the most frequently asked questions people have sent us, or that we personally had regarding drinking or eating vegan at the British coffeehouse chain — some of this we already answered indirectly above, but if you want a more direct-answer to a specific question we'll likely have it below.
Is Costa hot chocolate vegan?
Great news, It is back on the menu. Costa changed their previous receipt at the end of 2021. It does not contain milk anymore. However, They cannot guarantee that dairy products will not get into it with cross-contamination. You can try it at your own risk. So, Costa is always a good choice for a Vegan.
Is Costa Frappe vegan?
Yes! Fortunately, there is plenty of vegan frappe at Costa. The following flavors are suitable for us if you order them without whipped cream: 
The Mint Choc Chip
Belgian Chocolate
Strawberry
Bubbly Tropical Mango.
Is Costa gingerbread latte vegan?
All of the Monin syrups are vegan there, which includes gingerbread flavor. However, Tossimo's gingerbread-flavored Costa Coffee pods are not vegan, since It includes cream from milk and milk protein.
Is Costa chai latte vegan?
According to Costa Coffee's official website, the spicy latte is vegan if you order it with plant-based milk. However, one of our readers – who is a former barista at Costa -, pointed out that, Costa uses Chai powder that contains milk and honey. Thank you Marta for the information!
All of the syrups – which are used in Costa – are Vegan.
What vegan chedoese do Costa use?
Costa's new Vegan Smoky Ham & Cheeze Toastie comes with Quorn Vegan Smoky Ham, Vegan Cheeze which is based on coconut.
Are Costa Fruit Coolers Vegan?
According to their official webs,ite the following fruit coolers are Vegan: Strawberry, Mango, and Passion Fruit, and Red Summer Berries Fruit Cooler.