It is hard to beat a home-cooked meal, but sometimes fast food just hits the spot. Most places only have one or two items that are suitable for vegans. Well, they are definitely not at the Slutty Vegan-level, but you might be surprised by how many Dairy Queen vegan options there are.
How many Dairy Queen vegan options are there?
Dairy Queen could do better in curating a menu with vegan options, but there should be enough to satisfy your fast food cravings. You will not find any vegan burgers or plant-based sandwiches, but there are a few safe choices. Vegan options at Dairy Queen include: 
Here's a more detailed look at what you can order as a vegan at Dairy Queen.
Frozen treats
Non-Dairy Dilly Bars
These days Dairy Queen offers more than just dairy dilly bars. They found a way to make a vegan-friendly option without sacrificing any flavor. These bars use a coconut cream base, vanilla extract, coconut oil, vegan chocolate, and a few other ingredients.
StarKiss Bars
This gluten-free frozen treat is not available at every location, but if you find them you will not be disappointed. The Star Kiss bars offer an experience similar to eating ice cream without dairy. Enjoy the flavors of cherry, watermelon, and blue raspberry, all wrapped up into one treat.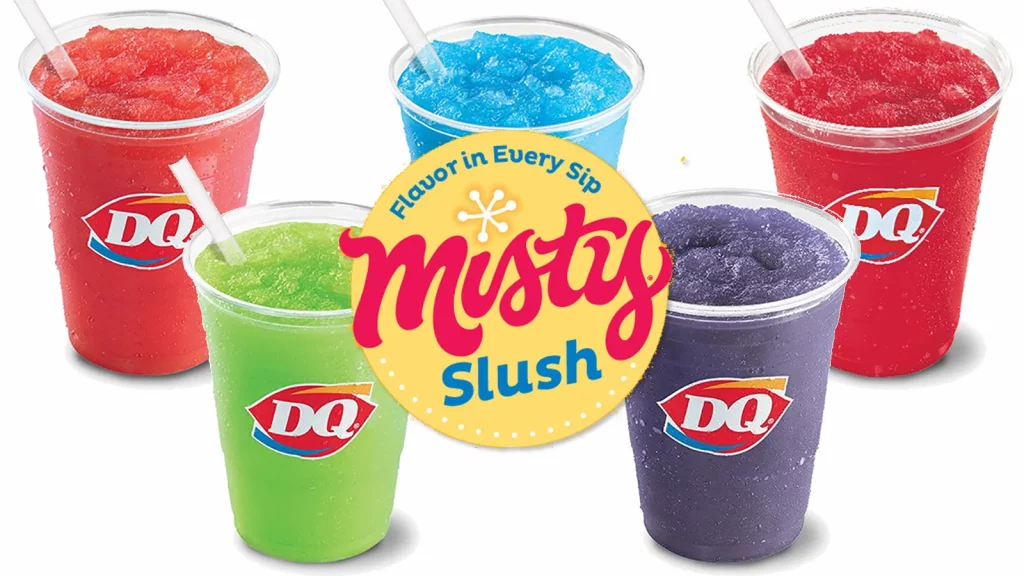 Beverages
Are you looking for a refreshing treat to cool off without the animal products? This slushy will do the trick. Flavors include blue raspberry, strawberry kiwi, grape, cherry, mango, and lemon-lime. While all flavors contain artificial colors, each one is vegan-friendly. Do not mistake the Misty Slush for the Misty Freeze. The latter is not vegan and contains dairy ice cream.
Dairy Queen's Premium Fruit Smoothies happen to contain yogurt, but with a simple change, you can still enjoy them. Just request they make your smoothie with water instead of yogurt. Flavors include strawberry banana, mango pineapple, and tripleberry. Some locations also offer light smoothies that already come with no dairy.
Sandwiches
Dairy Queen hasn't quite caught up to competitors with plant-based meat alternatives. There is still an option if you are looking for a more filling meal. The buns at Dairy Queen are vegan. That means you can order a hamburger or hot dog and ask them to hold the meat. Add on your favorite vegetables such as onion, pickles, tomatoes, or lettuce. Top it off with any of their vegan-friendly sauces.
Sides
Dairy Queen vegan options don't stop there! When it comes to sides, there are quite a few selections for you beyond their applesauce or bananas. Unless you are trying to eat super healthy meals, you might prefer one of the following options that are a little more satisfying.
Unlike the onion rings on their menu that contain milk products, the french fries are vegan-friendly. They are fried in soybean oil.
Hash browns
Dairy Queen also prepares their hash browns in soybean oil. Of course, there is always a risk of cross-contamination, but their hash browns are still a great option.
They spread butter on top of their pretzel sticks during preparation. You can ask them to leave the butter off and also have them hang onto the zesty queso dipping sauce. Skipping these parts of the dish doesn't take away from the tastiness of these pretzel sticks. Feel free to order any of the vegan-friendly sauces listed below for your dipping needs.
The side salad at Dairy Queen contains lettuce, cabbage, diced tomatoes, and shredded carrots. Most of the dressings at Dairy Queen contain dairy, but there are a few dressing options that are safe for vegans. Try one of these tasty choices:
Marzetti Light Italian Dressing
Marzetti Balsamic Vinaigrette Dressing
Marzetti Fat-Free California French Style Dressing
Marzetti Asian Sesame Dressing
Potato Chips
Dairy Queen offers Lay's BBQ, Lay's Original, and Lay's Oven Baked Original–all vegan.
Sauces
While a few of the sauces found at Dairy Queen contain eggs, making them unsafe for vegans,  there are still a few sauce options for you to enjoy! Feel free to try any of these:
Buffalo Sauce
BBQ Sauce
Ketchup
Mustard
This guide is a great place to start, but you should always be cautious when ordering out as a vegan. There is a chance of cross-contamination or a change in ingredients. Thankfully, most restaurants have allergen pamphlets and are open about nutritioninformation. If you have any questions about items on the menu, you can always ask the staff.
Frequently Asked Questions