Baja Fresh is sort of like Taco Cabanana, but in my opinion a little bit better — This is because while they're both chain restaurants and both of them serve "Tex-mex" type cuisine in a fast-food type of way they actually have flour tortillas that are vegan!
While they both have some basic menu items such as beans/rice, Taco Cabana's flour tortillas contain whey, so that really puts them at a disadvantage to Baja Fresh in my view — not to mention in early 2022 Baja Fresh added some impossible meat options, if you are into vegan meats it's quite the addition.
So what are my options?
You can either build your own tacos or you could be a normal person and just order their "veggie" version of things and specify no cheese or sour cream on it.
Personally I'd go for the latter as I think building your own burrito/taco/etc doesn't work the best at this place simply because of how ordering it works.
Full Pre-built meals
So if you want to just get a pre-set out meal, which is what I'd probably do, then maybe get extra beans on the side or something since I'm a bean-a-holic.
If you get any of these make sure to order them without cheese or sour cream.
Veggie Burrito
Veggie Tacos
Veggie Baja Bowl
Veggie Quesadilla (lol)
Tostada Salad (no meat, no cheese)
Baja Ensalada (no meat, no cheese)
Chili Lime Ensalada (no meat, no cheese)
Impossible Taco Combo (3) – Specify no Cheese
Fuego Impossible Burrito – Specify no Cheese or Sour Cream
Impossible bowl – Specify no Cheese or Sour Cream
With these you can choose either of the beans and either of the rices, as they're all vegan, as well as of course your choice of tortillas/taco/etc.
Tortillas
All of their tortilla products are vegan, or at least the following that are available at most locations:
Whole Wheat Tortilla
Regular Wheat Tortillas (both sizes)
Corn Tortilla
Tortilla Strips
Chips
Beans & Rice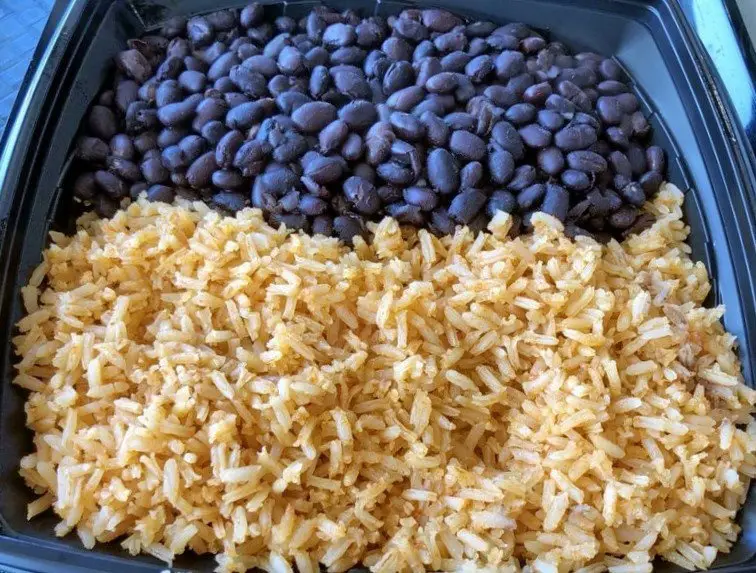 As mentioned above, all their beans and rices are vegan. Those being the:
Black Beans
Pinto Beans
Baja Rice
Cilantro Rice
Specify no cheese on these, especially if you order them as sides as Baja Employees will often sprinkle cheese on the top of them.
Other Yummy things
Avocado Slices
Lime Slices
Fajita Vegetables
Guacamole
Chips
Cilantro Onion Mix
Diced Tomato
Lettuce
Apple Slices
Roasted Corn
Baja Papas (Potatoes, during breakfast)
Grilled Onions/Peppers
Jalapeno Slices
Yellow Peppers
Clinatro
Side Salad (No cheese, vinaigrette dressing or a salsa below instead!)
Impossible Meat Crumbles
Sauces/Dressings/Salsas
Avocado Salsa
Baja BBQ Sauce
Chili Lime Dressing
Corn Avocado Salsa
Molcajete Salsa
Pico De Gallo
Salsa Baja
Salsa Roja
Salsa Verde
Six Chiles Salsa
Vinaigrette
So how does Baja Fresh look for a Vegan?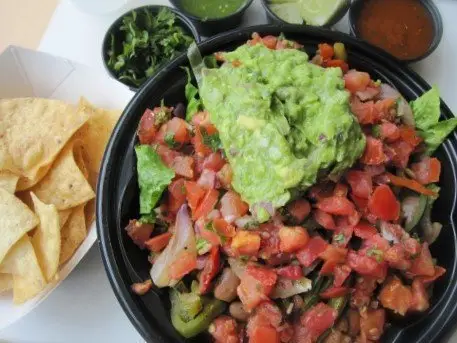 While I prefer the assembly-line style of other restaurants better when you get multiple types of beans, rice, tortillas, yummy salsas, guacamole, etc, I definitely can't complain.
Baja Fresh has everything a vegan needs to build a tasty, satisfying, and mildly healthy, meal.
They're lacking a meat-substitute like many Tex-mex type places (like Chipotle or Freebirds) offer, but personally to me it's not a big deal as I'm more into beans that meat-substitutes, and their beans aren't bad to me.
Many thanks to Baja Fresh for not putting unnecessary animal products into strange places and keeping the simple things vegan.