Everything Vegan at Extreme Pita (Late-2021)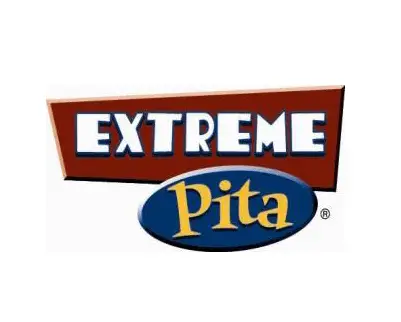 Extreme Pita is a smaller Pita restaurant, not to be confused with Pita Pit, which has similar vegan options, but none the less is a different restaurant entirely.
Extreme Pita has quite a few vegan options. While I'm not a big fan of pita restaurants (since I make similar food at home so much) it's a great option for a vegan when eating out.
My one real complaint at Extreme Pita is their kid's menu doesn't have a vegan option and it's all cheese/meat rather than falafel.  At least they give you the option to build one though.
Vegan Meal Entrees at Extreme Pita:
If you aren't interested in building your own pita you can get the Sriracha Falafel pita without the Sriracha Mayo on it and that'd make it vegan.
You could also get the Mediterranean Falafel plate without feta cheese or Tzatziki sauce (get hummus instead!) or the Veggie Flatbaked Pita without feta or cheese.
Flat-Baked Veggie Pita (No Cheese, No Feta)
Mediterranean Falafel Plate (No Feta or Tzatziki Sauce)
Sriracha Falafel Pita (No Sriracha mayo)
My favorite out of these is the Mediterranian falafel plate.
Build Your Own Vegan Meal at Extreme Pita:
If I wasn't going to just get the Mediterranean falafel plate without feta or Tzatziki sauce this would be what I'd do.
How it works is you can order any five vegetables, a single "protein" and up to two sauces on either a pita or as a "salad" which is just a deconstructed pita. When it comes to kids build your own meals it's 1 protein and 3 veggies, but you have to specify no cheese as well as by default kids pitas come with cheese for whatever reason.
Vegan Pita Breads at Extreme Pita:
They only have one pita option currently, so pick that one. It's vegan.
Vegan "Protein" Options at Extreme Pita:
Fillings/Vegetables at Extreme Pita:
Avocado
Cucumber
Tomato
Romaine lettuce
Red Onion
Bean Medley
Spinach
Roasted Red peppers
Pickles
Tabbouleh
Zucchini
Hummus
Jalapenos
Kalamata Olives
Cilantro or Corn & Bean Salsa
Vegan Sauces at Extreme Pita:
These change quite frequently, however they don't have any strange ingredients in the sauces you'd expect to be vegan. Generally their options are:
Some sort of Vegan hot sauce
Salsa
Some variety of Vegan Balsamic Vinaigrette
Barbecue Sauce
A sweet chili sauce
Pizza sauce (usually only for the flatbread but they'll let you have it)
Other Vegan Goodies at Extreme Pita:
While it's not a for-sure thing as I believe not all locations have smoothies, many Extreme Pita locations have Smoothies, and they're all vegan and dairy-free unless you ruin them with some whey protein powder. So just don't get the "Protein Smoothies" and you'll be good.
They also have a few other things such as chips, pita chips, regular drinks/soda of course, and sometimes soup, although the soup is entirely based on the location it's self so there's no telling if the soup at your Extreme Pita will be vegan.
Pita Chips
Regular Chips
Sodas/Drinks
Varied tasty fruit smoothies
I'd say Extreme Pita is pretty good for a Vegan, and while it may not be the best place it's by far passable and you can make a good meal there as a Vegan. A healthy & satisfying one at that.
Other Articles to Check Out: