KFC, which stands for Kentucky Fried Chicken, is a fast-food restaurant chain founded by Colonel Sanders in 1930. They are known for their chicken products. Is there vegan chicken at KFC? Currently no, but there was a period when you could get vegan chicken at KFC, that was the Beyond Fried Chicken, but unfortunately this was put to an end as it was only a test phase. Beyond Fried Chicken was completely plant-based, but cross-contamination problems could occur during cooking, making it impossible for vegans to eat. Luckily, at KFC you can swap the chicken for another dish to suit your vegan diet. Most items on their menu are not vegan-friendly. However, KFC has more options than some other chicken restaurants worldwide.
There are some plant-based options at KFC listed below:
Homestyle sides
Salad
Dessert
Beverages
Dipping Sauces and Condiments
KFC has made a nutritional table available where you can find information about the product you are looking for. The products have indicators to show whether the product has any allergenic properties. The allergens may be Gluten, Wheat, Soy Milk,
Eggs, Fish, Shellfish, Tree Nuts, Peanuts MSG (Monosodium glutamate) Sesame. Of these allergen types, Milk, Eggs, Fish and Shellfish are the ones that, if given a single one, can determine whether a food is vegan or not.
All the data were gathered from the official KFC's nutritional guide.
What is KFC Beyond Chicken?
KFC Beyond Chicken was a type of food that could be ordered in KFC. They partnered with a plant-based meat producer called Beyond Meat in Los Angeles.
KFC Beyond Fried Chicken is advertised as plant-based, meaning it may not be 100% vegan. They may cook the Beyond Fried Chicken in the same fryer as their regular chicken or on the same grill, which could cause cross-contamination.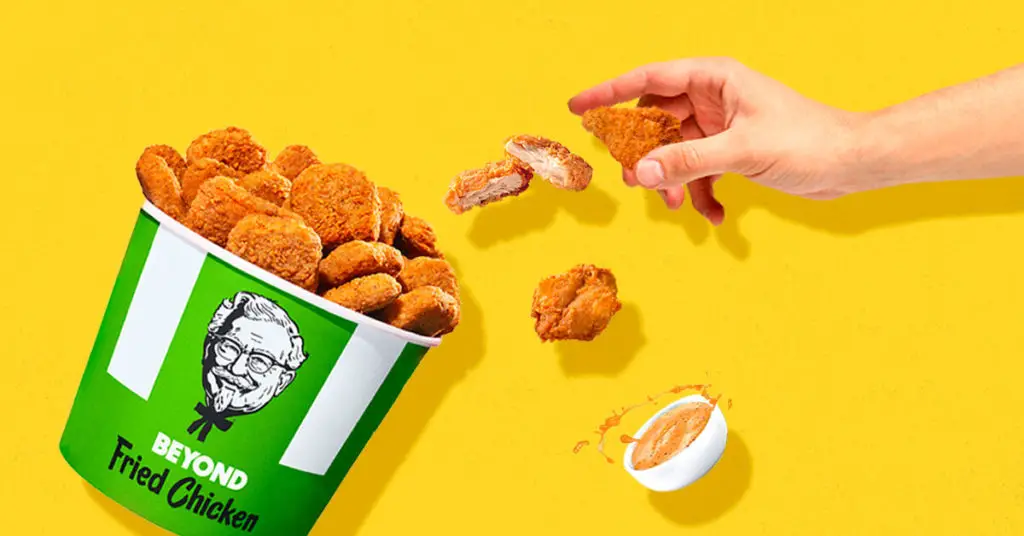 Is KFC Beyond Chicken still available?
The KFC Beyond Chicken food option is not available anymore. KFC has yet to announce a date for when they will be serving their KFC Beyond Fried Chicken or other plant-based chicken products again in the USA. We will have to wait and see. 
Vegan options for homestyle sides
There are 2 types of homestyles sides, for individuals and for families. There are vegan options in both. Some sides, such as Baked Beans, Fries, or Green Beans require no modifications. KFC's secret recipe fries are vegan because KFC does not fry their potatoes in beef fat, rather they are fried in vegetable oil. However, cross-contamination could be a problem.
Vegan options for homestyle sides for individuals
The homestyle side vegan options for individuals at KFC are listed below:
BBQ Baked Beans ingredients are largely Beans, Water, Sugar, Tomato Paste, Corn Syrup, Salt, Paprika, Spice and food colourings.
Corn on the cob is literally a cooked corn on the cob. The only problem with this dish is the melted butter in which it can be dipped. If you wish to omit this, please indicate this when ordering.
Sweet Kernel Corn is like the previous one, it is made only of corn and with this product you don't even have to pay attention to the butter.
Green Beans is completely vegan, as it contains green beans flavored with onions, salt, monosodium glutamate, spices and garlic.
Secret Recipe Fries are mostly vegan, but you should be careful about cross-contamination. To avoid this, please indicate this when ordering.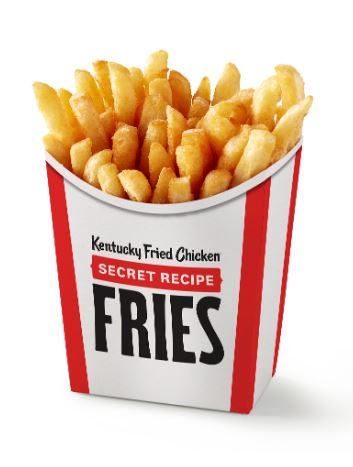 Vegan options for homestyle sides for individuals
The following products are identical to the previous ones, which are recommended for individuals. The difference is that these products are designed specifically for families, so they differ only in quantity. The vegan homestyle sides options for families at KFC are listed below:
BBQ Baked Beans
Corn on the cob
Green Beans
Sweet Kernel Corn
Secret Recipe Fries
Are KFC secret recipe fries vegan?
Yes, KFC secret recipe fries are vegan. KFC does not fry their potatoes in beef fat as other fast-food chains often do. However, if you are concerned about cross-contamination, it might be best to avoid eating at KFC altogether.
Is creamy mash vegan in KFC?
No, creamy mash is not vegan in KFC. Due to the allergens contained and presented in the creamy mash, also knows as mashed potatoes, you can't order it as a vegan.
Vegan options for salad
Salad is a dish consisting of a mixture of small pieces of food, usually vegetables or fruit, served at a lower temperature. At KFC, The House Side Salad is a good option for vegan salad, but make sure to order without the croutons or cheese and opt for the Marzetti Light Italian Dressing. All of the other dressing and dip options contain animal products.
The only vegan salad option at KFC is listed below:
The House Side Salad is completely vegan-friendly, containing only lettuce and tomatoes.
The only vegan dessert option at KFC is listed below:
Marzetti Light Italian Dressing is also completely vegan because of its ingredients, which are water, vinegar, sugar, salt, soybean oil, and garlic.
Vegan options for dessert
At KFC, The Apple Turnover is the only option for desserts, but it does contain palm oil. Some ethical vegans find palm oil consumption to not be vegan, so they do not consume palm oil or palm oil products. To be safe, you could always opt for the kids' applesauce for dessert or a snack, as it is plant-based and does not contain any palm oil. Personally, I stick to a soda as my sweet treat. 
The only vegan dessert option at KFC is listed below:
Vegan options for beverages
All drinks are vegan-friendly at KFC. The vegan drink options at KFC are listed below:
7UP
Classic Lemonade
Code Red Mountain Dew
Diet Dr Pepper
Diet Mountain Dew
Diet Pepsi
Diet Pepsi Wild Cherry Pepsi
Dr Pepper
Lipton Brisk Lemon Tea
Lipton Brisk No Calorie Peach Iced Green Tea
Lipton Brisk Raspberry Tea
Lipton Brisk Unsweetened No Lemon Iced Tea
Manzanita Sol
Miranda Strawberry
MNT DEW Sweet Lightning
Mountain Dew
Mug Root Beer
Pepsi Zero Sugar
Pepsi
Sobe Lifewater Yumberry Pomegranate
Starry
Tropicana Fruit Punch
Tropicana Light Lemonade
Tropicana Pink Lemonade
Tropicana Twister Orange
Wild Cherry Pepsi
There are 3 types of drinks that can be chosen for kids and only one is vegan. The only vegan drink for kids at KFC is listed below.
Capri Sun 100% Juice Fruit Punch
Vegan options for dipping Sauces and Condiments
Sauce is a type of condiment that can be used in preparing food or served with the dish to increase flavor, moisture, and visual appeal. The vegan sauce options at KFC are listed below:
Grape Jelly Packet
Strawberry Jam
Ketchup
Lemon Juice Packet
For kids there is only one option for sauce at KFC. The only vegan sauce option for kids is listed below.