KFC stands for Kentucky Fried Chicken. It makes perfect sense that a restaurant known for its chicken products would not carry too many vegan options. Most items on the menu here are not vegan-friendly. However, KFC has more options than some other chicken restaurants in the world, such as Bojangles or Popeyes.
Those who live in the United Kingdom have quite a few more vegan options available at KFC locations near them than what can be found here in the United States. These include onion rings, beans, and other tasty treats.
See also->
Around August 2019, some KFC locations in the U.K. began to test out vegan and vegetarian fried chicken items. If you live in the U.K., accessing this vegan chicken will likely be easier for you than it would be for those in the United States. At KFC, they use Beyond Meat, which was founded in 2009 by Ethan Brown.
There is a chance that KFC's Beyond Fried Chicken will become a permanent part of all locations worldwide eventually. One can only hope!
During Veganuary of 2022, otherwise known as January, Beyond Fried Chicken was available at most United States locations for a limited time. You are welcome to try this if you aren't super worried about cross-contamination. Ingredient wise these are 100% vegan. However, they are fried in the same fryers, so if that's a no-go for you, then you should avoid it.
Until Beyond Fried Chicken Nuggets are an option available at all KFC locations in the U.S., there are a few menu items a vegan can enjoy. So, what's vegan at KFC?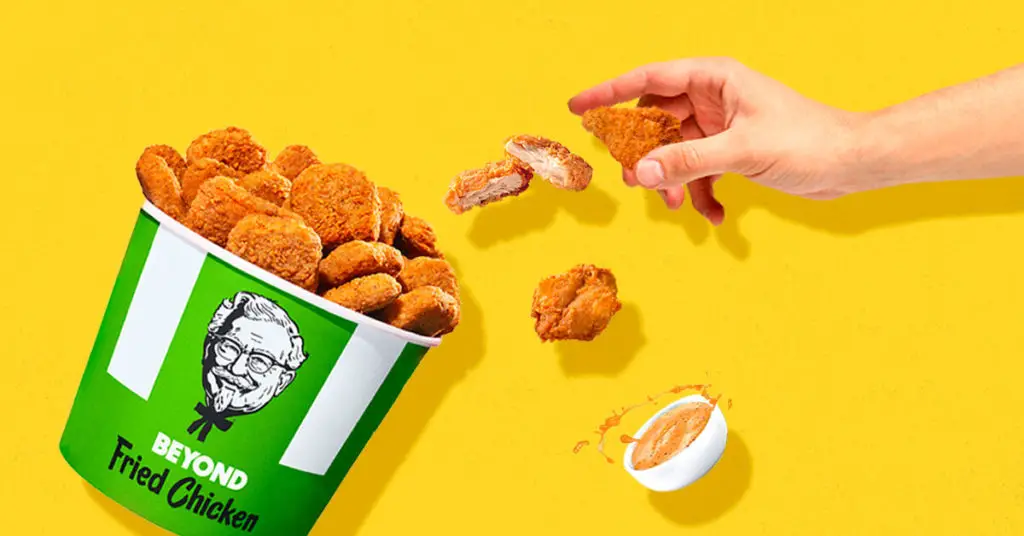 What does KFC Plant-Based Chicken Taste Like?
When I first heard KFC was introducing Beyond Fried Chicken in 2019, I was more than excited! KFC Fried Chicken is a fast food classic and has won the hearts of Americans since its start in 1952. The Colonel's 11 herbs and spices have made our mouths water for decades, bringing families together over a bucket of savory and crispy chicken thighs, legs and breasts.
With the worldwide expansion, different variations of sides, sandwiches and flavorings have been hitting homes and bellies around the world. But the problem facing all vegans, vegetarians and plant-based eaters is, what about us? When is KFC going to come out with a vegan friendly alternative? Now with KFC Beyond Fried Chicken our wait is finally over, right? 
With a growing vegan population and demand for more plant-based alternatives, KFC heard our cries and finally came out with a tasty solution, KFC Beyond Fried Chicken Nuggets. The only problem? It has only ever been available for a limited time. In January 2022 KFC announced they would be selling Beyond Fried Chicken at 4000 locations across the USA yet again.
The plant-based chicken was available for a limited time, corresponding with the month of Veganuary (Vegan February). Unfortunately, it was only available from late January until the end of February (supply permitting). When KFC Beyond Fried Chicken Nuggets originally became available in 2019, I knew I had to get my hands on their plant-based chicken before it was sold out. Seeing now how limited its availability has been since 2019, I now know I was right to worry! 
For those that are curious, feel free to check out the commercial for KFC Beyond Fried Chicken here. Although the ad doesn't provide too much information, it does give you at least a video of what the KFC Plant-Based Fried Chicken Nuggets look like. 
Upon heading to my local KFC to pick up the new Beyond Fried Chicken, my first indication that this would be something to encounter was the line. Due to the limited availability, the lineup was long and after waiting for about 45 minutes I wondered if it was even worth it. Some fast food plant-based products have been lacking and I wasn't too eager to wait all day for a cardboard tasting, flavorless alternative. One indicator that had me excited about Beyond Fried Chicken was KFC's commitment to making a great product.
KFC had been working on the Beyond Meat chicken recipe for two years and according to the company they wanted "a recipe that replicates the same taste and texture of whole muscle chicken, so that it pulls apart like KFC's traditional fried chicken breast, with KFC's signature breading."
This commitment to producing an excellent vegan chicken product motivated me to wait it out. Once I got to order they had the option of 6 or 12 pieces and the option to make it a combo with fries and a drink. 
Once I got my hands on the KFC Beyond Fried Chicken, I was impressed. They were hot and crispy and smelled just like classic KFC Fried Chicken. The outside of the Beyond Fried Chicken looked very similar to a classic chicken nugget, but a bit bigger. The outside also had the same texture as KFC Classic Fried Chicken, which was a good indication of their commitment to producing a comparable product.
When I tried to pull it apart though the inside looked processed and you could tell by the texture it was a plant-based alternative. The taste though was pretty good, but a little disappointing. Not worth the hour to wait in line! On a positive note, the seasoning did taste just like how classic KFC Fried Chicken smells. The combination of the 11 herbs and spices and salt (it was nice and salty!), made for a pleasant meal.
Other disappointing aspect though was that the dipping sauces, Honey BBQ, Honey Mustard, Ranch and the KFC sauce are not vegan. The ketchup and hot sauce are vegan, but not having a plant-based sauce available was disappointing and a missed opportunity.
Would I buy KFC Beyond Fried Chicken again?
Of course! It is great to have a fast-food plant-based alternative. Being vegan can sometimes have you feeling left out and hungry, especially when it comes to fast food options. It is no secret though that companies, such as KFC have recognized that people are looking for vegan and plant-based food alternatives and are stepping up their game. This has spurred the creation of solutions, such as the KFC Beyond Fried Chicken.
The only problem though is often these products are only available for a limited time, meaning many of us don't get a chance to try these new plant-based products. Also, companies often forget to provide other sides, sauces and desserts to accompany their mains. It is great to try their plant-based nuggets, but with no plant-based sauce to accompany it? 
Although the KFC Beyond Fried Chicken was tasty, there is room for improvement. Texture-wise it wasn't the best and definitely does not compare to their Original Chicken Recipe. For now, we can only hope that with further innovations and the public's push for more vegan and plant-based options, we will continue to see improvements in taste, texture and visual appeal.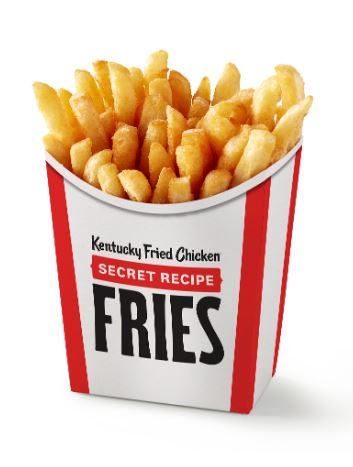 KFC Vegan Menu Options:
BBQ Baked Beans
Corn on the Cob (request no butter)
Green Beans
Potato Fries (Check our article on KFC Fries)
Sweet Kernel Corn (request no butter)
House Side Salad (No Cheese)
Mazetti Light Italian Dressing
Apple Turnover (be aware! it contains palm oil)
Apple Sauce
Besides a few tasty sauces and drinks, that list consists of everything vegan at KFC. Other than milk, every single drink offered at KFC is vegan.
You might assume the mashed potatoes are safe, but they contain milk, so avoid this item if you are sticking to a vegan diet.
Vegan Sauces at KFC:
Mazetti Light Italian Dressing
Grape Jelly
Strawberry Jam
Ketchup Packet
Lemon Juice Packet
Summertime BBQ Sauce
Sweet N Tangy Sauce
How to order vegan at KFC?
Ordering a meal at KFC as a vegan can be challenging, so here are some tips and tricks for your next visit. 
For main dishes stay clear of the KFC Famous Chicken Sandwiches and Original Recipe Chicken drumsticks, but instead, try the Beyond Fried Chicken Nuggets or Plant-Based Chicken Sandwich. If Beyond Fried Chicken is not available, here is a hack. Order a tortilla wrap (plant-based), a side of Baked Beans and a House Side Salad (omit the cheese and croutons).
Once you have your side, assemble. Fill your tortilla with the baked beans and salad (lettuce, tomato, etc). Now you have a wrap! Although this isn't something I would seek out, it is something I have tried and it turned out pretty good. If you feel a little crazy, you could even try adding a few fries to the mix. 
You can feel relieved that all drinks at KFC are vegan friendly. KFC also has many vegan-friendly sides to choose from. Some of the sides require no modifications, such as the Baked Beans, Fries or Green Beans. Keep in mind though that the fries and plant-based nuggets in the USA are cooked in the same fryer as the chicken. In Canada, you don't have to worry, as the fries and plant-based chicken are cooked in a separate fryer. 
Prefer a side of corn? Just make sure to ask for no butter. The House Side Salad can also be a good option, but make sure to order without the croutons or cheese and opt for the Mazetti Light Italian Dressing. All of the other dressing and dip options unfortunately contain animal products. 
For dessert, the Apple Turnover may be an option, but it does contain palm oil. Some ethical vegans find palm oil consumption to not be vegan, so they do not consume palm oil or palmoil products. To be safe you could always opt for the kids' applesauce for dessert or a snack, as it is plant-based and does not contain any palm oil. Personally, I stick to a soda as my sweet treat. 
So how's KFC for a Vegan?
KFC is far from the worst option as far as fast-food chains go. It is better than one might expect and has a decent amount of vegan options.
They do not fry their potatoes in beef fat as many restaurants do. They also do not add unnecessary milk to green beans, and they skip adding bacon to their beans which is fantastic. Their potato wedges are vegan, as well as their corn. They do not add salt to the corn, so it is surprisingly healthy.
Maybe promoting Kevin Hochman to the president of KFC will bring more positive change to the fast-food joint going forward. Who does not want to give vegan fried chicken a try? Only time will tell if their vegan options will go beyond plant-based chicken.
More changes seem to be made within these large fast-food restaurants as people realize the benefits of plant-based eating.
While Kentucky fried chicken might not be your first choice, it is possible to have a satisfying and healthy vegan meal here. You do not have to miss out on the delicious experiences consumers expect.
Hopefully, KFC adds their Beyond Fried Chicken to the menu at all of their locations in the world one day, rather than just some locations with limited availability. It is a possibility!
Until then, there are plenty of other tasty options that deliver the delicious experience you are looking for. You can still enjoy the added benefits of plant-based food inside the walls of a KFC near you.
However, it would be much better for you, if you try out one of the meal-kit services.
Frequently Asked Questions
Yes, KFC fries are vegan, because they do not fry their potatoes in beef fat as many restaurants do. 
KFC's biscuits are not vegan, because they contain animal products like buttermilk and whey protein concentrate.
Are KFC mashed potatoes vegan?
You might assume the mashed potatoes are safe, but they contain milk, so avoid this item if you are sticking to a vegan diet.
Is KFC Beyond Fried Chicken Vegan?
KFC Beyond Fried Chicken is advertised as plant-based, which means that it may not be 100% vegan. They may cook the Beyond Fried Chicken in the same fryer as their regular chicken or on the same grill, which could cause cross-contamination. 
Does KFC Have Vegan Chicken?
Technically no, as KFC has plant-based chicken. This means that although it does not contain any animal products, it does not necessarily adhere to ethical veganism. 
Many KFC sauces are vegan! Including Mazetti Light Italian Dressing, Grape Jelly, Strawberry Jam, Ketchup Packet, Lemon Juice Packet, Summertime BBQ Sauce, and their Sweet N Tangy Sauce. 
Which KFC Has Vegan Chicken?
Unfortunately, KFC Beyond Fried Chicken was only available for a limited time and is not currently on the menu in the USA. Due to popular demand, we hope it will be back soon!
Does KFC Have Vegan Options?
Yes, KFC has many sides that would be considered vegan friendly. Including BBQ Baked Beans, Corn on the Cob (request no butter), Green Beans, Potato Wedges, Sweet Kernel Corn (request no butter), House Side Salad (requests no cheese), Apple Turnover, and Applesauce. 
KFC Coleslaw contains eggs, meaning it is not vegan. In Canada, though the coleslaw is plant-based and vegan friendly.
No, KFC gravy is not vegan. KFC gravy contains chicken fat, which is an animal product. This means it is not vegan or vegetarian friendly. 
KFC does not advertise any of their products as certified vegan, so technically we are not able to 100% confirm if any of their products are completely vegan. KFC does serve certified plant-based products. 
When Will KFC Have Vegan Chicken?
KFC has not yet announced a date for when they will be serving their KFC Beyond Fried Chicken or other plant-based chicken products again in the USA. We will have to wait and see. 
Are KFC Beyond Nuggets Vegan?
Well, as far as ingredients go, they are vegan, because they are plant-based. However, KFC Beyond Chicken may be cooked in the same fryers as their regular chicken, resulting in cross-contamination. 
Yes, KFC Round Buns are vegan. Keep in mind though that there are many different types of buns and bread products at KFC. For example, their Buttery Buns and Biscuits are not vegan, as they contain dairy products.