KFC, which stands for Kentucky Fried Chicken, is a fast-food restaurant chain founded by Colonel Sanders in 1930. They are known for their chicken products.
Most items on the menu are not vegan-friendly. However, KFC has more options than some other chicken restaurants worldwide.
There are some plant-based options listed below:
Homestyle sides
Sauces
Salad
Dessert
For sauces, many KFC sauces are vegan, including Ketchup Packet, Lemon Juice Packet, and Strawberry Jam. 
Homestyle sides
The side is part of the dish and is in the main course at a meal. The side can be drinks or other types of food.
At KFC, all drinks are vegan-friendly. KFC also has many vegan-friendly sides to choose from. Some sides, such as Baked Beans, Fries, or Green Beans, require no modifications.
KFC's secret recipe fries are vegan because KFC does not fry their potatoes in beef fat. However, cross-contamination could be a problem. 
The vegan options for homestyle sides are listed below:
Sweet corn
Secret recipe fries
All drinks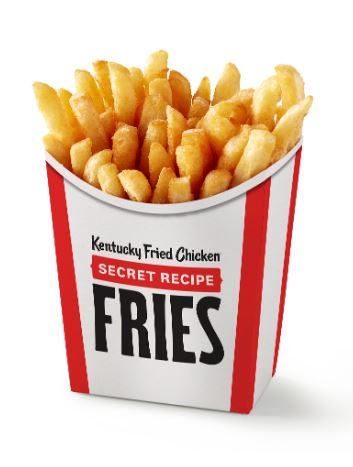 Sauces
Sauce is a type of condiment that can be used in preparing food or served with the dish to increase flavor, moisture, and visual appeal.
The vegan sauces that can be ordered in KFC are listed below:
Mazetti Light Italian Dressing
Grape Jelly
Strawberry Jam
Ketchup Packet
Lemon Juice Packet
Summertime BBQ Sauce
Sweet N Tangy Sauce
Salad
Salad is a dish consisting of a mixture of small pieces of food, usually vegetables or fruit, served at a lower temperature.
At KFC, The House Side Salad can be a good option for vegan salad, but make sure to order without the croutons or cheese and opt for the Mazetti Light Italian Dressing. All of the other dressing and dip options, unfortunately, contain animal products.
The vegan option for salad in KFC is listed below:
Dessert
The dessert is a type of dish that concludes a meal. They are usually sweet.
At KFC, The Apple Turnover is the option, but it does contain palm oil. Some ethical vegans find palm oil consumption to not be vegan, so they do not consume palm oil or palm oil products. To be safe, you could always opt for the kids' applesauce for dessert or a snack, as it is plant-based and does not contain any palm oil. Personally, I stick to a soda as my sweet treat. 
The vegan option for dessert in KFC is listed below:
What are the options for vegan chicken in KFC?
KFC has no plant-based chicken. It means that although it does not contain any animal products, it does not necessarily adhere to ethical veganism. 
Around August 2019, some KFC locations in the U.K. began to test out vegan and vegetarian fried chicken items. If you live in the U.K., accessing this vegan chicken will likely be easier for you than it would be for those in the United States. At KFC, they use Beyond Meat, which was founded in 2009 by Ethan Brown.
During Veganuary of 2022, otherwise known as January, Beyond Fried Chicken was available at most United States locations for a limited time.
What is KFC Beyond Chicken?
KFC Beyond Chicken was a type of food that could be ordered in KFC. They partnered with a plant-based meat producer called Beyond Meat in Los Angeles.
KFC Beyond Fried Chicken is advertised as plant-based, meaning it may not be 100% vegan. They may cook the Beyond Fried Chicken in the same fryer as their regular chicken or on the same grill, which could cause cross-contamination.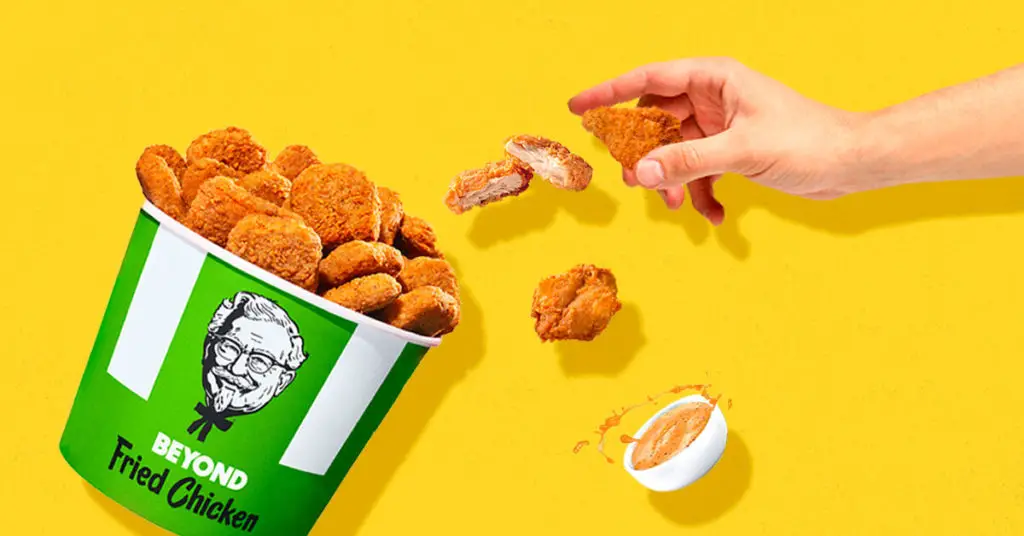 Is KFC Beyond Chicken still available?
The KFC Beyond Chicken food option is not available anymore. KFC has yet to announce a date for when they will be serving their KFC Beyond Fried Chicken or other plant-based chicken products again in the USA. We will have to wait and see.