First of all, I hadn't actually gone to Pei Wei till recently, and I must say I was shocked at how many options they had after I dug around and found everything they had for us vegans. They have far more vegan options than basically any other chain (Asian-food) restaurant. They have waaay more than Panda Express or Manchu Wok for example.
Pei Wei even clarifies on their nutrition/Allergy statements about certain things such as whether or not a sauce has honey in it or if their honey-glaze contains actual honey (it doesn't). So thanks for that Pei Wei.
Pei Wei's menu isn't completely standardized from every location apparently as each one has a different menu, so I'll just be listing the items that are generally available at all Pei Wei's throughout the United States. Their international locations don't have listed menus and might not have as many options.
Let's see what is vegan at Pei Wei!
Vegan Main-Entree Options at Pei Wei:
Honey Seared Regular with Vegetables & Tofu
Sweet & Sour Regular with Vegetables & Tofu
Firecracker with Vegetables & Tofu
Thai Dynamite with Vegetables & Tofu
And yes, you watchful vegans you, the Honey seared tofu is vegan, they don't actually use honey in it.
Vegan-Friendly Side Options at Pei Wei:
Edamame
Brown Rice
White Rice
Extra Vegetables
Many pages mention Mongolian Green Beans as a vegan option. One of our kind readers sent us an e-mail that says Mongolian Green Beans are not even vegetarian since It contains seashell. They do not include it on the ingredient list on their site, but they mention it above that in faded text. We sent them an e-mail about whether green beans are vegan or not.
Thankfully, Pei Wei gave us a very detailed answer, which is says Mongolian and any other dish stated as having shellfish it is because there is shellfish in the sauce as we use fish sauce and oyster sauce in many of our sauces.
Vegan Salad & Dressing Options at Pei Wei:
Salad (Regular/Small)
Miso Side Salad
Lime Vinaigrette Dressing
Wasabi Vinaigrette
Lettuce Wrap Sauce
Sweet Chile Sauce
Sweet Mustard Sauce
That's everything that's at most to all Pei Wei's that's vegan. Some of them may have another specific regional item or limited time item, but generally the above will be the only vegan things they have.
Which I'd say is pretty dang good, I mean they have THREE vegan entree options, some salad, and of course rice! That's more than almost any restaurant out there actually.

Now, I've seen some other websites and folks saying certain non-vegan items are vegan, so I'd like to clarify that they aren't vegan.  The Vegetable spring rolls usually contain eggs, as found on most of the store's allergy menus. So they aren't vegan.
The Teriyaki sauce they use contains honey, so the Japanese Teriyaki Bowl for example is not vegan.
The Korean dishes contain fish/oyster sauce, and all the noodle-dishes contain eggs.
The wontons all contain meat, so the wonton soups for example are not vegan despite having no non-vegan allergy ingredients, and thus seemingly vegan on the surface. But they aren't.
Finally, the Fortune cookies contain Eggs so skip on that little free dessert at the end of the meal.
We contacted  (November of 2022) with Pei Wei about their vegan menu and they sent us the following detailed answer:
"Thank you for your note and inquiry. We don't currently make claims that particular dishes are vegan. Any of our dishes that are listed as vegetarian (Honey Seared, Teriyaki, Thai Dynamite), could be considered vegan by some but this is hard to pinpoint because some vegans do eat butter, honey, processed sugar and some don't. Also, our kitchens are not fully set up to truly provide a vegan dish due to possible cross contamination with other items."
So how does Pei Wei look for a Vegan in brief?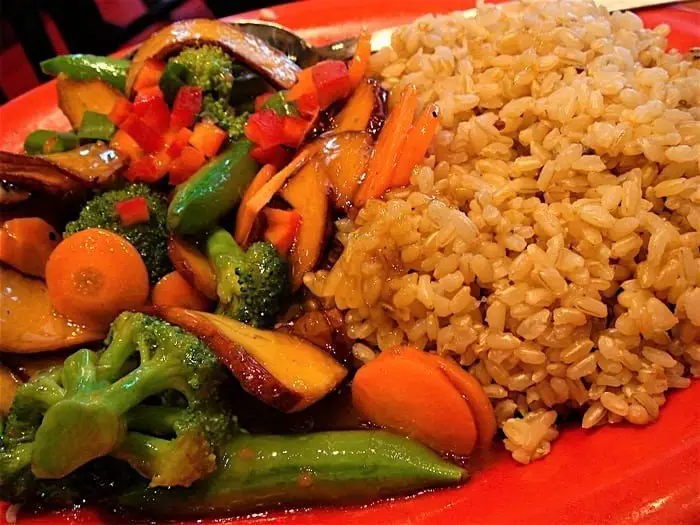 I'd say pretty dang good.  It's probably one of if not the most Vegan-friendly (non-vegan) fast food place out there.
Not only is the company seemingly vegan-friendly and non-aggressive towards us, but more than willing to put out multiple vegan options.
You can not only have a good meal at Pei Wei as a vegan, but multiple different ones and quite some variety.
Just order one of the three vegan entrees, maybe get some extra rice if you eat big and love to carb up, and make sure to skip the Fortune cookie at the end since they contain eggs.
Frequently asked questions
Finally, if you couldn't find your information on our topic, feel free to ask us! If we do not know the answer, we will find out for you!
Are Pei Wei fortune cookies vegan?
Unfortunately, the fortune cookies are not vegan-friendly, since they do contain eggs.
Are Pei Wei noodles vegan?
Unfortunately, the fortune cookies are not vegan-friendly, since they do contain eggs.
Does Pei Wei have vegan options?
Certainly it has! There are many totally plant based vegan entree and side options. Even the Honey seared tofu is vegan, since it does not contain honey at all.
The only thing that missing is the sweetness.