Founded by 5 brothers, Farmer Boys is a family quick-service restaurant chain primarily based in California. As the name suggests, Farmer Boys takes pride in providing fresh food and only uses high-quality ingredients obtained from local farmers.
Offering burgers, wraps, salads, and sandwiches – their menu is rather broad. How many of those menu items are vegan-friendly? Sadly, only a few are entirely plant-based, and a few more can be made vegan. Overall, the vegan options are rather mediocre at Farmer Boys. 
Farmer Boys vegan fries
It isn't remarkable for a fast-food place to offer vegan-friendly fries, and Farmer Boys is no exception. Their Always Crispy Fries seem to be completely fine for vegan folks. You can see milk, eggs, and fish in the allergen sheet, but that's due to possible cross-contamination. 
The fries are satisfying – they always appear perfectly crispy on the outside, yet soft on the inside. Somehow, they always successfully season them with just the right amount of salt.
See also->
Farmer Boys vegan salads
The fact that the quick-service restaurant has a few salad options that are either vegan or can be veganized with a few scant changes, isn't surprising whatsoever.
Fresh Fruit Salad – A modest salad featuring grapes, orange wedges, and apple slices. Will definitely not fill you up on its own, but you have to love some fresh fruits.
Side Salad – The side salad is just green salad mix, and diced tomatoes. Their Italian dressing is the only dressing suitable for vegans. They also have a fat-free Italian dressing that isn't listed in their allergen sheet so we can't be sure if that is vegan too – ask the staff to be sure. 
Southwest Chicken Salad – Request no meat and no dairy, and you'll get a mix of salad greens, fire-roasted corn, avocado, black beans, and tortilla strips. Ask the staff if their fat-free Italian dressing and salsa are vegan.
Farmer's Chopped Cobb Salad – Ask for no meat, cheese, and eggs. That will leave you with avocado, tomatoes, and salad greens. Again, there's a fat-free Italian dressing option that is most likely vegan but ask your server to be sure.
So you can order Farmer Boys fruit salad and side salad as they are. As another choice, pick their Southwest chicken salad or farmer's chopped cobb salad and leave half of the ingredients out. Either way, it's not worth your money – you can throw together a more exciting salad at home. Perhaps dine out at Sweetgreen or Saladworks if you appreciate your greens and veggies.
Farmer Boys vegan wraps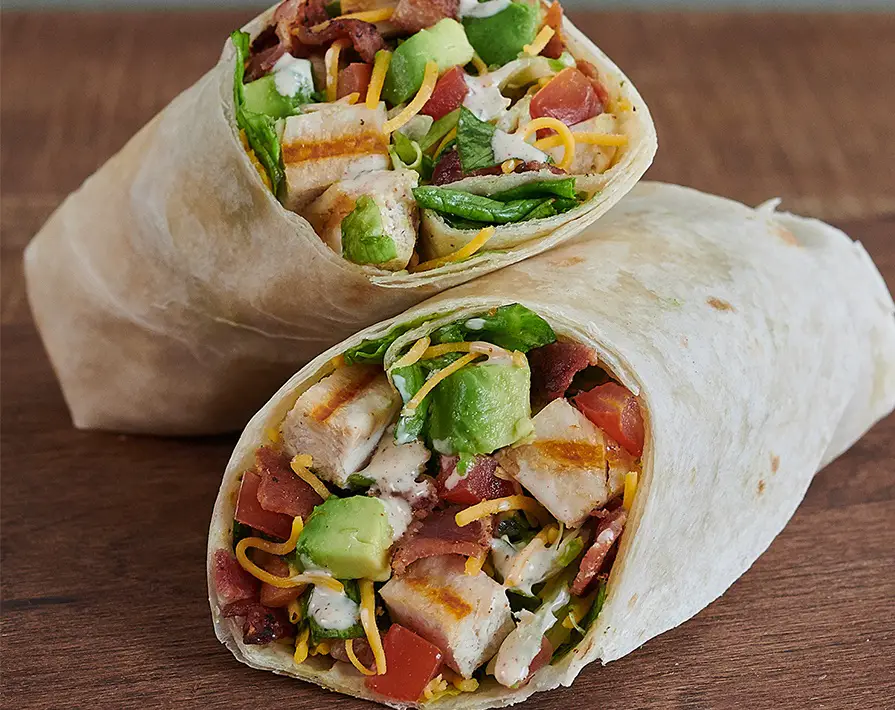 Farmer's Chopped Cobb Wrap – Order without chicken breast, cheese, and bacon. Ask the staff if the fat-free Italian dressing is vegan. If not, request the regular Italian dressing.
Southwest Chicken Wrap – Again, ask for no chicken and no cheese and ask your server whether the fat-free Italian dressing and salsa are vegan.
I'm not blown away by these menu items either. After leaving out all the meat and dairy products, you'll receive a wheat tortilla stuffed with a few farm-fresh veggies.
Farmer Boys vegan burger
This is the only adequate vegan option the establishment offers. Well, it's not vegan, but we can make it vegan with some minor modifications – you know the drill.
Veggie Burger – Opt for the sesame seed bun and request no cheese and no dressing. We can live without the cheese, but a burger with no dressing? The fillings make up for that! Tomato, lettuce, dill pickles, smashed avocado, grilled onions, diced onions, and veggie patty. Have to admit that ketchup does a pretty remarkable job at replacing the burger dressing. 
Farmer Boys vegan sandwiches
Ordering a sandwich is no different from a salad or a wrap at Farmer Boys. You have to opt-out of half of the ingredients to be able to eat it. 
Sourdough Chicken Avocado Sandwich – Require the cheese, mayonnaise, bacon, chicken, and dressing to be left out. Your toasted or grilled sourdough will come with mustard, green lettuce, hand-smashed avocado, dill pickles, diced onions, tomato, and grilled onions.
California BLT – You have to ask for the sandwich to be made without Hickory smoked bacon, their house sauce, and mayonnaise. You'll receive sliced tomatoes, hand-smashed avocado, diced onions, lettuce, and mustard on a sourdough toast.
Not long ago, the food joint had an appetizing veggie sandwich that you had to order with no cheese and either on rye or sourdough bread as their wheat bread has honey in it. It appears to be discontinued as I can no longer find that sandwich on their menu. Bummer – it was almost as mouth-watering as their veggie burger.