There are more than 700 Moe's Southwest Grill locations in the United States and abroad. With so many locations there is a good chance that there will come a time when you find yourself ordering from their menu. 
If you are vegan, you might be wondering what this Mexican and Tex Mex combination has to offer people with your specific dietary needs. I know I was curious. In my experience, Mexican restaurants seem to have the most options when it comes to ordering a plant-based meal.
 Let's take a look at Moe's vegan options. 
Moe's vegan options are pretty good
Moe's Southwest Grill is one of those places that offers a build-your-own experience. Think Subway or Blaze Pizza meets Mexican food. You are not restricted to a menu, instead, you can create your own burrito. These restaurants are pretty easy for vegans to navigate because the whole concept is built around making your own choices. 
If you are a vegan with anxiety like me and you have a hard time telling a server what you want out of fear of being complicated, you are in luck. 
Moe's also has vegan options outside of the build your own selections.
Moe's vegan options for main dishes:
Homewrecker Burrito with Organic Tofu – You will want to order this item with no cheese or sour cream. It comes with your choice of black or pinto beans, rice, shredded lettuce, pico de gallo, and guac. Unlike Chipotle, you do not have to pay extra for guac. 
Homewrecker Bowl – This will be the same as the burrito. Picture the burrito fixings in a bowl instead of wrapped up in a tortilla. Make sure to request no cheese or sour cream.
Build Your Own Salad – You can build a salad using the same ingredients you will find below. This allows you to build a salad with only the things you want.
Create Your Own Tacos – You can build your own tacos using the same ingredients that are listed below. 
Chips and Salsa – While this is more of a side than a main dish, note that it is vegan-friendly. If you are in the mood for something on the lighter side you can just order this. You could also order it as an appetizer or side dish. 
There is also a pretty good vegan & non-vegan food review on the Princess and the Bear channel if you want to check it out: 
What are the ingredient options if you are using one of the Create Your Own selections?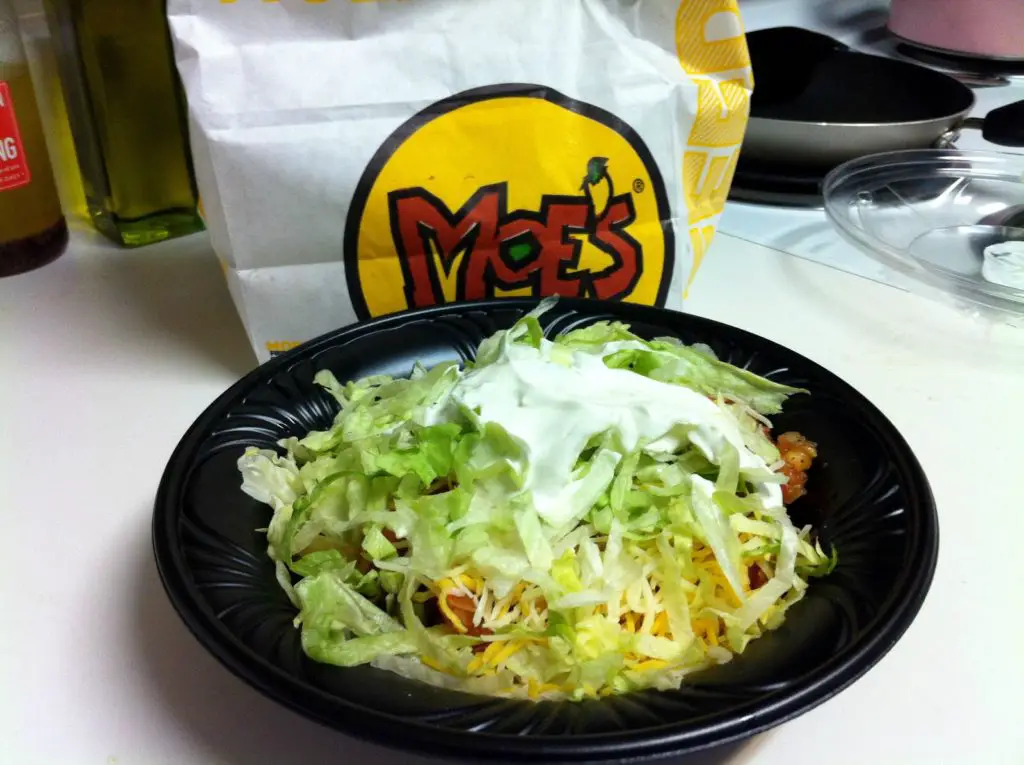 Great question. Thankfully, Moe's has quite a few tasty vegan-friendly toppings, sauces, and more.
First, you will have to choose which tortilla you would like. You will decide between 12" flour tortillas and 12" whole grain tortillas. Next, you will get to load it up with whatever topping you like. You can select what you want from the following ingredients:
Seasoned Rice
Cilantro Lime Rice
Quinoa
Black beans
Pinto Beans
Organic Tofu
Grilled Onions
Grilled Peppers
Grilled Mushrooms
Diced Onions
Diced Tomatoes
Diced Cucumbers
Fresh Jalapenos
Chopped Cilantro
Corn Pico
Pickled Jalapenos
Black Olives
Shredded Lettuce
Pico de Gallo
Southwest Vinaigrette
Guacamole
Frequently Asked Questions
Is Moe's seasoned rice vegan?
Yes, Moe's seasoned rice is vegan. Vegans can also have cilantro lime rice.
Does Moe's have vegan options?
Yes, Moe's has quite a few vegan options, including organic tofu. You can create your own meal from the long list of choices.
Yes! Moe's chips are vegan so feel free to enjoy chips and salsa if you would like.
Moe's is one of the more vegan-friendly popular food places out there. You can build a tasty salad, taco, or burrito and even add organic tofu!
Are Moe's pinto beans vegan?
Yes, Moe's pinto beans are vegan.
Moe's Broadway Bagel is different from Moe's Southwest Grill, but they do have vegan bagel options.