Einstein Bagels is probably the most vegan-friendly chain bagel shop out there. They not only sell plenty of vegan bagels, but also spreads and other vegan snacks.
Some locations may even have vegan cream cheese, however not all of them will carry it as it's not mandated by the company yet, but instead they only tested sales of it for a few months.  Even if they don't have the Vegan (Daiya) cream cheese they'll have many other spreads, like peanut butter, fruit jams and jellies, and Hummus.
Vegan Bagels at Einstein Bros Bagels: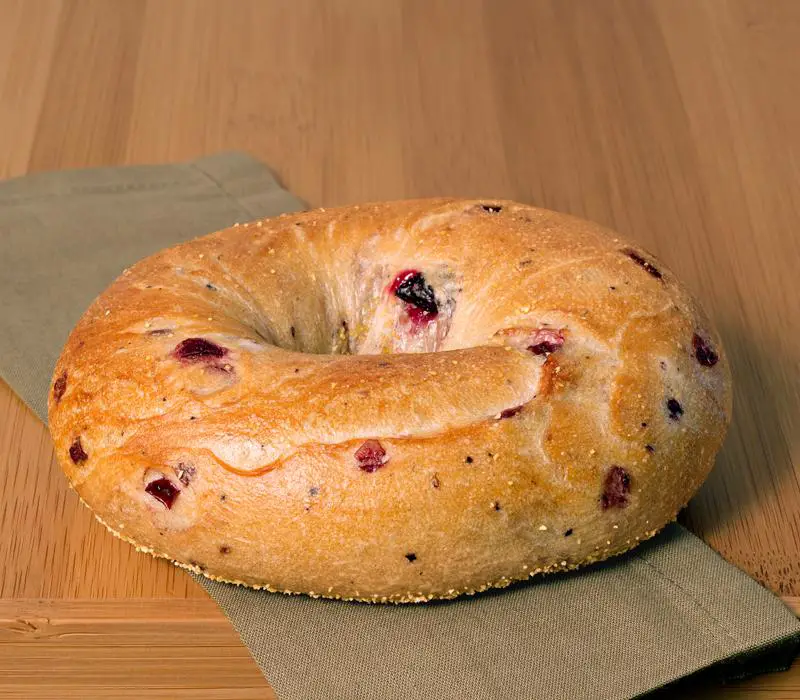 Blueberry
Chocolate Chip
French Toast
Potato
Pretzel
Cinnamon Raisin
Thintastic Ancient Grain Bagel
Thintastic Plain Bagel
Thintastic Whole Wheat Bagel
Apple Cinnamon
Ancient Grain
Cranberry
Everything Seasoned
Garlic
Onion
Plain
Poppy Seed
Sesame
Pumpernickel
Power Protein Bagel
Those are all the vegan bagels Einstein Bros sells — They do sell a few non-vegan bagels as well, so don't go assuming all of their bagels are vegan because they aren't all vegan. Only the ones listed above are currently vegan.
Things to Put On Your Vegan Bagel:
Vegan Cream Cheese (Not all locations)
Avocado/Guacamole Spread
All-Natural Peanut Butter
Strawberry Jelly
Hummus
Those are all the official things to put on your bagel, spreads that is, however feel free to put any of the sides we'll cover later on in this article on your bagel as well. Also Check out the section on Extras and vegetables they have if that interests you. They can really freshen your bagel game up.
Other Vegan Breads Einstein Bros Makes:
Various Tortillas
Potato Bread/Rolls
Multigrain Bread/Rolls
Ciabatta Bread (Rarely at most locations)
You can get Avocado-toast or PB&J's, or whatever on your toast/bread that you can get on your bagel, so keep that in mind if you aren't feeling like a bagel.
Other Extra's to Put On Your Bagel/Bread:
Arugula
Capers
Cucumber
Pickle Spear
Green Leaf Lettuce
Red Onion
Spinach
Tomato Slices
The Granola and Sauteed Mushrooms contain dairy in them, and thus they aren't vegan. Be wary of those.
There's also some sides, but we'll cover those further down into the article.
Vegan Sides at Einstein Bros Bagels:
Jalapeno Kettle Chips
Original Kettle Chips
Barbecue Kettle Chips
Fruit Cup
Vegetarian Chili Soup
Sometimes they'll also have Salads, however they're not available in many/most locations. If they have it they'll have a vinaigrette that's vegan for you to use on it.
Vegan Desserts at Einstein Bros Bagels:
Cinnamon Twist Poppers
Fruit Cup
Nothing great in terms of desserts, but honestly you don't go Einstein Bros Bagels for desserts, do you? They got plenty of options for us vegans already.
Frequently Asked Questions