Everything Vegan at Ruby Tuesday (Late-2021)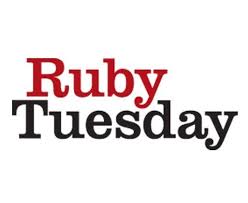 Ruby Tuesday isn't super vegan friendly, but they do have some decent sides to choose from, and an unlimited salad bar (buffet).
They don't have many salad dressings that are vegan to choose from though. In fact, most locations only have one vegan salad dressing: Balsamic Vinaigrette. So if you aren't into balsamic vinaigrette on your salad then make sure to check that they have others before you opt to get the unlimited salad bar.
Vegan Main Course Options at Ruby Tuesday:
Spaghetti Squash Marinara (or tomato basil sauce) without Parmesan Cheese
Unlimited Salad Bar
Tomato Basil Pasta (Kids Menu, specify no cheese)
Buttery Pasta (Kids menu, at some locations they use vegan margarine, check)
Gluten Free Tomato Basil & Buttery pasta (confirm the latter, no cheese/dairy)
Awesome (veggie) Burger (Confirm vegan bread)
The only one that's not from the kids' menu is the first, the spaghetti squash with pasta sauce, but you can always ask and see if they'll make one of the kids' menu choices into an adult meal for you. Most of the time they won't have an issue doing that at all.
Vegan Sides at Ruby Tuesday:
Fresh Baked Potato (Specify no Butter or Sour Cream or Cheese)
Fresh Baked Sweet Potato (Specify no butter or Sour Cream or Cheese)
House-baked Soft Pretzels (No Cheese Queso)
Fresh Grilled Asparagus (when available)
Fresh Grilled Zucchini
Fresh Steamed Broccoli (no butter)
Fresh Green Beans
Roasted Spaghetti Squash
Sliced Apples (From their Kids Sides)
Grapes (From their Kids Sides)
Not all of the above sides are available at all locations, but most will be. They'll always have at least a regular baked potato and a couple vegan grilled vegetable options, so you can count on having at least a few things here to give some "bulk" to your meal.
Vegan Salad Options at Ruby Tuesday:
Italian Herb Vinaigrette Dressing (not available at all locations)
Balsamic Vinaigrette Dressing
Pretty much any cold vegetable you could imagine, or anything you'd expect to be able to put on a salad
Their vegetable options include even more "strange" or "rare" things such a cauliflower and broccoli, so their vegetable options include pretty much everything you might find in a grocery store that's a vegetable. They also have fruits like tomatoes.

Be careful with their crackers though, they usually are not vegan. Look up the brand if you want to make sure they're vegan, as not all saltines are vegan (some contain whey).
Other Articles to Check Out: