Not everyone loves soda. It is not the healthiest drink out there, but sometimes a fizzy drink hits the spot. I love a tasty carbonated drink like Coke or Cream Soda. Dr Pepper is at the top of my list, so I was curious to know if it was vegan.
Dr Pepper is one of the most popular carbonated drinks for a reason. The majority of those that have had Dr Pepper know how delicious it is. 
This drink is known for having 23 flavors. Describing the taste of Dr Pepper is challenging, and the secret is part of the fun. The makers of this carbonated beverage will likely never tell the public how they get this unique flavor profile. 
According to CKBW, those who enjoy Dr Pepper think the flavors might be amaretto, almond, blackberry, black licorice, caramel, carrot, clove, cherry, cola, ginger, juniper, lemon, molasses, nutmeg, orange, prune, plum, pepper, root beer, rum, raspberry, tomato, and vanilla.
Dr Pepper is a classic refreshing beverage, but is it vegan-friendly? 
Yes, Dr Pepper is vegan. I was happy to hear that Dr Pepper is safe for us vegans because I think it is one of the tastiest options out there.
Over the past couple of years, many new Dr Pepper varieties have come out.
There are a few versions of Dr Pepper, including:
Dr Pepper

Dr Pepper & Cream Soda

Dr Pepper Cherry

Cherry Vanilla Dr Pepper

Caffeine Free Dr Pepper

Diet Dr Pepper

Diet Cherry Vanilla Dr Pepper

Diet Caffeine Free Dr Pepper

Dr Pepper Zero Sugar

Dr Pepper & Cream Soda Zero Sugar

Dr Pepper Cherry Zero Sugar
There are absolutely no animal products or byproducts in Dr Pepper. This drink contains a handful of natural and artificial ingredients, but all of these are vegan. 
Processed products tend to include animal-derived ingredients. These additives often go without a second thought. They may not always have easy-to-understand names, or go hidden as a part of natural flavors, artificial flavors, colors, and sugar. This is why some sodas are vegan, and others are not. 
When a drink consists of 23 mysterious flavors, it is only natural to question what ingredients could be packed inside. Dr Pepper mostly contains high-fructose corn syrup and carbonated water, but of course, there are some other ingredients in this drink as well.
The ingredients in classic Dr Pepper include:
Carbonated Water-

This is water containing dissolved carbon dioxide gas, and it is completely vegan.

Sugar-

Dr Pepper is sweetened with high fructose corn syrup. This type of sweetener does not contain bone char.

Color (Caramel E150d)-

Caramel color is fine for vegans. It is made by heating simple sugars such as glucose, fructose, malt syrup, or molasses.

Phosphoric Acid-

This is a mineral acid derived from inorganic phosphate rocks. Small amounts are commonly added to soft drinks to give them that sharp flavor.

Preservative (Potassium Sorbate)-

Potassium sorbate is a chemical additive naturally found in a variety of fruits. It is considered vegan.

Flavorings Including Caffeine-

Caffeine is often sourced from plants. It can be found in more than 60 different plants.

Sweeteners (Aspartame, Acesulfame K)-

Acesulfame potassium is a mineral salt, and it does not have any animal ingredients. In most cases, aspartame is suitable for vegans as well. Some aspartame products contain lactose, so they are not vegan, but in this case vegans are good to go.

Contains a Source of Phenylalanine-

This essential amino acid is found in a variety of vegan-friendly foods. Dietary sources of L-phenylalanine include meat, fish, eggs, cheese, and milk. In most cases, the phenylalanine found in soda is vegan.
With all of these ingredients in mind, it is clear that Dr Pepper is suitable for vegans. The sweeteners, preservatives, and colors in this drink do not come from animals. 
Sometimes when the coloring is caramel, people assume it is not vegan. Actual caramel is typically unsafe for vegans, but caramel color is good to go. Caramel color has no animal products. 
It is difficult to say what all of the flavorings in this carbonated drink consist of. The majority of vegans do not stress as much over these unknowns. It would be impossible to know everything that is in this drink without Dr Pepper giving away all of the unique aspects that create this taste.
Is Caffeine-Free Dr Pepper vegan?
This type of Dr Pepper is vegan. It contains all of the same ingredients listed above, but as the name suggests, there is no caffeine.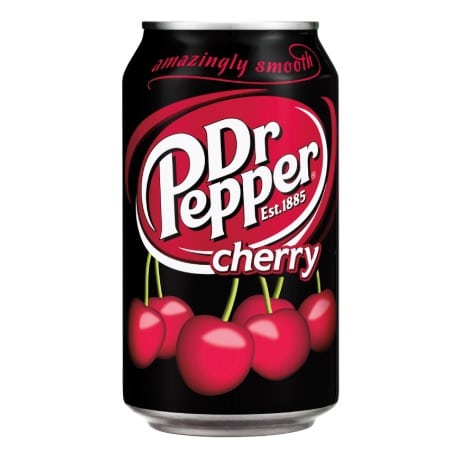 Is Dr Pepper Cherry vegan?
Dr Pepper Cherry has some additional colors and flavors compared to the original, but they are all vegan-friendly. The coloring in this kind of Dr Pepper includes Red 40, which has been tested on animals in the past. Apart from this aspect, this version of Dr Pepper is vegan. 
Is Dr Pepper Cherry Vanilla vegan?
Cherry Vanilla Dr Pepper also contains Red 40. Strict vegans might shy away from this flavor because of animal testing, but others consider it vegan. Apart from this questionable coloring, there are no other ingredients in this version that would be considered not vegan.
Is Dr Pepper Cream Soda vegan?
Dr Pepper Cream Soda was launched in March of 2020. I don't know about you, but I was excited to hear Dr Pepper's classic taste would be paired with this new vanilla flavor of cream soda. This variation of Dr Pepper is completely safe for vegans.
The bottom line is that all Dr Pepper is vegan. This includes Diet Dr Pepper, Caffeine-free Dr Pepper, Dr Pepper Cream Soda, Dr Pepper Cherry Vegan, Cherry Vanilla Dr Pepper, and Dr Pepper Zero.
I hope you are as happy as I am to hear that Dr Pepper is perfectly suitable for plant-based eaters. Of course, there are mysterious aspects, but it seems clear that we are good to enjoy this delicious drink.