Hummus is a traditional middle eastern dip made from chickpeas and tahini that is now enjoyed globally all around the world. There have been many variations and creations of the beloved spread but the question we ask ourselves today is, is hummus vegan? 
This is what we will be discussing in this article along with how hummus is traditionally made, the controversial vegan ingredients you may find in hummus, and which hummus brands are safe to trust when following a plant-based diet.
The famous and ever-popular middle eastern dip is made from cooked garbanzo beans (chickpeas) and is usually mixed with a little extra virgin olive oil, tahini garlic, and salt. It is traditionally garnished with a drizzle of olive oil, parsley, and a few whole chickpeas, and sprinkled with paprika. For serving it is commonly enjoyed with warm homemade pita bread. 
Hummus is without a doubt a vegan fridge staple, the creamy chickpea spread is protein-packed and can be used in so many different recipes. I don't know about you but I love hummus with a passion and I'm not shy to admit that I can easily devour an entire pot of the stuff in one sitting.  
Now that hummus is a product enjoyed globally and found in almost every single supermarket, there have of course been many variations of flavors concocted of the popular spread. Some of my personal favorites are:
roasted red pepper 

caramelized onion 

beetroot 

pumpkin 

black beans 
Traditionally, yes! Hummus is made with 100% vegan ingredients.
For vegans, hummus is great for meals because it's healthy, versatile, and easy to make from scratch if you desire. Chances are if you're a beginner vegan, hummus is one of the first things you will turn to and grab to add to your basket. 
But if you're someone who has been vegan for a while now, I'm sure you're familiar with getting caught out by certain brands adding in animal products when it's clearly not needed and ruining it for us plant-based eaters. 
Classic hummus will most likely always be vegan friendly but watch out for certain brands and different flavors that may require the addition of an animal product in the ever-popular spread.
Controversial Ingredients
There is a list of ingredients that have always been up for debate amongst the vegan community on whether they are vegan or not. 
On the subject of hummus, you will want to look out for any palm oil or sugar added to the spread. With palm oil being the destroyer of the orangutan habitats, some vegans don't go near it and animal bone char is used to refine white or brown sugar, these two ingredients are a deal-breaker for strict-vegans out there.
Raw hummus is made from sprouted chickpeas and is prepared in a way that eliminates all the enzyme inhibitors making it a much more nutritious hummus to consume and enjoy, but is it still vegan?
The short answer is, yes! Raw hummus is also vegan, some people like to make it without tahini and more garlic but there are no animal products that are added to the recipe process.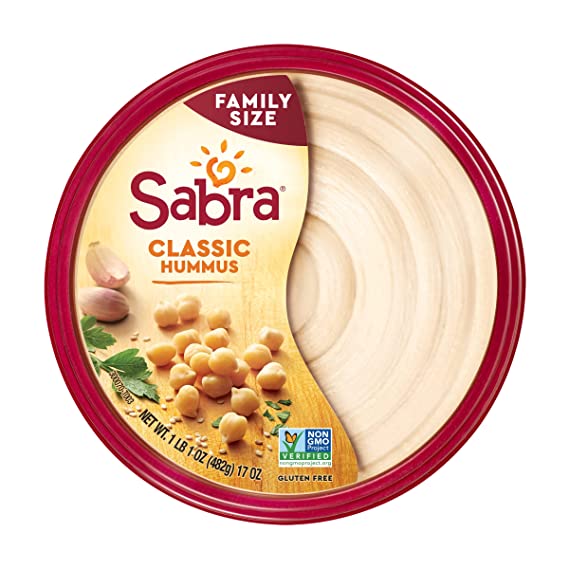 Sabra is a popular hummus brand with an extremely wide range of flavors, but is sabra hummus vegan we ask? 
The answer is both yes and no, according to the Sabra website only some of their flavors are vegan and some are vegetarian such as caramelized onion, Greek-inspired, taco-inspired.
We definitely like this one.
If you would like an entirely vegan-friendly hummus brand then Hope is a great choice, as stated on their website all of their products are vegan and the same goes for Lantana as well.
Frequently Asked Questions