As spring blooms with all its colors, days get longer and temperatures warm up. On our table, cozy stews are slowly getting replaced by refreshing and nourishing salads. This simple meal is extremely healthy and can be adapted to all tastes.
If you are one of those people thinking salads are boring, it is probably because you haven't found the right dressing yet. From fry sauce to ranch dressing and chermoula, the options are endless. But while some of them are suitable for a plant-based diet, others aren't.
Today, we will take one of the most popular dressings in the world, Italian dressing, and see whether this amazing ingredient can be added to a vegan salad. So, without further ado, let's get down to the business!
What is Italian dressing?
Despite its name, Italian dressing is not used in Italian cuisine. Italians, in fact, tend to add flavor to their salad with a simple mix of salt, vinegar, and olive oil. This Italian seasoning was created in the United States and is inspired by Italian cuisine.
Mostly used for salad, Italian dressing is a vinaigrette-type seasoning consisting of a mix of water, vinegar or fresh lemon juice, vegetable oil, sugar or corn syrup, herbs, other spices, as well as chopped bell peppers. Some recipes also include onion and garlic, even though these two ingredients are not mandatory. But is Italian dressing vegan?
Is Italian dressing vegan?
Well, the answer is not that easy. Traditional Italian dressing is suitable for a vegan diet, however, you should always check your labels as some brands include non-plant-based ingredients. This is especially true when it comes to creamy variants which often contain dairy products.
When ordering food in a restaurant such as Little Caesars or Buca di Beppo, always make sure to ask your waiter whether the Italian dressing used in the kitchen is suitable for vegans. Alternatively, when buying this ingredient from the supermarket, spend a few minutes analyzing its label. But what are the ingredients you should watch out for?
Some ingredients to what out for
Italian dressing is typically vegan, but some brands add animal-derived ingredients to their products. Here is a list of the most popular ones.
Sugar
Despite what most people think, white sugar is often not vegan. This is because its manufacturing process involves bone char, ground animal bones, used to give it its white color. Unfortunately, it is very hard to know what type of sugar is used in products unless specified on the label. When in doubt, you can always contact the manufacturing company to ask for more information.
Honey
Honey is another common ingredient sometimes found in Italian dressing to replace sugar. Obviously, this comes from bees making it non-suitable for vegans.
Xanthan Gum
Probably you've never heard of Xanthan Gum. Well, this ingredient is a common food additive produced from sugar through a specific fermentation process. Unfortunately, there is a good chance that a small percentage of that sugar comes from animal sources.
Artificial colors
Artificial colors – like Yellow 5 – can sometimes be tested on animals. This is why these products are often not considered cruelty-free by the vegan community.
Natural and artificial flavors
Some natural and artificial flavors derive from animal products and fish and meat are sometimes used in their production. Unfortunately, there is no way of knowing whether these are vegan or not unless you contact the product's manufacturer.
What about creamy Italian dressing?
Creamy Italian dressings are often non-vegan. This is because they contain a number of ingredients ranging from yogurt to milk, and buttermilk, which are animal-derived. At times, brands also add cheeses such as parmesan cheese, to give their dressing a more Italian taste. Another common non-vegan ingredient is egg, so, as we said earlier, always make sure to double-check your label before buying any Italian dressing.
A few vegan brands to try out
Nowadays, you can easily find several vegan Italian dressings on the market. Here, are some of our favorites.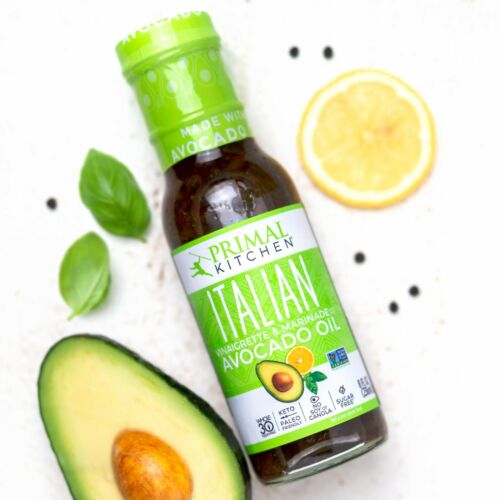 Primal Kitchen Italian Vinaigrette: Made from avocado oil and organic extra virgin olive oil, this Italian dressing is ideal for all green salads as well as a marinade. Primal Kitchen Italian Vinaigrette also includes organic garlic powder and herbs such as thyme and oregano.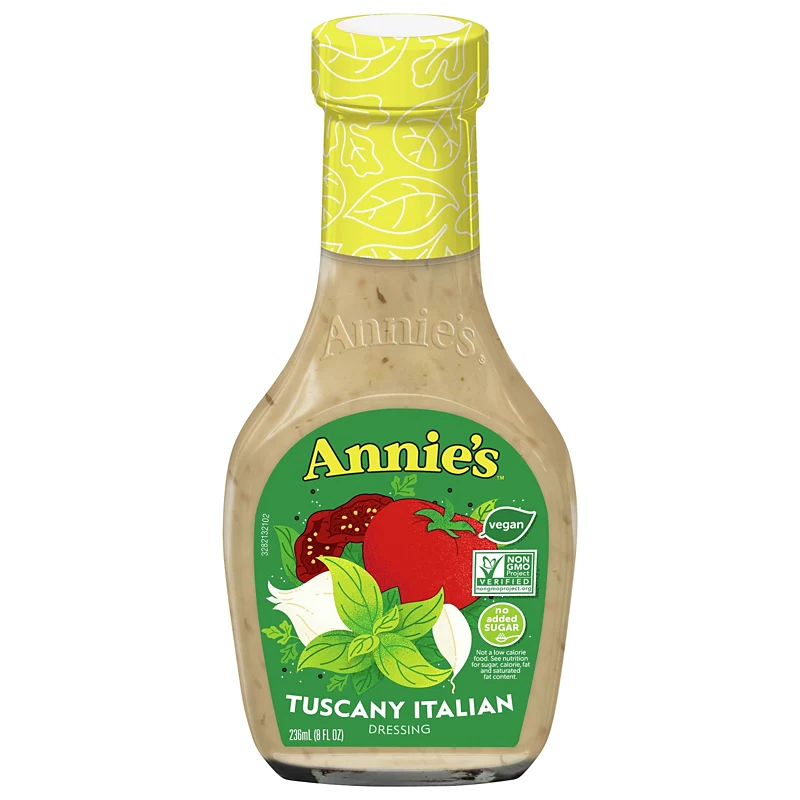 Annie's Natural Tuscany Italian Salad Dressing: This salad dressing contains only plant-based and non-GMO ingredients. Available for an affordable price you should be able to find this product in both supermarkets and online.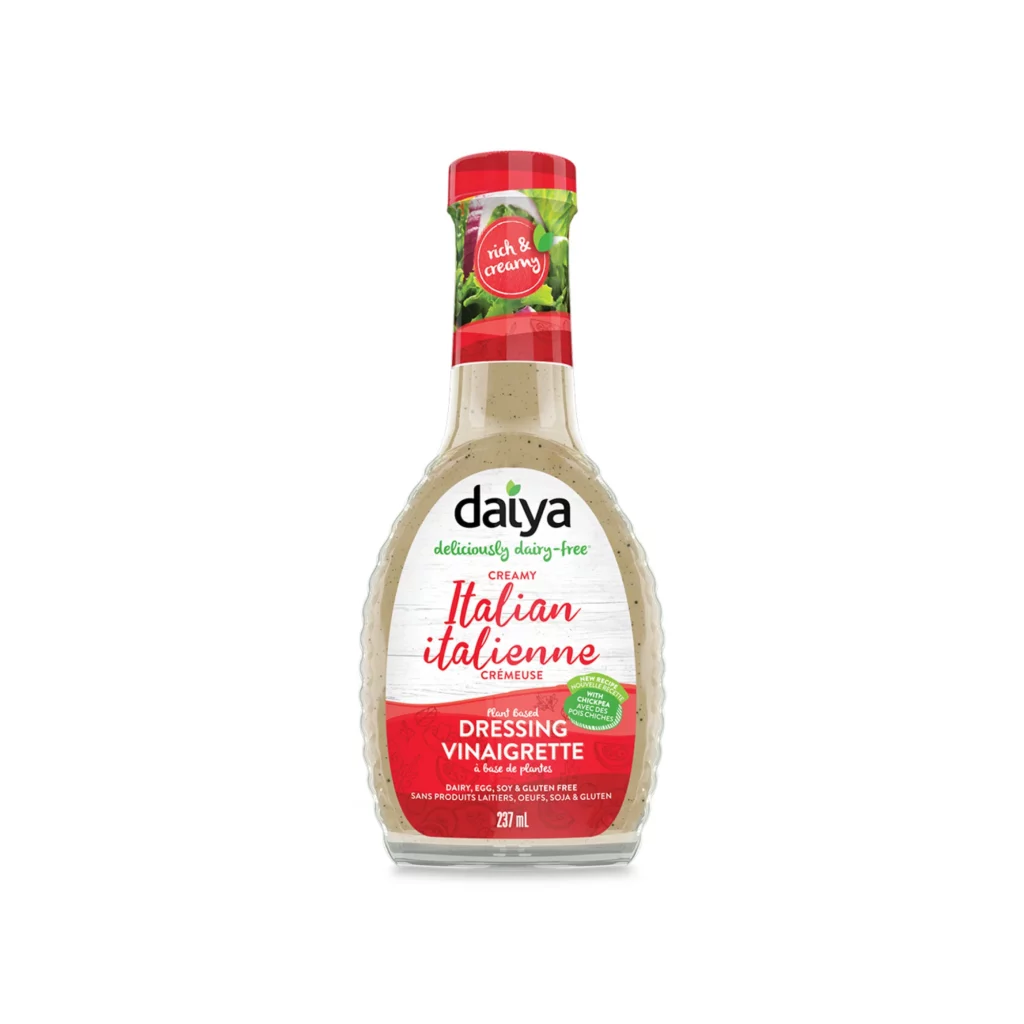 Make your own vegan Italian dressing
Even though nowadays several brands are producing vegan Italian dressing, if you live in a remote area or outside of the USA, it may be hard to find a plant-based version of this product. In this case, you can consider creating your own vegan Italian dressing. This should take only a few minutes and will be cheaper than buying it at the store. Making your dressing – just like making your own vegan ghee – will allow you to have full control over what you are eating, giving you a one hundred percent guarantee that your dressing is not only vegan but also healthy.

So, here is our favorite vegan Italian dressing recipe. All you will need is some high-quality organic olive oil, fresh lemon juice, salt, and crushed red peppers. On top of this, there are a few extra ingredients you will have to use, but you can have a bit more flexibility with those.
First of all, your favorite vinegar. You can choose from apple cider vinegar, red wine vinegar, rice vinegar, and more.
Don't forget to also pick up a few Italian herbs. Some of the most common ones are oregano, thyme, basil, and rosemary.
Last but not least, we need a sweetener. You can opt for plain sugar, or be slightly more creative and go for other options such as agave syrup and maple syrup.
Once you've gathered all your ingredients the procedure is extremely easy. Simply mix everything in a bowl with a whisk and store it in a mason jar. Put your dressing in your fridge and enjoy it on every salad!
Frequently Asked Questions
Is Wishbone Italian dressing vegan?
Unfortunately, no. Wishbone Italian dressings include ingredients such as egg yolks, buttermilk, sugar, and Xanthan Gum which make these products not suitable for a plant-based diet.
Is Kraft Zesty Italian dressing vegan?
Kraft Zesty Italian dressing contains Xanthan Gum and sugar. This means that there is a high chance that this product is not vegan. Whether or not you decide to add this to your shopping list depends on your level of strictness with your diet.
Is Good Season Italian dressing vegan?
Similar to Kraft Zesty Italian dressing, Good Season Italian dressing contains Xanthan Gum and sugar. So it is up to you whether you want to include this in your diet or not.
Is Olive Garden Italian dressing vegan?
Unfortunately, no. Olive Garden Italian dressing contains milk.
Is Buca di Beppo Italian dressing vegan?
Unfortunately, we couldn't find any information about Buca di Beppo Italian dressing. So make sure to ask your waiter for extra info whenever eating in this restaurant.