First of all, is there anything vegan at McDonald's?
McDonald's lacks a good selection of vegan food, especially in the United States, but they offer slightly more options than they did a few years back. Until they come out with more plant-based options in the future, vegans are pretty limited. Just like the KFC.
McDonald's vegan options are limited, but there are some tasty items in the works that might hit the McDonald's vegan menu soon.
McDonald's fries in the USA are still not vegan-friendly because they continue to add beef flavor to their oil which contains dairy for sure. This decision is disheartening considering their fries are vegan in other parts of the world, such as the UK. 
Hopefully, McDonald's decides to carry these practices to all of their locations in the future. Well, It's still considered as a decent step toward cruelty-free, since they used to add beef fat to their oil a few decades ago.
You can get plenty of vegan snacks at McDonald's, but for now it might be challenging to create a satisfying plant-based meal.
What's up with the vegan McPlant Burger?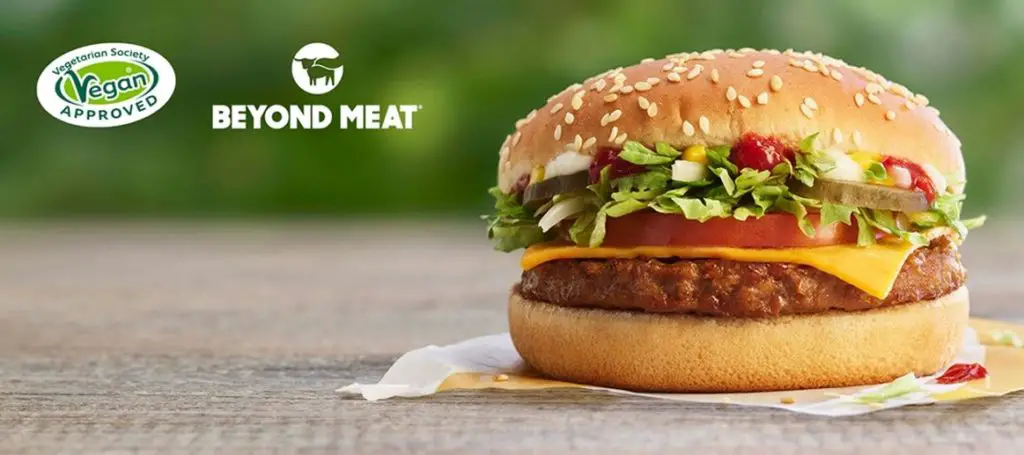 They have been working on a few tasty vegan options that could be released on a permanent basis in future. One item is the juicy McPlant burger which was co-developed with Beyond Meat. The McPlant was available for a limited time at the beginning of 2022 in eight select restaurants in the United States (California, Iowa, Louisiana, Texas), but we still do not know if the burger will become more available in the future. There are rumors of vegan McNuggets becoming a part of the menu in the future as well.
Well, It has to keep up with its biggest rival, since BK has three different – almost – vegan burgers.
What McDonald's states about the McPlant burger:
Vegan certified
made with a plant-based patty featuring vegan sauce mustard, ketchup,
comes with pickles, onion, lettuce, tomato, and a vegan alternative to cheese
McDonald's Vegan Breakfast offer:
Fruit & Maple Oatmeal (specify no milk or cream and request water instead)
Apple Slices
Filter Black Coffee or an Americano
Orange Juice (Minute Maid)
Plain English Muffin
Jelly
While it might not be quite what you are looking for, black coffee and a Fruit Maple Oatmeal bowl is not a bad breakfast option, nor is an English Muffin with some grape Jelly. McDonald's vegan breakfast options are certainly not as good as the fast-food chain Carls Jr, but hey, it is something to get you to your next meal.
Vegan Lunch and Dinner Options at McDonald's
Apple Slices
Side Salad (see dressing options below)
Southwest Chicken Salad (specify no chicken and see dressing options below)
Create a vegan sandwich (order any sandwich with no meat or cheese and request lots of vegetables)
Doesn't look good, does it?
Unfortunately, these are all of the options available at McDonald's in the United States that are vegan-friendly. Some countries have McFalafel and McAloo Tikki burgers, but unfortunately, McDonald's has yet to bring vegan-specific items to the United States.
While the fries you find at most fast food joints in America are vegan, McDonald's fries are not. They are vegan in Canada, India, and many other countries, but not in the USA. Maybe someday!
Vegan Salad Dressing and Sauce Options at McDonald's:
Keep in mind that not every salad dressing will be available at a McDonalds near you, but there should always be a few options on this list. Some rural locations may have none or only a few, while a prime location in a big city may have all of them.
Raspberry Walnut and Red Wine Vinaigrette Dressing
Newman's Own Classic Oil & Vinegar Dressing
Zesty Italian Salad Dressing
Sesame Ginger Dressing
Citrus Splash Dressing
Tangy BBQ Sauce
Sweet and Sour Sauce
Mustard
Maple Syrup
Jelly
Vegan Drinks at McDonald's:
All Sodas
Filter Black Coffee
Iced Teas (soda-type, not fresh)
Orange Juice (Minute Maid)
Apple Juice
Slushies (flavors and availability varies)
Iced Coffee
The orange juice sold at McDonald's is Minute Maid pulp-free, so if you like pulpy orange juice, you might want to skip it. Otherwise, feel free to enjoy any of these tasty beverages on a vegan diet.
As you can see, McDonald's has some catching up to do. They offer quite a few vegan options in other countries, but for some reason, they have not updated the menu to fit the needs of plant-based eaters in the United States just yet. Hopefully, the trials they conducted with the McPlant burger allow them to see the many benefits of adding more vegan options to their menu.
McDonald's vegan options around the world
The fast food chain's offer doesn't look that bad everywhere. For example, in Europe you can get some pretty good plant-bases stuff there:
Soy-based El Veggo and McVegan in Finland
McFalafel in Sweden
McVegan nuggets that made of chickpeas, onion, carrot, and corn in Norway
Vegetable Deluxe Sandwich that comes with vegan fish sticks in the UK
Big Vegan with Incridible burger in Germany
How does it look overall? In a word, disappointing. The popular restaurant chain doesn't offer any decent meal options for vegans. At least not in the US. In the future, McPlant will make a big hit, but who knows when will happen. Not even french fries are vegan, so until then, there is nothing but apple pie. If you are craving real vegan junk food, there are much so better places to go.
Frequently Asked Questions