Papa John's has pretty standard options for a pizza place, some vegan crust, some vegetable toppings, some sauce and dips, nothing too unique.
With that being said, short of vegan paradises like Blaze Pizza and Mellow Mushroom, Papa John's is probably my favorite pizza place. Their crust is normally great, their pizzas aren't greasy at all when ordered in a vegan way, their sauce tastes quite fresh and tomato-e, and they have delicious garlic dipping sauce.
While Papa Johns Internationaly has announced some new vegan items, such as vegan stuffed crust pizza, and vegan meats, in the USA and Canada nothing has really changed lately.
Build-Your-Own Vegan Pizza At Papa John's:
Choose Your Crust – Original (Hand-Tossed)
Choose Your Sauce – Pizza Sauce, BBQ Sauce
Choose Your Cheese – No Cheese (USA/Canada), or Vegan Cheese (UK/Australia/Spain Only)
Choose Your Toppings – Fresh Mushrooms, Pineapple, Sliced Onions, Green Peppers, Black Olives, Green Olives, Sliced Jalapenos, Banana Peppers, or Tomatoes.
Choose Your Dip/Seasoning (Side) – Garlic Dipping Sauce, Pizza Sauce Dip, Buffalo Dipping Sauce, BBQ Dipping Sauce, Crushed Red Pepper Packet, or Special Seasoning Packet.
While I'd recommend trying to order one of their multi-topping "specials," you can also simply order the Garden Vegetable Pizza without Cheese as well — most locations will let you swap the toppings around if you want to take off olives and get more mushrooms or something like that.
Unfortunately Papa John's Gluten-Free Crusts and "Thin" crusts aren't vegan due to containing eggs/dairy. Their traditional/original hand-tossed crust is the best anyhow, although if you're gluten-Intollerant you're really out of luck at Papa John's.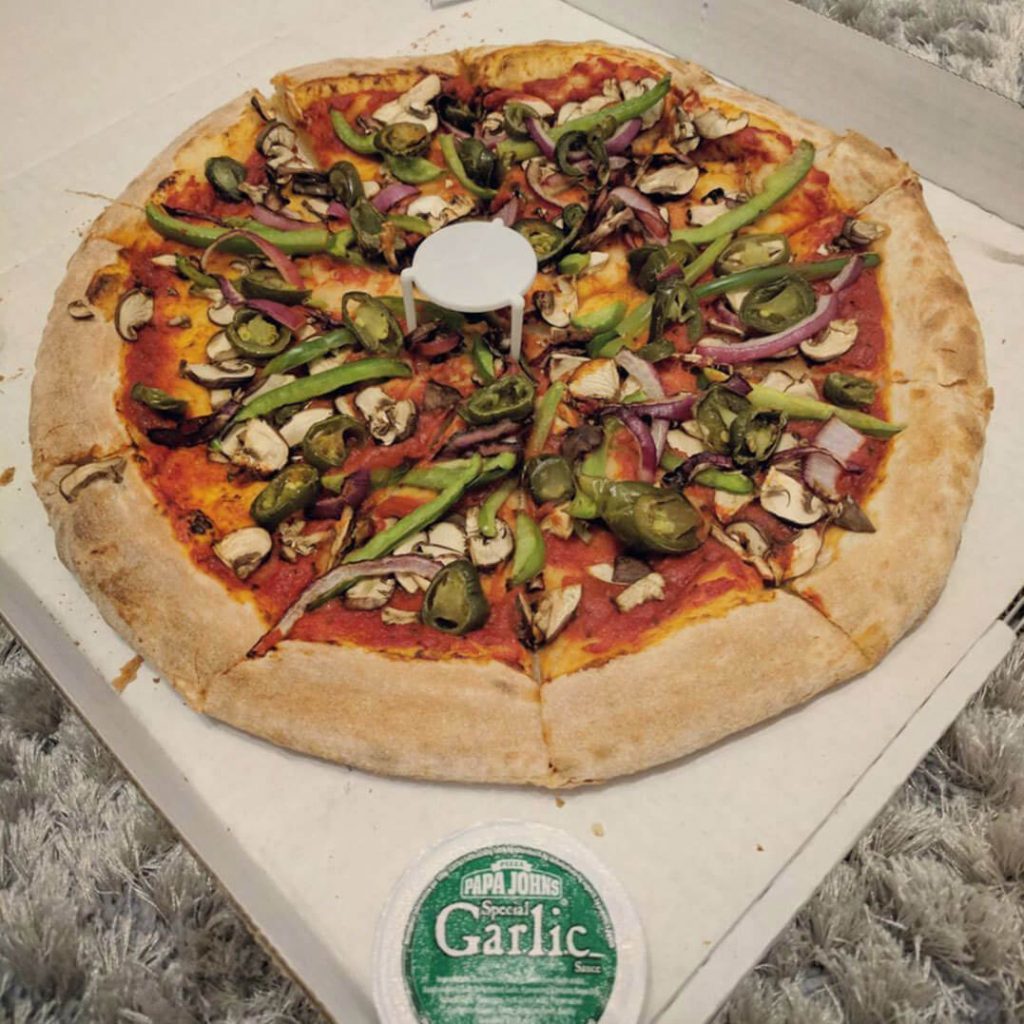 Vegan Side-Options at Papa John's:
Original Breadsticks (Includes 1-2 free dips)
Garlic-Butter Dipping Sauce
Pizza Sauce Dip
Buffalo Dipping Sauce
BBQ Dipping Sauce
Crushed Red pepper Packets
Special Seasoning Packets
Only the classic breadsticks and the above dipping sauces are vegan-friendly in terms of sides/extras to go with your vegan pizza.
 
At UK-locations Papa John's also has vegan potato wedges, vegan-cheese wedges, Vegan Hot-Dog Bites/Scrolls, and even cauliflower "wings." Hopefully they bring some of these kick-ass options to the USA as well.
Vegan Desserts at Papa John's:
All the Desserts at Papa John's contain dairy/eggs and in some cases Gelatin, so they're not vegan-friendly at all. At UK-locations Papa john's has Nutella scrolls (bites) that are vegan-friendly, but they've yet to introduce them outside of the United Kingdom.
Frequently Asked Questions
Does Papa John's have vegan pizza?
Papa John's offer the option to order your vegan pizza! We suggest you to go with The Original (Hand-Tossed) crust, Pizza Sauce, No Cheese. Also, make sure not to select anything meat-based for the toppings.
Is Papa John's crust vegan?
The only vegan crust at Papa John's is the Original (Hand-Tossed) one. All the others contain either milk or eggs.
Does Papa John's have vegan cheese?
Nope, unfortunately Papa John's still does not offer vegan cheese. Since they have a dedicated site to order vegan pizza, it is pretty weird…
Are Papa John's breadsticks vegan?
Papa John's breadsticks are made with fully vegan ingredients: water, sugar, salt, unbleached enriched wheat flour and Yeast.
Is Papa John's garlic sauce vegan?
Yep, they do not use any animal products to make their delicious garlic sauce, thus they are vegan!
Are Papa John's cinnamon pull aparts vegan?
Nope, unfortunately the Cinnamon Knots at Papa John's are made with eggs and milk. Not vegan at all.