Finding a meal kit delivery that works for you can be overwhelming with so many different options on the market. Finding the perfect one for you is a bit of trial and error. However, we have tried to make your decision a tad bit easier by trying out several companies ourselves.
Green Chef is the latest meal kit we have experimented with. What made it catch our attention was the certified organic label that Green Chef proudly carries. Not all their meal kits are 100% vegan like Purple Carrot's kits are, but they also cater to vegans. But how exactly does it work, and is it worth subscribing to as a vegan? Let's find out in our Green Chef Review!
What is Green Chef?
If you have ever considered subscribing to a meal-delivery kit, you have probably heard of Green Chef. It's one of the many such services available. The company is known for its certified organic label and high-quality ingredients. Working closely with local farmers and artisanal suppliers, they take pride in premium and always fresh produce and ingredients. 
Another thing that people love is the wide variety of diets that Green Chef has thought of. Green Chef has you covered whether you follow a plant-based lifestyle, are on a keto diet, or are allergic to gluten.
The company is also proud of being ecologically friendly and sustainable. Overall it is a perfect solution for people looking for convenient yet healthy and clean eating habits.
How does Green Chef work?
Green Chef has made its website incredibly user-friendly and easy to navigate. Signing up and subscribing to their services is as simple as possible. To start with, you will have to choose your dietary preference. The meal delivery service lets you choose between the following meal plans – keto and paleo, mediterranean, fast & fit, gluten-free (not as good as Sunbasket's), vegetarian, or vegan (hurray!). For us vegans, we obviously have to go for the vegan option. Choose how many meals you want to receive per week and for how many servings. Select the dishes you want to try out, and you are good to go. 
Green Chefs delivers from Monday through Saturday, from 8.00 AM to 8.00 PM. You can choose which day you would like to receive your Green Chef boxes. The company has made sure that the cardboard boxes are well insulated and provided with ice packs if necessary. Everything is kept fresh during the delivery process. So there is no need to be at home when the delivery arrives.
Green Chef's vegan options
Green Chef's meal options are regularly changing. You can see a new selection of dishes every week – Green Chef usually has their menus accessible for the following 3 to 4 weeks. What are their options like when it comes to vegan meals?
To give you an idea of what kind of dishes to expect, here are our vegan options for this week.
For the week after that, we can see a new vegan menu that consists of these options.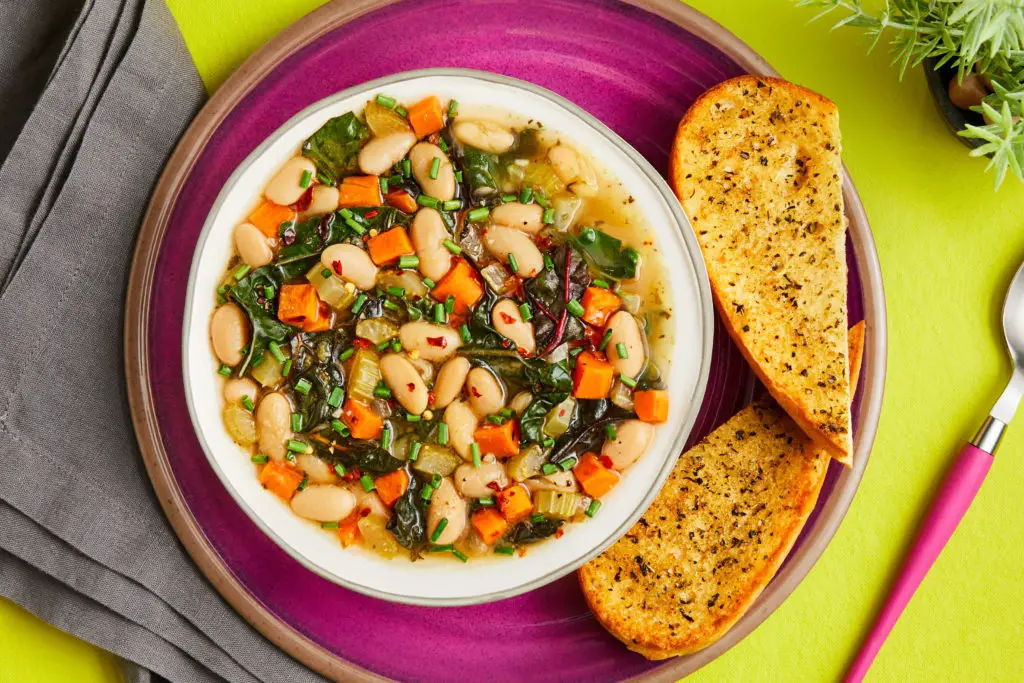 Tuscan white bean & chard soup
Roasted garlic and fennel flatbreads
You can see 9 options under their plant-powered category every week. However, only 5 are fully vegan, and the rest are vegetarian. So, if you follow a plant-based diet, you don't exactly have much to choose from. We were hoping to see a broader vegan menu.
What's in the box?
What can you expect to find in your box? Obviously, everything needed to cook the dishes that you picked out prior. But did you know that everything comes measured and largely pre-prepped? So, if you are looking to save some time, Green Chef sure is convenient. And, of course, it is always responsible to not waste food.
You also get recipe cards for all the meals you selected to receive. The cards make the cooking process incredibly simple as they contain step-by-step instructions with pictures.
There is quite a lot of packaging that comes with every weekly delivery, but sadly that is common for meal kit services. It is worth mentioning that Green Chef's packaging is made from recycled, reusable, and/or compostable materials. The company is constantly looking for the most eco-friendly options available.
What's the quality like?
The meal kit delivery provides people with premium ingredients to cook tasty yet healthy meals. As they are certified organic, most of the components in their boxes are organic unless stated otherwise. And where organic is not available, they make sure to find the most sustainable solution. And we could really taste the freshness, and dare we say, cleanness.
We ordered a vegan meal plan that contained a lot of fresh produce. So, we were slightly worried certain things would go off or lose their quality during the delivery process. We worried for nothing. Everything was in good condition on arrival.
The cooking process is easy – simply follow the recipe cards that come with your food box. The ingredients have been perfectly measured and pre-prepped for you, so making the dishes is pretty quick. All the meals took us around 30 minutes to cook. 
However, a couple did take slightly longer than advertised. 
But let's get to the more exciting part. We don't know about you, but we love eating more than cooking. The dishes we picked out all turned out great. We tried out a few grain-based bowls, plant-based patties, and sandwiches – none of them lacked flavor. We were hyped to discover that the boxes always contained flavorful sauces and spices. Nobody likes bland food…or at least not many of us. 
How much does Green Chef cost?
How cheap or expensive is the subscription for Green Chef? That depends on the meal kit plan and size you choose to go for – a serving can cost you anywhere between 13.49$ and 11.99$. Let's see what our options are in the USA. 
3 meals for 2 people –  80.94$ per week, 13.49$ per serving.
4 meals for 2 people – 103.92$ per week, 12.99$ per serving.
2 meals for 4 people – 103.92$ per week, 12.99$ per serving.
3 meals for 4 people – 149.88$ per week, 12.49$ per serving.
4 meals for 4 people – 191.84$ per week, 11.99$ per serving.
3 meals for 6 people – 215.84$ per week, 11.99$ per serving.
4 meals for 6 people – 287.76$ per week, 11.99$ per serving. 
As we can see, the weekly cost can vary a lot. For example, a subscription for a couple could be either 80$ or 104$.
For a family of four, a budget of 104$-192$ would be needed. That's on the pricey side, especially after an extra 9.99$ is added to your bill for shipping. 
The meals are shockingly more affordable in the UK, with a serving varying from 4.7£ to 5.95£. The delivery fee is 3.99£, again much lower than shipping in America.
It is pretty easy to manage your subscription – cancel your weekly delivery or skip a week at any time. You will not be charged anything as long as you make the change 7 days before your next delivery.
Delivery area
Green Chef delivers to nearly everywhere in the continental States. If you happen to live in Hawaii or Alaska, you are out of luck – those two places are exceptions. Interested in trying out the meal kit delivery service, but they do not offer delivery to your location? You can be notified via email about any changes they make to their delivery area.
Thanks to a German meal delivery company Hello Fresh acquiring Green Chef in 2018, Green Chef's meals are also available in most of the UK now. They are currently unable to deliver to Northern Ireland, Northern Scotland, and the Scottish Highlands.
Pros & Cons
Green Chef has many impressive qualities that make the company stand out amongst its competitors. Here is what we loved about our experience with Green Chef. 
Tasty and healthy dishes.
Easy-to-follow recipes with pictures. 
Sustainably sourced and certified organic ingredients.
Cater for many different dietary needs.
Convenient.
Rotating menu
Environmentally friendly packaging.
Everything has two sides, and so does Green Chef. We noticed some downsides that will hopefully be improved in the future.
Quite expensive when compared to some other meal kit subscriptions.
No free shipping is available.
Limited fully vegan options
A lot of packaging. 
Green Chef vegan menu – is it worth it?
There are many different meal kit delivery services, but Green Chef stands out for a few reasons. Not only do they offer us organic (unless stated otherwise) and sustainably sourced ingredients, but they are also environmentally aware of their packaging and delivery. While they could expand their fully vegan options a bit more, we are impressed with how they cater to specific dietary needs. Not every company is considerate of people with dietary restrictions.
If you care about eating as clean as possible, are environmentally conscious, and prefer to be sustainable with your eating habit, Green Chef is for you. Given that money is not an issue for you as the subscription is rather pricey.
However, if eating organic isn't that important to you and you are on a budget, you can find cheaper weekly meal kit subscriptions. Or you could stick to doing your own food shopping if you have a grocery store near you and more free time on your hands.
Frequently Asked Questions
Green Chef is a meal delivery service that makes our daily life easier. The company provides you with meal plans, recipes, fresh produce, and ingredients to make your meals.
Green Chef is not entirely vegan. They cater to several dietary needs, and vegan is one of the available diet plans that the delivery service provides.
Green Chef is as organic as one company can be. Most of their food components have been organically sourced. But did you know that some ingredients cannot be certified organic – for example, sea salt.
The meals that Green Chef offers are well-balanced and nutritional. You can see the exact nutrition value of each dish before placing your order.
The cost of your subscription depends on the size of your box. Depending on your chosen meal plan, you could be charged anywhere from 80.9$ to 287.7$ a week. For example, 4 dinners per week for two people would cost you 103.9$. An extra 9.99$ is added for delivery.
Can you pick your meals on Green Chef?
Yes, absolutely! First of all, you have to pick your dietary plan, and veganism is one of them. You will be shown all the available meal options for your chosen diet, and you can select your favorites.
How much is Green Chef shipping?
Unfortunately, Green Chef does not offer free shipping, no matter how big your order is. Each delivery has a shipping cost of 9.99$ added.
How to see Green Chef's menu?
To see their menu, you have to go to their website. You will see an option for the weekly menu. Green Chef has menus available for the next 3 following weeks.
Does Green Chef deliver to Canada?
Green Chef does not deliver to Canada. We can hope that changes soon. Their services are currently limited to the continental USA and the UK. With the exceptions of Hawaii, Alaska, Northern Ireland, Northern Scotland, and the Scottish Highlands.
Is Green Chef certified gluten-free?
Green Chef caters to many dietary preferences, and gluten-free is one of the possible options. However, as all the ingredients are handled in the same facility – there is a possible risk of cross-contamination.
Are Green Chef and Hello Fresh the same company?
The two started out as different businesses. In 2018, Hello Fresh bought Green Chef.
Can Green Chef meals be frozen?
Green Chef's food is organic and fresh-made, so it can be frozen. They also have a guide for refrigerating on their website.
When does Green Chef charge?
Green Chef charges at your weekly cutoff time, which is 7 days prior to your delivery day.