I missed out on these wonderful creations as a child, and even as a teen, and only discovered them a couple years ago right before I turned twenty. Now I love them.
But that wasn't the case when I first tried them. They just never worked. I don't know if I was just incompetent, but I tried like three different types, event tried making some of my own with some kids in my family and they didn't work either. They'd soften your skin, but the color and smell was definitely not something to be desired.
Well eventually I found some that worked good for me, and these were the ones that worked best for me. I haven't bought each one many times, but I've tried them all and at least the ones I got were excellent.
All of these ones are Vegan and Cruelty-free of course, mostly from all-vegan companies and/or hand-made. While Bath Bombs are something I would have thought were always Vegan many bath bomb packs contain milk in some of the…uhhh…flavors, but none of these ones do of course!
My Overall Favorite, LifeAround2Angels Bath Bombs
These were probably my favorite ones and the ones I'll primarily use for myself, as they smelled really good and have very simple ingredients.
While they're a little pricier than some others they're not very high priced and truthfully you get what you pay for when it comes to bath bombs.
These are the perfect size for most tub-sessions, smell great, are very colorful, and leave your skin incredibly soft.
These are the vegan bath bombs I'll probably continue ordering whenever I take a bath and want to be fancy rather than just shower.
You can get them on Amazon by clicking here or on Etsy by clicking here.
Lizush's Extra-Hydrating Bath Bomb's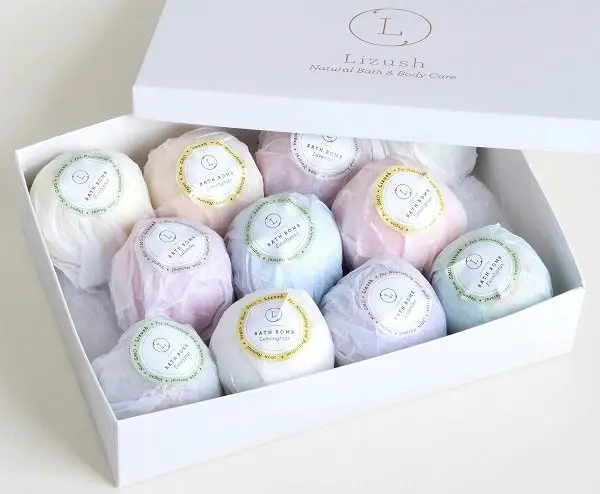 These cost about as much as LifeAround2Angel's do, are slightly more "natural," and in my opinion were more hydrating, but because they use coloring from roots rather than dyes/concentrates their color isn't very impressive.
While they don't turn your bath into a colorful wonderland they definitely nourish your skin beyond belief and smell heavenly.
You can get them on Etsy by clicking here.
Pure Sanctom's Large Bath Balls
Only get these guys if you have a big tub or want to fill it up as these are the biggest balls on the list at over 6 oz each, one-third of a lb, 180+ grams.
They're massive and extremely high quality, but as with bath bombs you pay a premium for good ones these cost quite a bit each. But other than that I have no complaints with them and I think they're one of the best smelling ones out of all of these.
You can get them on Amazon if you have a huge tub or like to fill your bath up by clicking here.
ZenBathCandies Doughnut Bath Bomb Set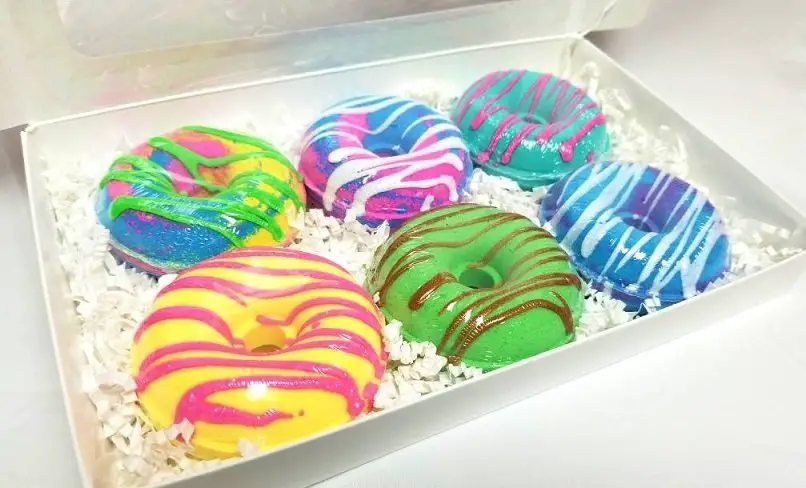 Now these are freaky, I got these as a gift actually and it sure did make me chuckle. If I was going to gift bath bombs to someone I'd definitely do these, as they're definitely good all around and they're just so darn silly.
They smell great and color the water very nicely, fizz nicely, everything about them is nice actually. I loved these and even secretly gifted a couple to a friend because I knew they'd like them, and sure enough, they did!
The only downside is these silly things are quite pricey, so they're definitely more of a gift thing in my book.
You can check them out on Etsy by clicking here.
Sparkley Hippie-Dust Eco-Friendly Glitter-Bomb
These are another not so cheap one, but since they're sold individually you can just buy a couple if you wanted.
But these are definitely worth it and in fact I ordered a few more of these just last week to give as a gift to a niece of mine.
They're super-duper colorful, slightly glittery, and smell AMAZING. They're big XXXL sized ones too, so they really pack a punch and can accommodate any tub-size and water-level.
Honestly if you like girly things like me, especially if you're a guy like me and need some more purple in your life, just head over to Etsy and order one of these now. You won't regret it.
Peace Organics Premium Soy Candle + Bombs Set
This one is definitely a gift-only thing as it's in my opinion overpriced otherwise.
But since it was good quality, was packaged beautifully, is unique, and most of all for me had lovely candle designs, I'm including it anyway.
You can get this one on Etsy by clicking here.
Relaxcation's Perfectly Sized Smell Goodies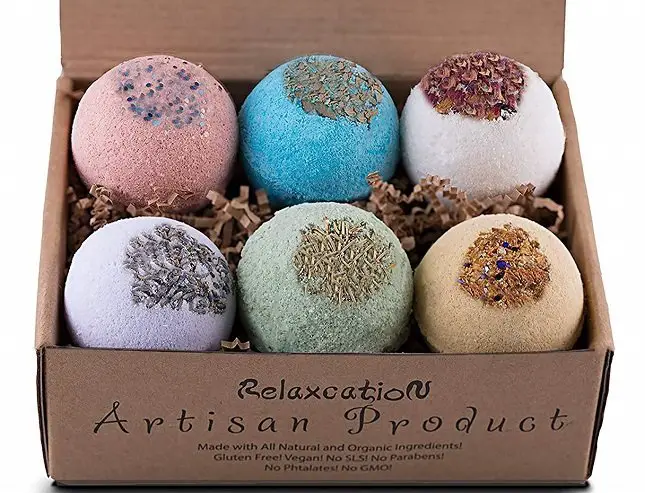 One of the best smelling ones I've found, particularly liked their "monkey farts" smell funnily enough.
Was one of the most hydrating as well.
The one thing I didn't like about them was that the Blossom Euphoria one was overpoweringly strong-smelling to me, although all the others were perfect.
They're on Amazon Handmade, you can get them by clicking here.
SoulAndSoap's Vegan Macaron Bath Bombs
The same doofus friend who gave me the Donut ones gave me these, and while I didn't get as big of a kick out of them I did find them interesting.
I was raised in America so Donuts probably hit closer to home, so that's probably why.
Anyhow these smelled really good, although they didn't color the water very much, and were about average on hydration. I still liked them though, I was just a naughty boy and put in two at once a couple times.
They're also sold on Etsy, so click here if you want to check them out.
La Bombe's Bulk Bath Set
These aren't my favorite ones, but they're also one of the cheapest (per ball) on the list. As I've said before, with bath balls you get what you pay for.
These give you slightly better balls than what you pay for since you're buying them in bulk, and I don't really have any complaints about them. They smell good and do a decent job at hydrating from my experience with them.
I'd rather splurge for something that costs a bit more per ball since I don't take many baths anymore, but if you are addicted to having a bath multiple times a week and want to stay low-cost then these might be for you.
As far as I know you can only find them on Amazon right here.
Eunoia By Nature's Green Tea Bath Bombs
These are made with green tea and flowers, so they have a very different, more natural and subtle, but definitely there, smell to them.
They're also very hydrating, and generally unique, although they don't color the water some strange color, but they're not meant to, so that's alright with me.
These are one of the ones that are sold on Etsy.
Aprilis Moderately Priced & Extra Scenty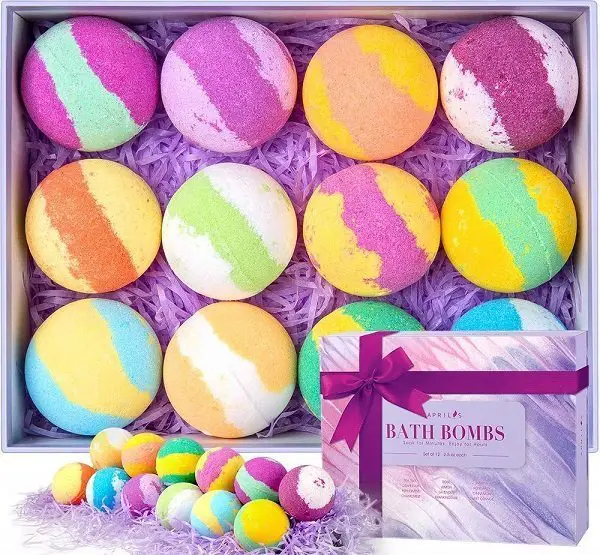 I wanted to save one of my favorites to near the end, and this is my second favorite I think overall, behind LifeAround2Angels that I had at the beginning of the article.
It's super girly, but I don't care, it smells great, is super colorful and brightly so, left my skin super feel-goodie, and was really relaxing in general.
These are one of the ones that are sold on Amazon, so if you want them click here to go to them.
Soul & Soap's Premium Bath Bomb Gift Box
These ones are made by the same Etsy shop that sells the Macaroon ones I mentioned earlier.
These ones by them are much better in my opinion though, colored more, smelled better, and fizzed way more.
They have…different smells in this box that are good, but different than most of the other bath bombs I've smelled. It was a nice change-up.
They're on Etsy of course, right here.
Aprilis XXL Super Scenty & Colorful Large Tub Set
These are the best ones in terms of use in my opinion, as they are the most scented and color the most amount of water, but due to their price they aren't my favorite as I couldn't see myself buying them consistently.
But hey, if you want to splurge or turn a small backyard pool bath-bomby, these are a great option for that. That's what I did with the other three of them actually and it worked great!
You can get this one on Amazon.
So Which Vegan Bath Bombs Are For You?
If you like Pink/Purple try this one, hands down it's just fun.
If you take baths a bunch, consider these if you want to save a bit of money.
If you want to give someone a gift and be silly I'd go with some Donut Bath-bombs, but if you want a less silly gift maybe go with this candle+bath bomb combo.
But if you want just overall high quality, but reasonably priced occasional use type of bath-bombs I'd go with either my #1 overall favorite or I'd get my #2 overall favorite.
Frequently Asked Questions
Are Lush bath bombs vegan?
Thankfully, most of their bath bombs are vegan, but always check the label! Avoiding the ones with Honey is a good idea, if you are vegan. The other great thing about Lush is that their products are also cruelty-free.
Are Anjou bath bombs vegan?
Yes, their bath bombs are made with Vegan Natural Essential Oils and Dry Flowers. Whenever you buy, check the label to make sure!
Are Body Shop bath bombs vegan?
Body Shop is a cruelty-free company and most of their bath bombs are vegan. They are made with fruits, veggies and seed oils. Don't forget to check the label before you purchase!
Are bomb cosmetics bath bombs vegan?
Yes. Bomb Cosmetics is a cruelty-free company, and they claim that all of their soaps and bottled products are suitable for vegans.