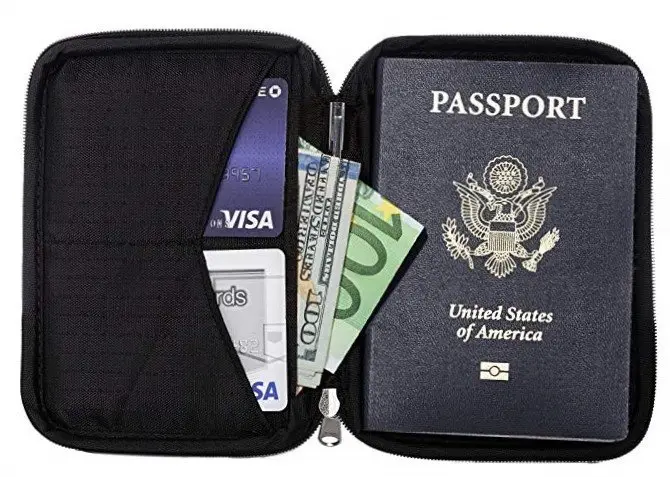 Passport Wallets aren't essential per-se, but they are extremely helpful to have when you go traveling abroad.
Not only do they protect your passport from damage, but it provides you with a good place to put your boarding pass, a debit or credit card, and some cash all in one place.
It's basically like a better wallet for travelers, as when you're out traveling often times you'll be in shorts and looser clothing that a wallet doesn't fit in nicely, and a purse puts you at a higher risk of losing something or being targeted by thieves, so what better than a passport holder in your bag?
You can leave it at your accommodation with all your bank cards and just take some local currency out with you, or you can minimize the loose amounts of junk in your day pack if you take it with you.
Personally I wouldn't travel without one and even when traveling in the states where I don't need my passport I always take my passport wallet with me.
Couch's Vintage Jet Age Holder
I'm not much of a vintage guy myself, but I know plenty who are, including my brother.
He got this passport wallet a couple months ago and loves it and it's oldie-look. It's hand-made from upcycled vegan vinyl in California, so it has all the memes going for it.
It's a little rougher than other items on this list due to it's upcycled nature, but it's still good quality and most of all extremely unique.
If you're in this retro vegan leather passport holder you can see more photos and it's price on Etsy by clicking here.
SimpacX Fabric RFID-safe Budget Option
Going to be honest, this isn't a favorite of mine.
It's a little too "tight" feeling and hard, but it gets the job done and it's the cheapest vegan passport wallet that I can reliably say will not fall apart even if you put it through years of abuse.
If you want the cheapest possible option, this will probably be your choice. You can get it on Amazon by clicking here.
Oscar & Toots Scottish Style w/ Snap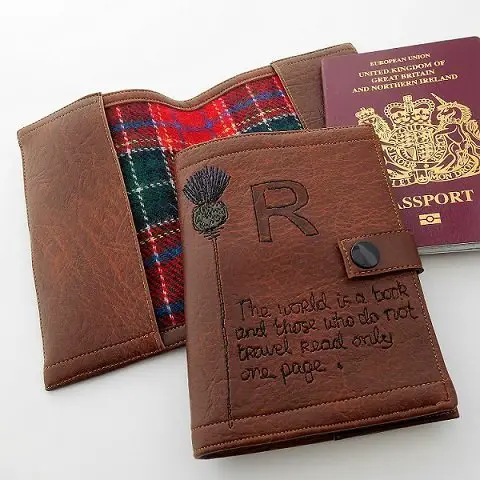 This is one of the more expensive, but definitely more high quality non-leather passport holder on this list.
It honestly has the best faux-leather, stitching, and overall feel I've ever encountered. It's handmade and they allow you to customize initials and/or a quote onto the cover, which really makes it one of a kind and quite a fair value in my opinion.
It doesn't have any card holders in it, but it comfortably fits a passport and boarding tickets, but since the wallet has a button to close it cards can be safely stored in it as well.
If you're interested in it you can see more photos of it and it's price on Etsy by clicking here.
Zero Grid's RFID-safe Family Model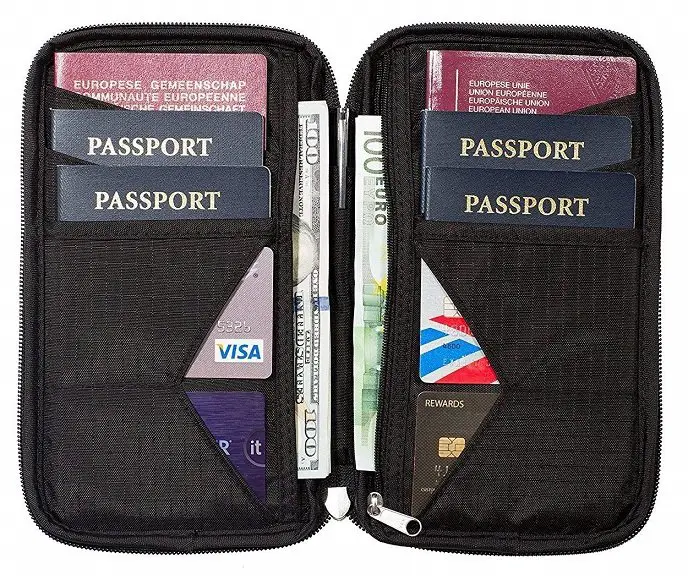 This would absolutely be my go-to passport holder if I had a family.
Hands down it's the best if you are traveling as a family, as without this you'll either have tons of loose passports, or tons of passport wallets.
It can easily hold 6 passports, 8-10 or so credit cards, and a nice bundle of cash as well as boarding tickets.  With it being RFID-safe and very water-resistant, there's really nothing for me to complain about.
This is the best option for travelers that have kids, but for everyone else it's pretty mediocre as it's quite a bit bigger than the other options due to the fact that it can hold so many passports.
You can buy this family-sized Passport holder by clicking this link to Amazon.
Wanderlust's Vegan Leather World Map Style
There's not much to say about this one, I just like, and I know many other aspiring travelers would too, the globe design to it.
The only complaint I have with this holder is it's not entirely RFID-safe, and it does have credit card slots and a slot for your boarding pass, but personally I wouldn't be too concerned about that as RFID-theft is virtually unheard of and most cards no longer are able to be copied due to encryption.
Other than that though, I like it a bunch, and for it being handmade and sold on Etsy, as well as customizable is just a bonus.
If you like it you can get it on Etsy by clicking here.
Cork Tree Boutique's Handmade Cork Wallet
I'm a sucker for Cork wallets, I don't know what it is about them, but I like them and their look a bunch.
This is one of the two cork wallets I'm featuring in this article, and this one is significantly cheaper, so if you're on a budget and want cork this may be your best bet.
It's not RFID-safe, but truthfully the whole RFID-theft scare is mostly just that: a scare. There's very little cases of it ever occurring and has only really been done as a science experience rather than for actual thievery.
If you want a cork passport cover that's vegan, and you're on a budget, check this one out on Etsy.
BioLogues Premium Vegan Leather Travel Book
Initially I didn't like this one, as I thought the pen was a stupid addition that just got in the way and bulked it up.
Oh how was I wrong!
I realized exactly how useful it would have been to have this when I found out I left my pen somewhere or forgot to pack it when I arrived at immigration and was left penless.
I arrived off the plane first, and went through immigration last as I was initially rejected due to not having my form filled out.
That pen on the side right there, it's not stupid. I'm stupid. That pen is a traveler's best friend, and this no-nonsense simple passport wallet does everything it needs to and nothing else.
This Passport Wallet is sold only on Etsy, you can get it here.
Travel Smart's "around the neck" RFID-safe Holder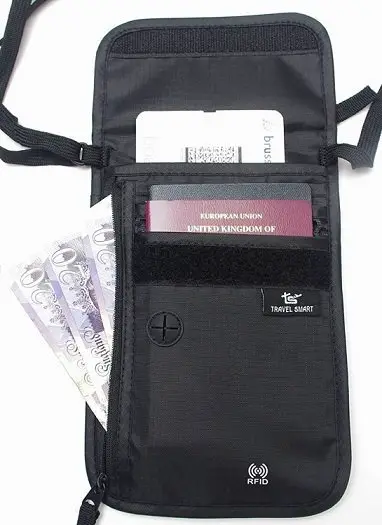 If you're looking for one you can wear this would be the one for you.
These are great if you don't mind looking a little goober-y and want something that can hold everything, and actually want to follow the law and take your passport with you everywhere like certain countries such as Vietnam mandate you to.
A word of caution with around the neck holders, a thief could easily cut through the rope and run off with your passport and money, likely credit cards too, very very easily. So if you do choose to get this one or another like it, never wear them outside of your clothes in busy tourist areas.
If you agree to not be a silly goose and wear them outside your clothes while experiencing some nightlife, you can get it on Amazon by clicking here.
Zero Grid's RFID-safe Compact for Single Travelers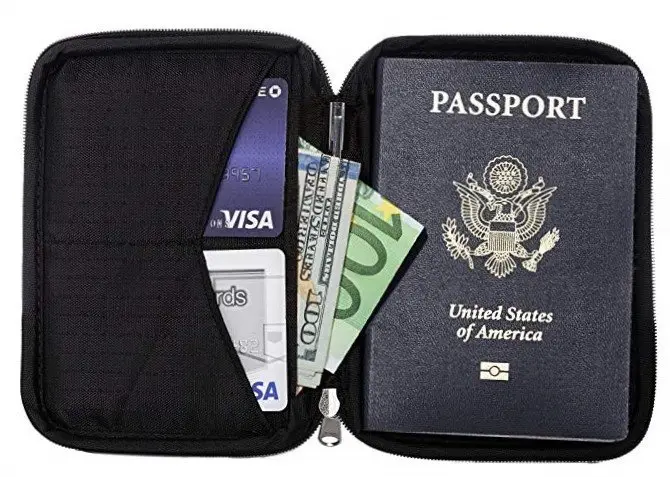 This one is probably the one I'd recommend the average person who wants to pack light.
It's got a cash slot, card slots, and of course a place for your passport, and even when zipped up it can be fit in many pockets if you really wanted to carry your passport around with you in a country.
Personally this is the one I travel with, as I am yet to have a family thus I don't need their bigger model, and I like to pack as minimally as possible.
 You can get on Amazon by clicking here.
Corkor's Slim Eco-friendly Vegan Cork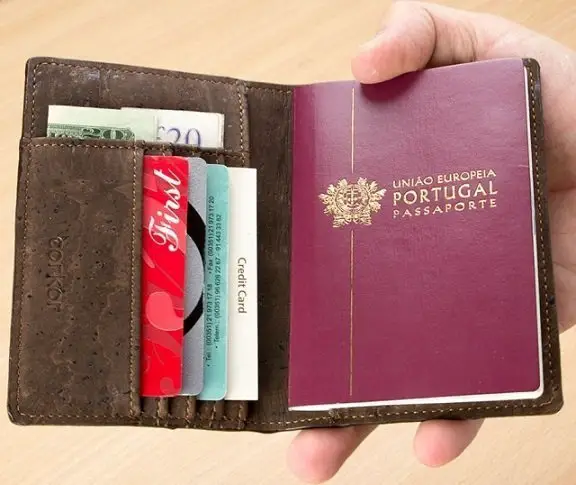 Hands down this is the highest quality most functional Cork wallet I've ever seen, initially noticed it on another traveler and I must admit, I was and am mirin'
If budget wasn't a factor this would probably be the wallet I'd get. It's one of the most expensive on this list, although not a bank breaker, I'll stick with the one I have a little longer.
My favorite feature about this travel wallet is that it's extremely slim and durable, but at the same time soft. Apparently it's hand-made by artisans in Portugal, vegan and ethically made, so really I have no complaints.
If you have the money and want to splurge, or just want to look at their other colors, which are neat in my opinion, you can buy them off Amazon by clicking here.
Tree Tribe's Vegan Leaf Leather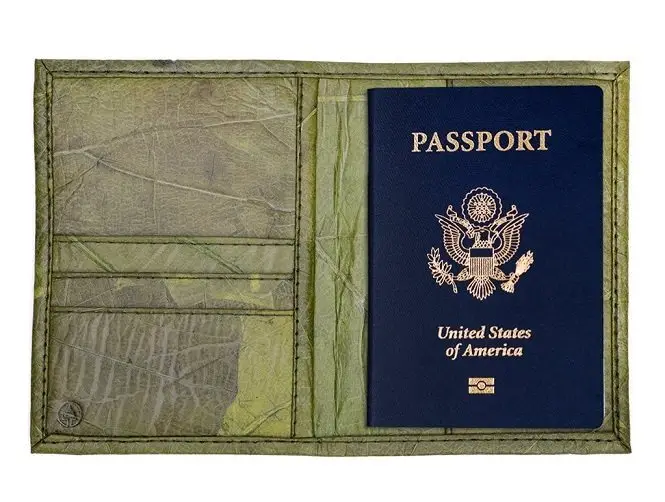 This is the coolest one out of all in my opinion. I'm not sure if it's my favorite, as I love the corker wallet a bunch.
But leather made out of leaves? The texture on this thing is amazing in my opinion, as is the look, and the functionality is perfectly adequate.
With it being cheaper than the Corker wallet I think I might like this one better.
Like with the Corker wallet this one has many colors. If you're interested in this wallet or just want to look at the other cool colors they have (I like the blue) you can see them here.
BagSmart's RFID-safe "all in one" Travel Case
This isn't the most attractive one, especially looking at the last few ones, but dang is it functional.
Not only is it RFID-safe, but it has a slot for cards, cash, boarding passes, coins, your passport, but also a wonderful addition of a pen/Lazar-pointer slot!
It's not a pretty beast, but it gets the job done and has every addition you could really want, is relatively economically priced, and is durable and will last years upon years of heavy travel.
You can't really go wrong with this travel case. The only downside is it's not quite as small as other cases, but it's upsides if you're not a very organized person are potentially huge with that pen holder.
If you want this Travel case you can get it on Amazon by clicking here.
LeniSomethingBoHo's Soft Fabric Minimalist Cover
I don't think this is the most functional cover, but I sure like how it looks and feels. It's so soft.
If you're an ultra-minimalist, or simply don't mind stacking cards (or only have one) this cover will do you just fine, if you like it as much as I do.
One benefit of this cover is it's the cheapest hand-made cover for your passport and it does it's job perfectly adequately, so if you're on an ultra-low budget and don't want that durable not so soft fabric one I mentioned before then this one would be a great second choice.
You can get it on Etsy by clicking here.
Which Vegan Passport Wallet Is Best For You?
While it's not essential to have a cover I'd recommend getting one as it just keeps things way more organized and safe in my opinion.
If you're a single/solo traveler and want the best value for function I'd probably say your best bet is either the one I use, or if you need a little more help organizing I'd go with this one.
But say you want something super eco-friendly? I'd probably go with either the Corkor's Eco-friendly Wallet or the Leaf Leather Wallet.
If you have a family and plan to travel with them just get this one, it's undeniably the best for families.
If You want something truly one of a kind get this one and get it personalized. Personally if I was giving a gift to someone it'd probably be this one.
But if you're on an ultra-low budget and you want the cheapest functional wallet you can get go with this one, although I'd always recommend to spend an extra $5-10 for one of the others.
Vegan Passport FAQ's:
There's been quite a few questions sent to us on the topics of passports in general, so I figured I'd just publish those answers publicly here since so many people have them.
Are Passports even Vegan?
Lots of people wonder this, and for good reason as many passports have a leather-type of cover — however now as far as I know all of them are made with synthetic/artificial leather rather than 'real leather' made of cowskin or other animal skins. 
Regardless, even if they were made with leather I'd argue as it's not avoidable unless you do not get a passport, I'd say it's vegan to get it, as it's not reasonable or practical to prohibit yourself from getting the best ID available, or from being allowed to leave the country you were born in.
Do you even need a passport holder?
Honestly no, I didn't have one the first few years I had a passport, despite traveling the world, and I didn't lose my passport or anything because i didn't have it. However the passport did fray a bit and the cover rubbed off completely, which technically means it shouldn't be accepted (invalidated), however I had no issue with this personally and every country I went to continued accepting it.
With that being said, I got a new passport and a passport holder now as I saw the damage it causes over time, and well I'd prefer to have a suitable travel document rather than what looks like a very old used book.