Smoothies are a great healthy option for everyone and a staple of many vegan diets. However, sometimes it is challenging to avoid added dairy in some smoothie chains. Smoothie King has many great vegan options and uses clean ingredients.
Let's Explore the Smoothie King Vegan Options; All of the Smoothie King Vegan Smoothies You Can Try!
Smoothie King's dedication to clean ingredients at over 1300 locations will be an added benefit to vegan diners. They have a full "No-No List" of everything they refuse to add to their smoothies, such as high-fructose corn syrup and added sugar. The chain uses clean blends of whole fruits and organic veggies. The smoothie franchise wants to help with your healthy lifestyle and fitness goals. By offering the best menu items with lots of customization they can do just that! 
Get Fit Blends Vegan Options:
Stretch & Flex™ Pineapple Kale
Stretch & Flex™ Tart Cherry
In this line of high-protein smoothies, Smoothie King uses SunwarriorⓇ Organic Plant-Based Protein. There are only two official vegan options on the Get Fit Blends menu, but plant-based protein is an option at the chain as well as plant-based milk choices. Some of the other options on this menu can most likely be customized. Ask your local Smoothie King franchise to help make the necessary swaps. 
Stay Slim Blends Vegan Options:
This menu focuses on low-calorie blends, with every smoothie staying under 350 calories per 20 ounces. All but one smoothie in this category did contain milk and occasionally egg. Ask when ordering if those ingredients can be swapped for plant-based ingredients. Plant-based milks are usually low in calories, so sticking to your health goals will be easy!
Be Well Blends Vegan Options:
Daily Warrior
Hydration Tart Cherry Lemonade
Immune Builder Mixed Berry
Immune Builder Orange
Immune Builder Veggie Superfood
Pure Recharge Mango Strawberry
Vegan Dark Chocolate Banana
Vegan Mango Kale
Vegan Mixed Berry
Vegan Nutty Super Grain
Vegan Pineapple Spinach
Vegan Apple Kiwi Kale
Veggie Lemon Ginger Spinach
The Be Well menu focuses on superfoods high in vitamins for living a healthy lifestyle. Most of the smoothies on this menu are specifically vegan. Plant-based protein powder from SunwarriorⓇ Organic can be added to any of these smoothies, making them a great meal option.
Take a Break Blends Vegan Options: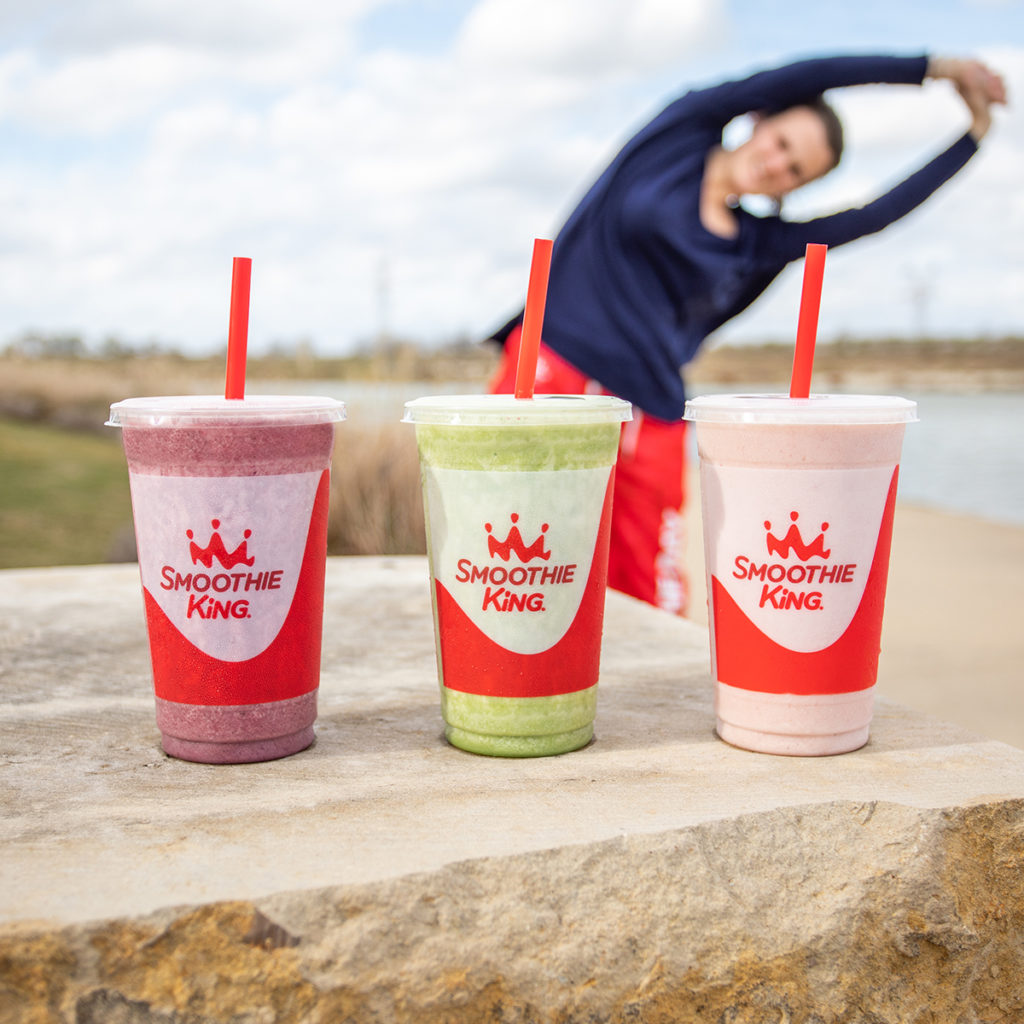 Berry Punch 
Caribbean Way
Lemon Twist Banana
Lemon Twist Strawberry
Orange X-Treme
Passion Passport
Strawberry X-Treme
This menu from Smoothie King is blended to help you enjoy your day with a sweet treat! Many of these smoothies are naturally vegan for plant-based diets.
Kids Blends Vegan Options:
Apple Kiwi Bunga™
Berry Interesting™
CW Jr.
Lil Angel™
Your kids will have vegan options at Smoothie King too! Some smoothies have added multivitamins for a healthy diet, and all of these vegan options are kid-approved and delicious.
Some of the menus at Smoothie King might be limited, but they offer substitutes to help you create a delicious vegan smoothie!
Although some of the menus have only a couple of naturally vegan options, the smoothie chain has substitutes for any dairy products. The Smoothie King website also offers their Fuel Finder tool. This very cool little tool allows you to enter dietary restrictions and will suggest smoothies for you! Every similar site should implement a solution like this, no question about that.
Just like at Wawa or Jamba Juice, finding yummy smoothies that support your vegan diet needs are actually easy at Smoothie King! Because they offer so many plant-based options, customizing your drinks is easy. With their "Love Your Smoothie" guarantee, you can always request something else if the drink isn't exactly what you wanted.