Playing around in the kitchen can be like therapy. But only when you like cooking and experimenting with new recipes. And, of course, have the time for it. If this doesn't sound like you, then there is a good chance you see cooking dinner as an annoying daily chore.
It's no wonder that meal delivery services have become so popular. But with the demand for them skyrocketing, the available options on the market are overwhelming. The last service we tried was Splendid Spoon, and we are ready to share our experience. Let's dive into our Splendid Spoon review and see what makes it stand out next to its competitors.
Getting started with Splendid Spoon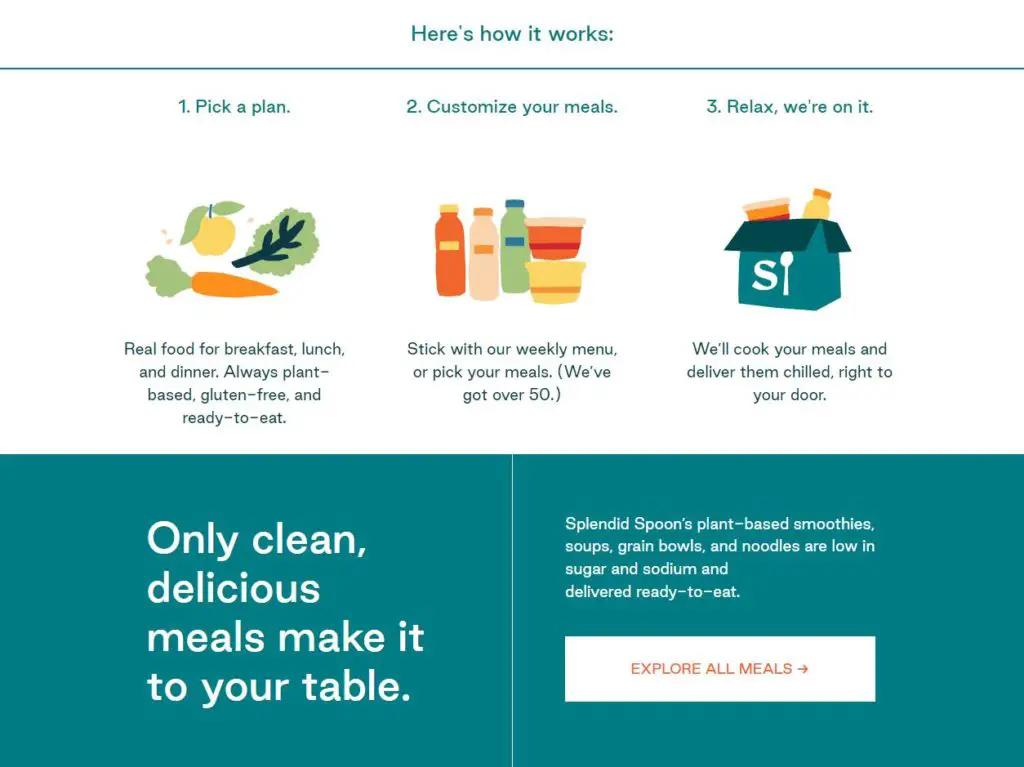 A user-friendly and easy-to-use website is the first step to building a good meal delivery service, and Splendid Spoon seems to agree with that. Their website is easily navigatable, and signing up for a weekly delivery is incredibly easy.
Once you're on the site, click on getting started. You'll see available weekly plans to choose from – pick the most suited for you. The next step is to submit your shipping information and pay for the meal box. After checking out comes the most exciting part – you get to pick your weekly dishes! Now you just need to wait for your delivery.
Splendid Spoon currently delivers on Wednesdays and Fridays. It is recommended to be home when the meals arrive or have someone else receive the parcel for you. However, as the Splendid Spoon meals come in well-insulated boxes that are provided with dry ice, they won't spoil if they stay out for a while. Just make sure to refrigerate them the first chance you get.
What is Splendid Spoon all about?
Like Fresh n Lean, which we tried recently, Splendid Spoon provides their customers with ready-to-eat meals. The meals come pre-cooked and packaged. All you have to do is pop them into a microwave or heat them up on a stovetop. This means that your dinners will be ready within a few minutes, and you don't have to worry about food prepping or cleaning up.
Not only are all the dishes vegan but also gluten-free. There is a good variety of low-fat and low-carb dishes, and many meals are even suitable for diabetic people. This quality makes Splendid Spoon a favorite of many, as the meal kits are accessible for several different dietary restrictions. You can get familiar with the nutritional information of a specific meal on their website.
All the meals are pretty healthy and nutrient-dense, making it possible to keep up a healthy diet with ready-to-eat meals. Dishes are made from fresh and clean ingredients, using organic components where possible. 
As with most services like that, Splendid Spoon meals come with a lot of packaging. Those that care about the environment and sustainability will be happy to know that all the packaging is recyclable. Just throw them into your recycling bin. You might want to wait until the dry ice dissipates before you deal with the packaging, as the ice could cause serious burns if not handled correctly.
Splendid Spoon vegan menu
As previously mentioned, Splendid Spoon is an entirely plant-based service meaning that every meal is suitable for people on a vegan diet. This is brilliant news to us vegan folks as we aren't stuck with one specific meal plan that offers limited weekly options.
So, what does Splendid Spoon's menu look like, and what can we expect from weekly deliveries? We are glad to see quite a lot of variety. With more than 50 meal options available, you won't run out of new things to try for a while. While new dishes aren't added weekly, you can see meals on the menu seasonally. Splendid Spoon offers the following categories to pick your plant-based meals from.
Cold-pressed juices
Wellness shots
As you can see, the meal delivery company has everything necessary to cover breakfast, lunch, and dinner. This makes it a good option for those needing more than just dinner.
Splendid Spoon review – what we tried?
To give an honest and transparent opinion on the service, we had to try the weekly subscription ourselves. We decided to pick one of the on-demand boxes – the mix & match bundle, to be exact. We wanted to be able to try something from every category, from fresh juices to soups and grain bowls. Here are our thoughts on what we tried.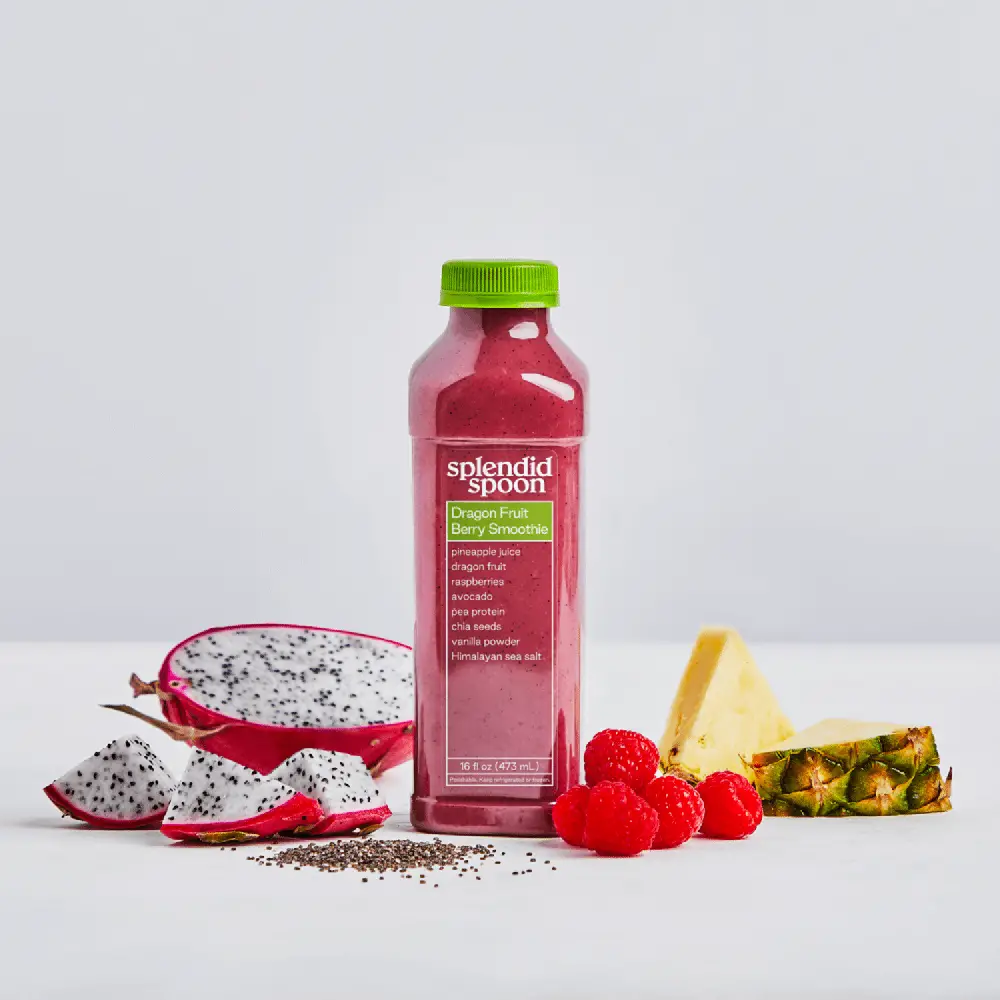 Dragon Fruit Berry Smoothie – It had your typical tropical smoothie flavor. However, that is in the best possible way. We didn't have much confidence it would fill us up, judging from the bottle size. But surprisingly, it did. After reading through the ingredients, we assume it is thanks to the chia seeds and pea protein. We also tried the mint chip smoothie, and while the flavor profile was completely different, it was just as good.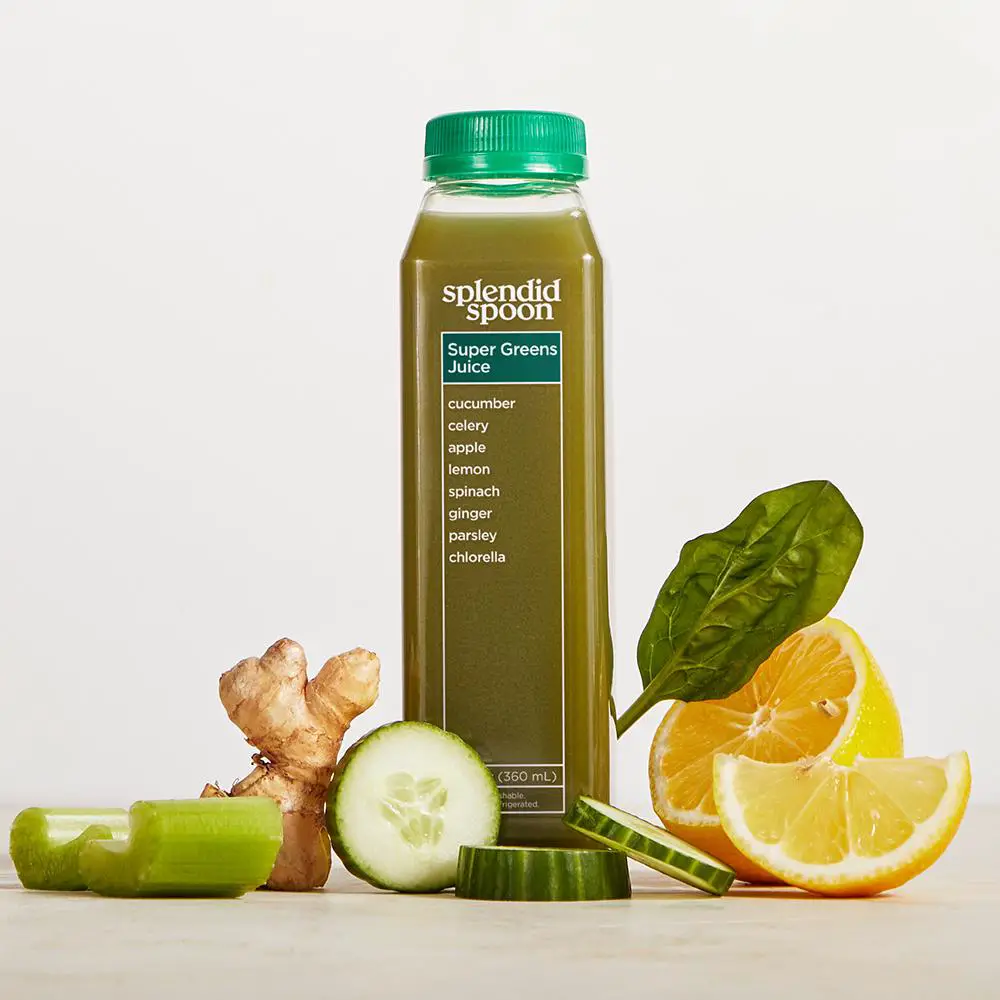 Super Greens Juice – We expected this juice to taste like any other green juice, and it did. While it didn't offer a mind-blowing culinary experience, it had a healthy, clean, and refreshing flavor. And it was a good energy booster – we didn't even need a coffee after starting the day with this juice.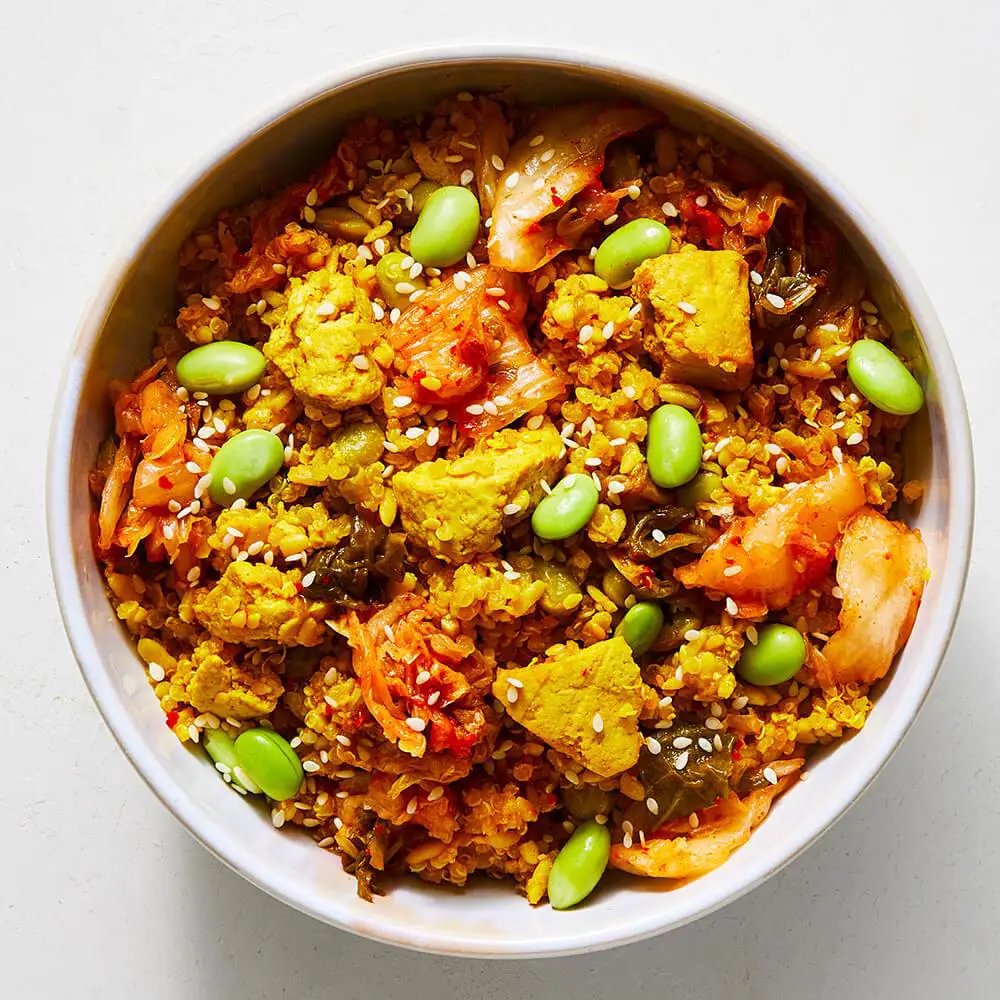 Kimchi Fried Quineo Grain Bowl – This bowl was full of flavor and very fulfilling. The kimchi wasn't the best we have had, but it was in no way not edible. We added a light touch of sriracha sauce to the bowl to give it more of a kick, and it was absolutely amazing!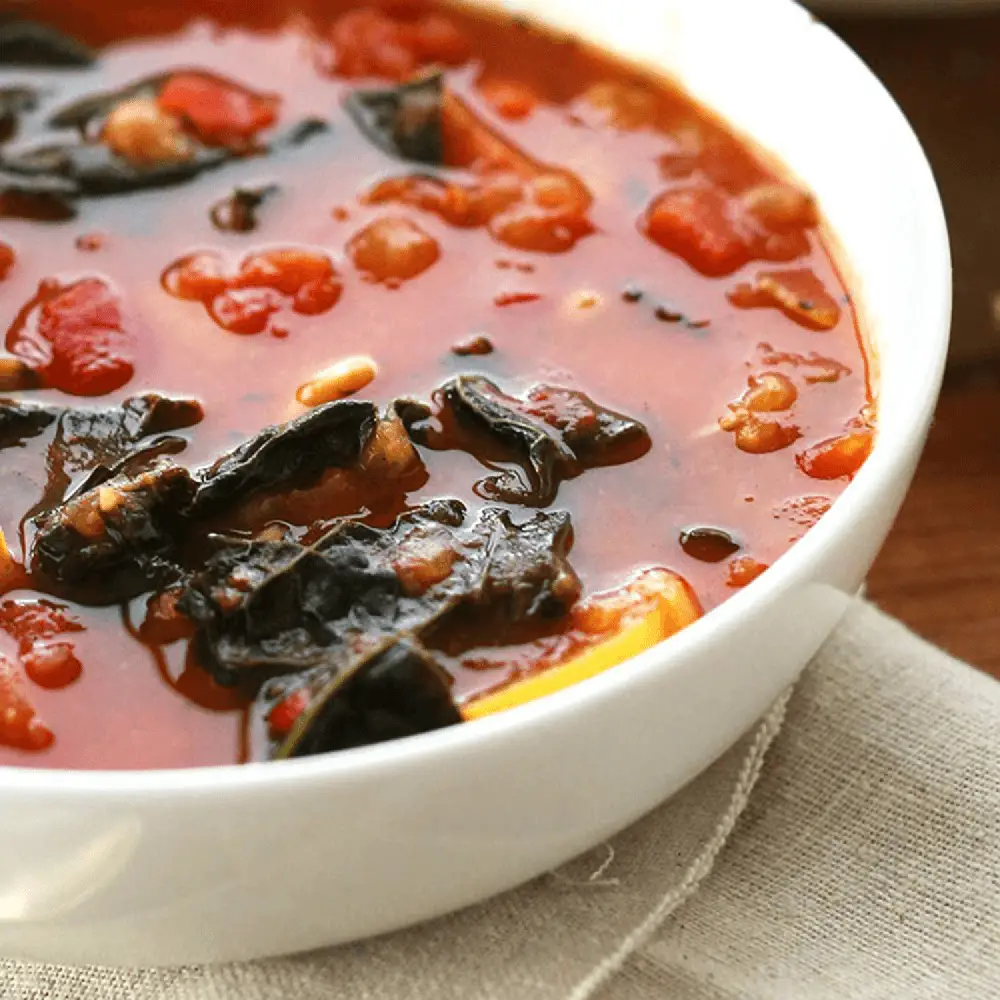 Butternut Squash Rattatoile Soup– This soup is a good shout if you're craving a good comfort meal – warm, homey, and doesn't lack flavor. Have a side of rice with it if you need a more supportive meal. The soup is a brilliant choice for a light lunch or dinner.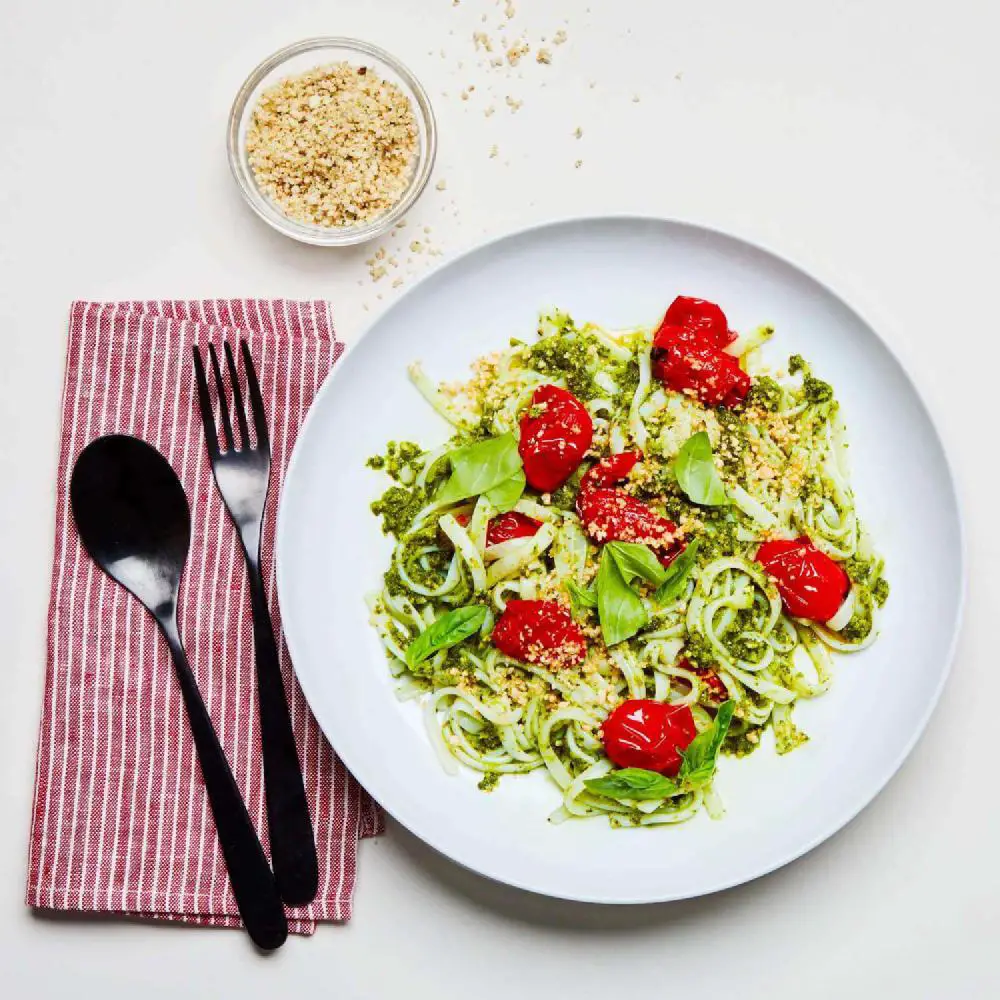 Kale Pesto Noodles – Noodles aren't your most exciting meal, but who doesn't love it when it's been made just right? As it is not always easy to find vegan-friendly pesto, we decided to use the chance and go for kale pesto noodles. And we weren't disappointed. The nutritional yeast added a perfect note of cheesy flavor to the dish.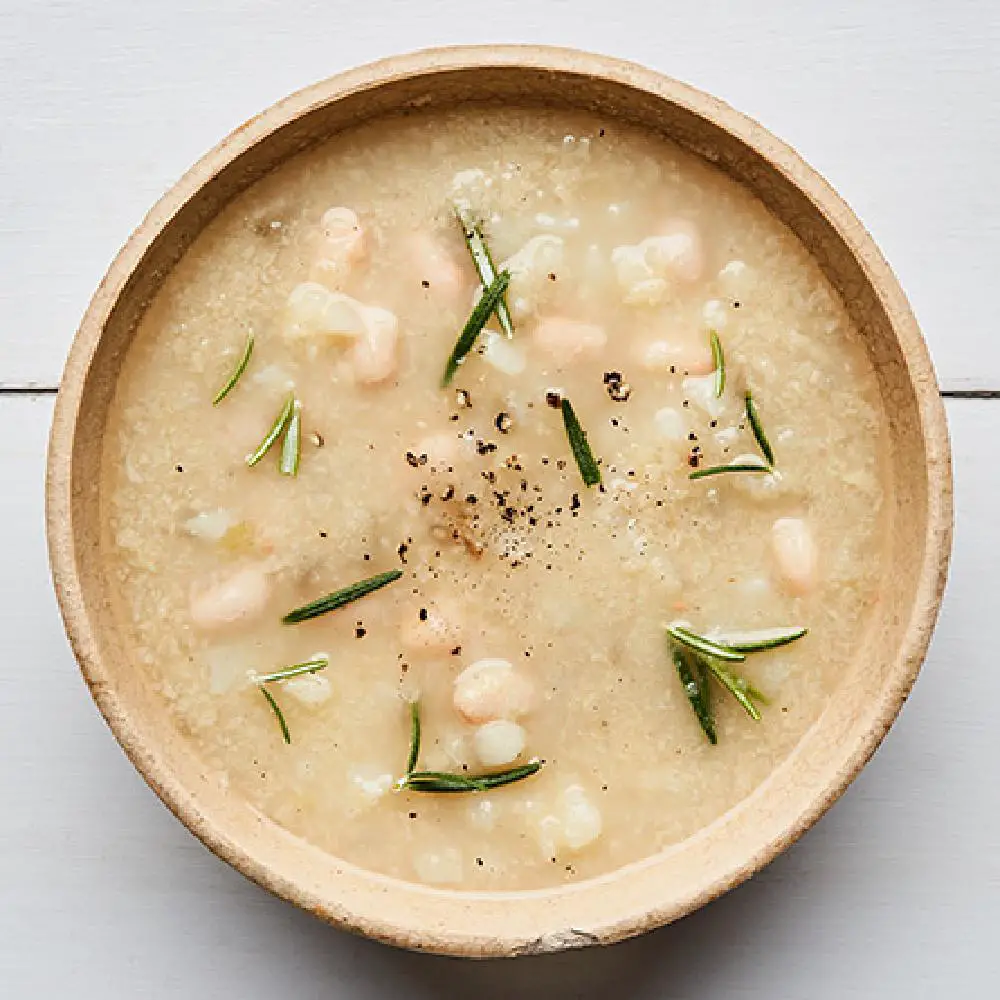 Cauliflower Potato Chowder Soup – Out of all the light soups, we decided to go for this cauliflower one. The appearance was not very impressive, but the taste was better than expected. It wasn't as flavorful as the ratatouille soup – however, it was simple and tasty. Compared to the former one, it was much lighter. We really enjoyed the creamy consistency.
The costs
Now let's talk about one of the most important factors to consider when choosing from several different meal kit services: The price of a subscription. Here is a list of all the available plans.
Breakfast, Lunch, Dinner + Reset – 195$ per week. This box includes 5 smoothies, 5 grain/soup bowls, 5 noodle bowls, and 5 light soups.
Breakfast + Lunch + Reset – 140$ per week. This box includes 5 smoothies, 5 grain/soup bowls, and 5 light soups.
Breakfast + Lunch – 100$ per week. This box includes 5 smoothies and 5 grain/soup bowls.
Breakfast – 70$ per week. This box includes 5 smoothies.
Lunch – 70$ per week. This box contains 5 grain/soup bowls.
The meal kit service also offers On Demand Boxes, which are perfect if you want a variety bundle or stock up on smoothies or grain bowls. The prices vary from 65$ to 195$, depending on the box you opt for. We were glad to see that shipping is free on every order – who likes to pay an extra tenner every week?
Does Splendid Spoon deliver to me?
If you have decided that Splendid Spoon would be a good fit for you and you're ready to order, it's a good time to check whether the service is available in your state. 
Splendid Spoon states that they ship domestically to residences and businesses in the lower 48 states. This means that people living in Alaska and Hawaii cannot use their services. Unfortunately, this is not uncommon along meal deliveries in the States…
Pros & Cons
We are not exaggerating when we say that there are plenty of things to like about Splendid Spoon. The following qualities impressed us the most.
Everything is vegan.
A variety of meals to choose from.
Minimal time required for cooking.
No prep and clean-up is needed.
Free delivery.
Nothing can be perfect. We didn't find many downsides to this meal delivery service, but a few things could potentially be improved.
A lot of packaging.
Smoothies are overpriced – however, the service is pretty affordable for meals.
Deliveries are limited to Wednesdays and Fridays.
Is Splendid Spoon worth it?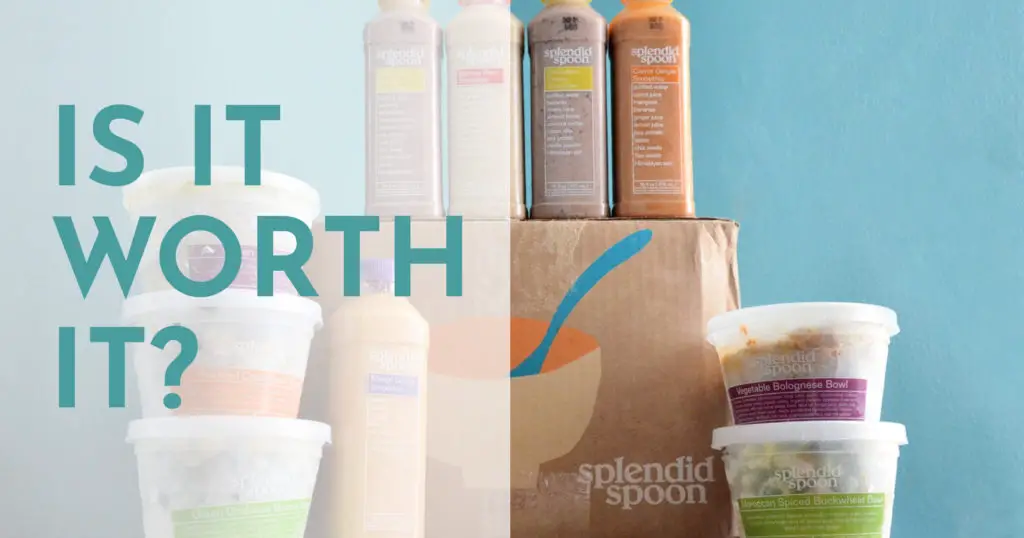 As Splendid Spoon delivers ready-to-eat meals instead of meal kits to your doorstep, it is a brilliant weekly service for those with busy lives or disdain for cooking. As the meals come ready-made, there is no need for prep work or cleaning up, which makes dinner time incredibly convenient.
We recommend giving Splendid Spoon a try if you're a vegan or interested in adding more plant-based meals into your diet. There is no reason to limit yourself to services with very few vegan choices when there are fully plant-based companies like Splendid Spoon. The meals provided by the company are delicious yet simple. Thanks to the many available weekly meals, it's easy to bring some variety into your diet. However, we personally would stick to the dishes and opt out of receiving juices and smoothies. While they were good, it's quick and simple to do them at home for much cheaper.
On the other hand, if you are someone who likes messing around in the kitchen and consider a meal delivery subscription to avoid grocery shopping, Splendid Spoon won't be for you. You're better off giving Green Chef or Sunbasket a chance.
Frequently Asked Questions
Splendid Spoon is vegan! While most meal kit delivery services offer a plant-based meal plan as one of the many options, Splendid Spoon has taken it a step further. Every meal they offer is 100% vegan. 
How long do Splendid Spoon soups last?
The soups are best eaten within 7 days of thawing. However, they will stay for up to 3 months when frozen.
How much does Splendid Spoon cost?
As with most services like this, the weekly cost depends on your order and can vary slightly. The bigger your meal box, the better value you get. The price per serving starts at 9.33$.
Is Splendid Spoon organic?
Splendid Spoon isn't entirely organic, but they prioritize using organic ingredients where possible. Look at the label or ingredient list online to see the organic status.