Finding the perfect gift for your friend, partner, or parents can be difficult. It gets slightly more tricky when the receiver of the gift follows a lifestyle that you are not very familiar with. Giving your vegan friend a box of milk chocolates and a beeswax candle isn't the best idea.
So, what should you get your vegan acquaintances for Christmas, housewarming, or birthday gifts? Unfortunately, there is no one size fits all solution. You have to consider your loved one personal preferences to find that perfect gift. But it is good to have some inspiration to get your creativity running. Read on to see a list of gift ideas for your vegan friends.
Vegan gift baskets
Gift baskets are the go-to choice for many when looking for a gift. And contrary to common belief, gift sets do not have to be boring. There are endless options available to choose from and something for every taste – from fruit baskets to beauty baskets. The right gift can make someone's day. All the following gift baskets are 100% vegan and capable of putting a smile on your loved one's face.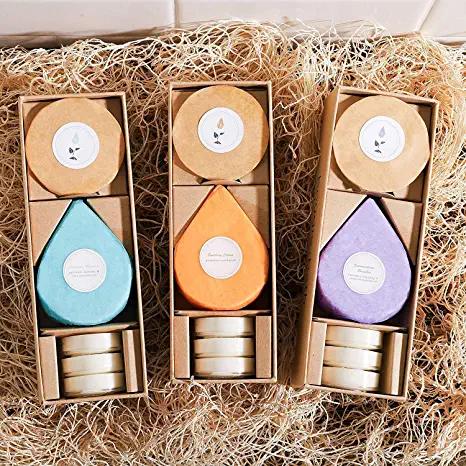 Bougie Bath Gift Set – $40 – The brand is a small US-based business that I personally love. This little spa gift set is perfect for anyone who appreciates a good self-care day at home. The set comes with a facial cleaning sponge, a bath bomb, and three hand-poured soy candles. Bougie Bath offers three beauty sets, each featuring a unique aromatic experience. Get a bar of vegan-friendly chocolate and flowers to go with it, and you have a simple yet luxurious gift basket.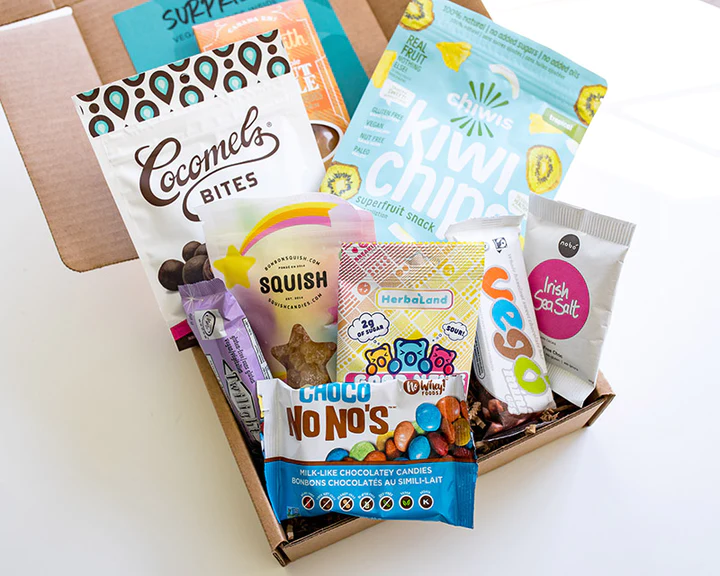 Fair Square Sweets & Treats – $84 – Fair Square offers plenty of gift boxes to choose from – many of those vegan-friendly. This Sweet & Treats one is the only one I have tried so far, and I would recommend it to everyone. If you know someone with a sweet tooth, these sweet treats would be a perfect gift to get them.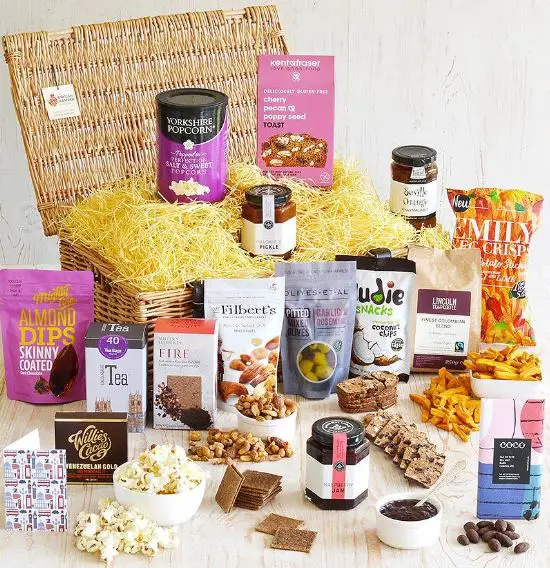 British Hamper Artisan Gift Basket – $175 -This gift basket is on the pricey side, but if you have a special occasion coming up, certainly worth the investment. The hamper is filled with the highest quality artisan sweets and snacks from the best British producers. You can find items from luxury dark chocolate to crackers and tea in this hamper.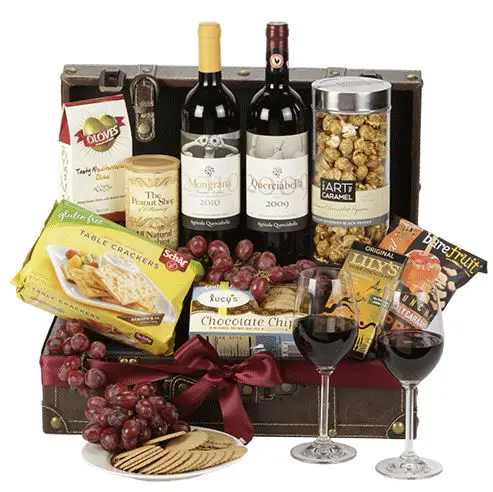 Mel & Rose Wine Gourmet Chest – $185 – We all know at least one person who loves wine more than one probably should. This vegan gift basket has been made for them! The highlight is on Querciabella Mongrana Maremma and Chianti Classico, two classical Italian wines. And, of course, you need gourmet snacks such as dark chocolates and dried fruits to go with a fine glass of wine.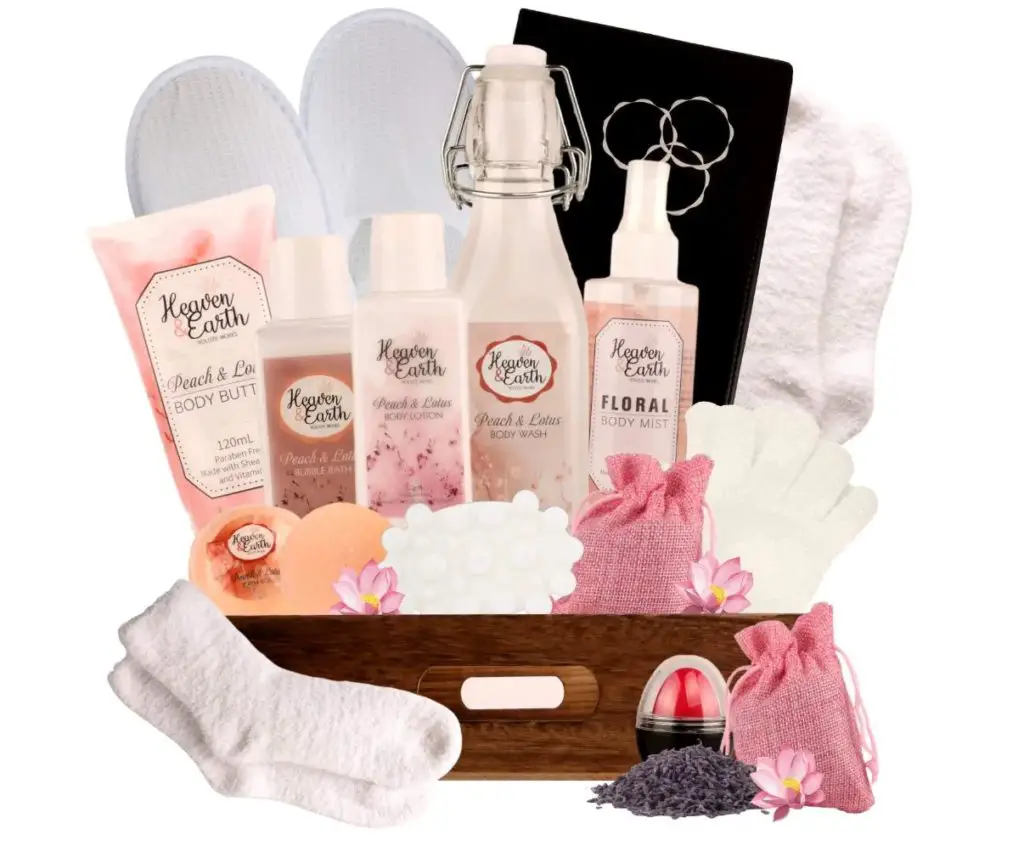 Heaven & Earth Spa Gift Set – $38 – You cannot go wrong with quality beauty gifts. Everyone likes to find a few hours to themself and have a little pamper session now and then. This affordable gift basket includes everything you need for a home spa day – from body lotion and butter to lip balm and bath bombs. For 13 high-quality beauty items, the basket is a steal!
DIY vegan gift basket
Whether you're looking for a gift for your partner, mother-in-law, or sibling – a gift basket is always a great idea. But instead of buying a ready-made one, it can add more sentiment to make your own. Now, the question is, how to put together a customized basket for a loved one? You don't need much to create one!
Think it through – Before you go out shopping, you should think through a few things. Pick out the theme of the basket. Do you want to create a sweets basket or a basket full of household items for a housewarming gift? And what is the budget for the gift set?
Basket – Let us get to creating the basket now. To start, you will need a basket or another container – no surprise. 
Choose the spotlight presents – Now comes the fun part – choosing the gifts for your basket. Think about the person you're shopping for and what they adore. Perhaps the favorite author of your partner just released a new book? Or did your vegan friend mention that she is running out of her beloved hair care products? Now is the time to think outside the box and find something special for the gift receiver.
Add some extras – When you have your main gift picked out, it is time to add some small filler gifts, and you're ready to go. Throw in some vegan treats, or opt for a bottle of wine instead. And why not finish it with a scented soy candle or a bottle of essential oil?
Vegan gift cards
I know what you're thinking right now, gift cards are the most mediocre gifts that require no effort. It can be true – I will give you that. But I believe that it can also make a brilliant gift. If you're not 100% sure about what somebody would like, why not allow them to choose for themself?
With most companies selling gift cards, it is not hard to find one that your plant-based colleague or acquaintance would appreciate. There are plenty of certified vegan, cruelty-free and eco-friendly beauty and wellness brands on the market. Similarly, many vegan-friendly clothing brands sell gift cards. Did you know that even Slutty Vegan offers vouchers for their merch? All these would make perfect gifts for a vegan.
Frequently Asked Questions
What is a good gift for a vegan?
At the end of the day, the perfect gift looks different for everyone. Take into consideration what the gift receiver likes and go from there. There is an endless amount of vegan-friendly gift ideas for every taste. Gift baskets, beauty sets, and quality wine are a few examples.