Togo's isn't particularly vegan-friendly compared to other sandwich shops, but they aren't really much less vegan-friendly. Us vegans can easily make an alright meal at their locations, but don't expect some special unique vegan-friendly mock-meats or anything fancy; it's just a normal sandwich shop at this stage.
In other words, you can easily eat at Togo's as a Vegan, but there's no reason to go to Togo's over another sandwich shop, as their options are largely limited to bread with vegetables and standard vegan-friendly side options at a sandwich shop like chips.
Build-Your-Own Vegan Sandwich/Wrap at Togo's:
Choose Your Bread – Classic White Bread, Sourdough Bread, Spinach Wrap, or Gluten-Free Wrap.
Choose Your Dressing/Sauce – Hot Sauce, Mustard, Lite Balsamic Vinaigrette, Asian Salad Dressing, and/or Italian Salad Dressing.
Choose Your Vegetables – Avocado, Cucumber, Onion, Lettuce, Tomatoes, Pickles, Pepperoncinis, Carrots, Red Onion, Roasted Red Peppers, Hummus, Mixed Greens, Red Cabbage, Green Onions, Black Bean & Corn Salsa, Tortilla Chips, Sesame Seeds, and/or Cilantro.
Choose Your Temperature – Unheated, Warmed, or Toasty.
Personally I'd opt for doing the above — building my own sandwich — but you can also simply order the Hummus Sandwich or the Viva Veggie without Feta.  You can never go wrong with a simple avocado sandwich with some onion, cilantro, and tomato, but Togo's does offer many more choices than just these sandwiches if you get creative.
Vegan Soups & Salads at Togo's: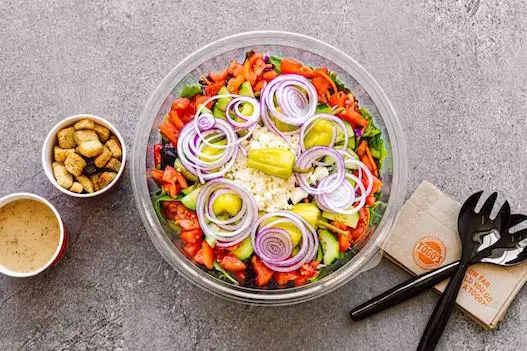 Farmers Market Salad (Specify no Croutons or Feta)
Garden Vegetable Soup (Confirm, Not Always Available nor always Vegan-friendly)
Unfortunately that's really all Togo's has when it comes to Soups & Salads. You can't really build-your-own salad at Togo's, but you can try and see if they'll do it for you if you aren't up for a sandwich/wrap, but I never had luck doing so myself.
Vegan Side Options at Togo's:
Various Chips
Often something else (Varies by location)
This seems bad, but that's generally all sandwich-shops have. Chips and maybe some fruit — that's it.
Vegan Desserts at Togo's Sandwich Shop:
Currently all dessert-like options contain dairy and/or eggs, and thus aren't vegan. Some locations may have fruit if you are into that as a dessert, but otherwise you're out of luck when it comes to desserts.
Frequently Asked Questions
Is the dressing for togo's asian salad vegan?
Yes. Thankfully, the Asian Dressing used for their salads at Togo's do not contain any animal by-products, thus they are vegan.
Not all of their breads are vegan. For example, the parmesan breads and the Whole Wheat breads contain dairy.
These breads are vegan friendly at Togo's: Sourdough and Pretzel Roll breads, The Classic White Bread.