What Flavors of Trident Gum are Vegan?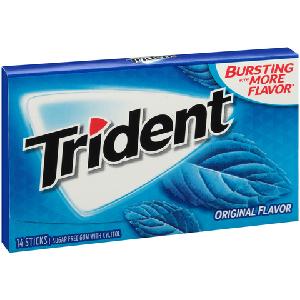 There's plenty of misinformation on Trident Gum's Vegan status out there on the internet. This is largely, likely entirely, because most information out there isn't up to date and people haven't actually contacted the company to find out from the source whether or not their gums are vegan.
Well I did, and from what they said most of their products do not contain animal products and are in fact Vegan.
There are quite a few that are non-vegan, including all of the Trident Splash & Trident Layers lines of their gum, as they both contain gelatin. If you want to make sure the Trident Gum you're looking to buy is Vegan just check out the list down below.
Trident Unwrapped (See flavors below)
Trident Vibes (See flavors below)
Trident Classic (See flavors below)
Trident White (See flavors below)
All flavors in the above should be vegan, with the only non-vegan Trident Gum's being the Splash & Layer Varieties, due to the Beef Gelatin that they contain.
Below you can see the flavors that should be Vegan in each of these styles of Trident Gum. If you find out one of the below flavors are not vegan, something must have changed in Trident's Supply Chain, so please contact me through this page so I can look into it and update this page.
It's unlikely that they change the ingredients in one of their Gums, as it's been many years of their products being consistently made with the same ingredients, but if it does, please let us know.
Trident Unwrapped Vegan Flavors:
Original (Peppermint)
Spearmint
Tropical Twist
Cinnamon
Bubblegum
Trident Vibes Vegan Flavors:
Tropical Beat
Ooh La Lemon
Spearmint Rush
Trident Classic Vegan Flavors:
Spear Mint
Original (Peppermint)
Tropical Twist
Cinnamon
Watermelon Twist
Lime Passionfruit Twist
Dragon Fruit Lychee
Bubblegum
Perfect Peppermint
Mint Bliss
Minty Sweet Twist
Wintergreen
Pineapple Twist
Island Berry Lime
Black Raspberry Twist
Strawberry Twist
Splashing Mint
Wild Blueberry Twist
Passionberry Twist
Purely Trident Peppermint
Purely Trident Spearmint
Trident White Vegan Flavors:
Peppermint
Spearmint
Minty Bubble
Microcrystals
Wintergreen
Cool Rush