Everything Vegan at Kung Fu Tea (Late-2021)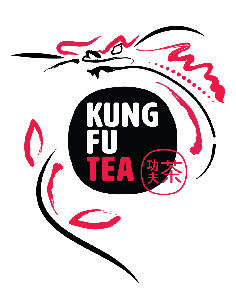 Kung Fu Tea is a relatively unknown chain restaurant that is somehow at the same time quite popular. They sell many yummy fruit-teas and slushies as well as Boba teas.
Unfortunately they don't have a vegan "milk" alternative that's vegan, so we don't have access to the full line of their drinks. But they do have quite a few vegan options, so you shouldn't be disappointed if you visit them, as many of their vegan drinks are quite tasty.
Hopefully one day they add vegan milk/creamer to their menu so we can enjoy their milk teas sometime, but until then we're pretty much stuck with regular teas and fruit-slush teas, but personally I think fruit-slush teas are delicious so I don't mind all too much.
Vegan Drinks at Kung Fu Tea:
All Kung Fu Tea Punch Series Drinks (expcect for the honey one)
All Kung Fu Tea Classic Series Drinks (except for the honey one)
Passion Fruit Slush
Pineapple Slush
Mango Slush
Mung Bean Slush
Red Bean Slush
Carribean Breeze (Seasonal)
Make sure to get some toppings (see below) with it, I'd highly recommend a jelly, especially the mango jelly!
Vegan Toppings at Kung Fu Tea:
Nata Jelly
Mango Jelly
Red Bean
Mung Bean
Herbal Jelly
Fig Jelly
Popping Bubble (Boba)
Oreo
And with the toppings listed out, that's all that's vegan from Kung Fu Tea right now. The Boba's apparently are coated in a substance that contains honey now, so if you want to be true to your vegan-ness give the Bobas a miss and Opt for that tasty Mango Jelly that I recommend big-time. It's tastier and 100% Vegan.
But they don't use real milk for their teas, so aren't they vegan?
NO.
Kung Fu Tea accidentally labeled some of their Milk-teas as Vegan in the past, and it's true that they don't use real milk in their teas, however they use a creamer and powdered milk that both have dairy ingredients in them.
I believe they have corrected this, but don't trust the menu if it says milk-teas are vegan. Confirm they have a vegan alternative to the creamer and milk powder they use before trusting their menus, due to the mislabeling that occurred a few years ago.
Other Articles to Check Out: