Cocoa powder is an essential part of creating a delicious glass of hot chocolate. Who doesn't love hot cocoa? This chocolate powder is also used to make tasty cakes, ice cream, and more. If you love chocolate and chocolate-flavored products, you will probably need to use cocoa powder at some point in your life.
If you live a vegan lifestyle, you are likely wondering if you can have cocoa powder. Here is the deal.
Some brands are not vegan-friendly, and others are safe. Many cocoa powder brands use entirely vegan ingredients. However, when thinking about the manufacturing process, you may choose to skip it. 
Child labor and slavery are often a part of the cocoa industry. According to Food is Power, many cocoa farmers live in poverty and make less than $1. Surveys have found that only 12% of cocoa households earned a livable income. 
Many children find themselves working in the cocoa industry to take care of their families. Some children are forced into this work, and some are victims of trafficking.
A major aspect of veganism is making ethical decisions and doing the right thing. Consuming cocoa may not be the best decision, even if the ingredients are vegan-friendly. 
It is possible to find ethically sourced cocoa. Some companies pride themselves on only using fair trade and organic cocoa, while others choose to ignore what is right. You will find a long list of chocolate companies that only use ethically grown cocoa at Slave Free Chocolate. 
According to Wildly Organic, fairtrade-certified products only make up a tiny part of the market at around 0.5%. It can be tricky to stay on top of this when companies are unwilling to do their part. Putting in the extra effort to buy fair trade-certified cocoa powder is something everyone should be doing, but not every vegan is as worried about that as others. 
Is Hershey cocoa powder vegan?
Hershey's cocoa powder does not use any animal products. The dark and original Hershey's cocoa powders are said to be vegan. Hershey's cocoa powder is safe for plant-based eaters. There is only one ingredient; cocoa. Hershey's cocoa powder is 100% pure cocoa with no added sweeteners.
If you became vegan for ethical reasons, Hershey's is one of the many cocoa powders you may want to avoid. They do not use fair trade-certified cocoa, which means that child labor and slavery were likely a part of the creation of this powder. It is always difficult to say without knowing exactly where the cocoa beans originated, but Hershey's is not on the list of chocolate companies that use ethically grown cocoa.
Is Ghirardelli cocoa powder vegan?
If you are a strict vegan, you may want to avoid this product as there is a warning on the packaging about cross-contamination. Ghirardelli makes plenty of products that use milk and eggs. These ingredients may wind up in the cocoa powder as well. Proceed with caution.
Is Nestle cocoa powder vegan?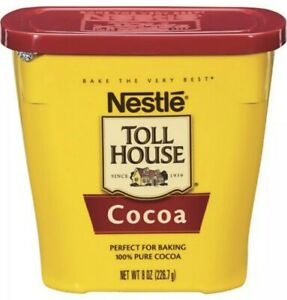 Nestle Toll House cocoa powder may or may not be vegan. This product lists cocoa powder as the only ingredient, but Nestle is another company that uses non-vegan ingredients in other products. There is always a risk of cross-contamination with Nestle cocoa powder. If you are a strict vegan or have an allergy, proceed with caution. 
Is Anthony cocoa powder vegan?
Anthony's Organic Raw Cocoa powder only contains cocoa powder. There is nothing added that would make this cocoa powder not vegan. It even has a label that clearly states this product is vegan. Feel free to add this tasty cocoa powder to your creations.
Is Droste cocoa powder vegan?
No dairy is used to create Droste cocoa powder. This product is 100% Dutch-processed unsweetened cocoa powder. The packaging is labeled as being suitable for vegetarians. non-GMO, and gluten-free. Droste cocoa powder may be labeled vegetarian, but this product should also be suitable for vegans. 
Is Valrhona cocoa powder vegan?
Most Valrhona products may contain or do contain eggs or milk. This means that the majority of the products at Valrhona are not safe for vegans. They are unable to confirm whether their products are vegan, even if they only contain vegan ingredients. There is always a risk of cross-contamination with Valrhona.
Is Whole Foods Market 365 organic cocoa powder vegan?
This cocoa powder is organic and sustainably harvested, so you don't have to worry as much about what happened before this product ended up in your hands. This product only contains cocoa powder and is vegan.
There are many more brands of cocoa powder out there that you might come across. These are just some of the most popular. 
Pure cocoa powder uses only cocoa nibs and cocoa seeds. These cocoa powders are vegan. If a company strays from this pureness and uses a less traditional process, these cocoa powders may not be vegan. They may add ingredients like dried milk and lecithin. 
Be sure to check ingredient lists when buying cocoa powder. Some have a vegan label which makes it even easier to figure out.
Is cocoa powder gluten-free?
Cocoa powder is typically only made up of one ingredient; cocoa. Pure cocoa powder is naturally gluten-free. If you have an allergy or a gluten sensitivity, you should be extra careful with products that do not have a gluten-free certification on the label. 
Cross-contamination can occur during the packaging process. Unless products come from facilities free of allergens, it is hard to confirm that something will be entirely gluten-free. Equipment may leave behind gluten ingredients that might wind up in your product.
There are other reasons cocoa powder products may not be gluten-free. When cocoa powders come premixed for hot cocoa or other items, they may not be gluten-free.
The bottom line is that plain old cocoa powder should always be gluten-free.
Frequently Asked Questions