Hungry Howie's isn't very vegan-friendly, much less than most pizza chains (BJ's Restaurant is a lot better in that regard), however it's still possible to have a satisfying vegan meal at their restaurants.
They aren't super vegan-friendly as most of their crusts contain dairy/milk and most of the crust-seasonings that really make Hungry Howie's a special place also contain unnecessary dairy products in them. You can still build a vegan-friendly pizza at Hungry Howie's though, as well as get a couple of the crust-seasonings, dipping sauces, and even salad options.
Build-Your-Own Vegan Pizza at Hungry Howie's: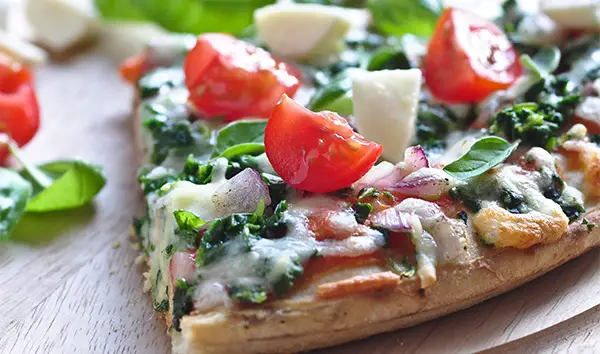 Choose Your Crust – Ultra Thin Crust, or Gluten-Free Crust.
Pick Your Sauce – Traditional Pizza sauce
Pick Your Toppings – Green Bell Peppers, Black Olives, Green Olives, Yellow Peppers, Pineapples,  Mushrooms, Red Onions, Green Olives, Jalapenos, Tomato Chunks, Sriracha Drizzle.
Pick Your Crust'Rub – Sugar & Cinnamon, or Cajun Flavored.
I'd highly recommend getting the Cajun Crust-flavoring, as while it sounds weird it does really "spice" up a pizza, so unless you're getting one of the dipping sauces below I'd recommend it. It's a shame the garlic one they offer contains butter, but the Cajun one is pretty good in my opinion. The Sugar & Cinnamon is just weird in my opinion on a pizza, but hey go for it if you want — it is vegan after-all. As for the other crusts Hungry Howie's offers, none of the others are vegan due to dairy products being in them.
Are Hungry Howie's Subs or Calzones Vegan?
The Calzones cannot be made vegan apparently due to the dough they use, so unfortunately you can't have one of them at Hungry Howie's, but at least there's vegan pizza (and salad) options that are 100% Vegan to choose from!
Vegan Salad Options at Hungry Howie's: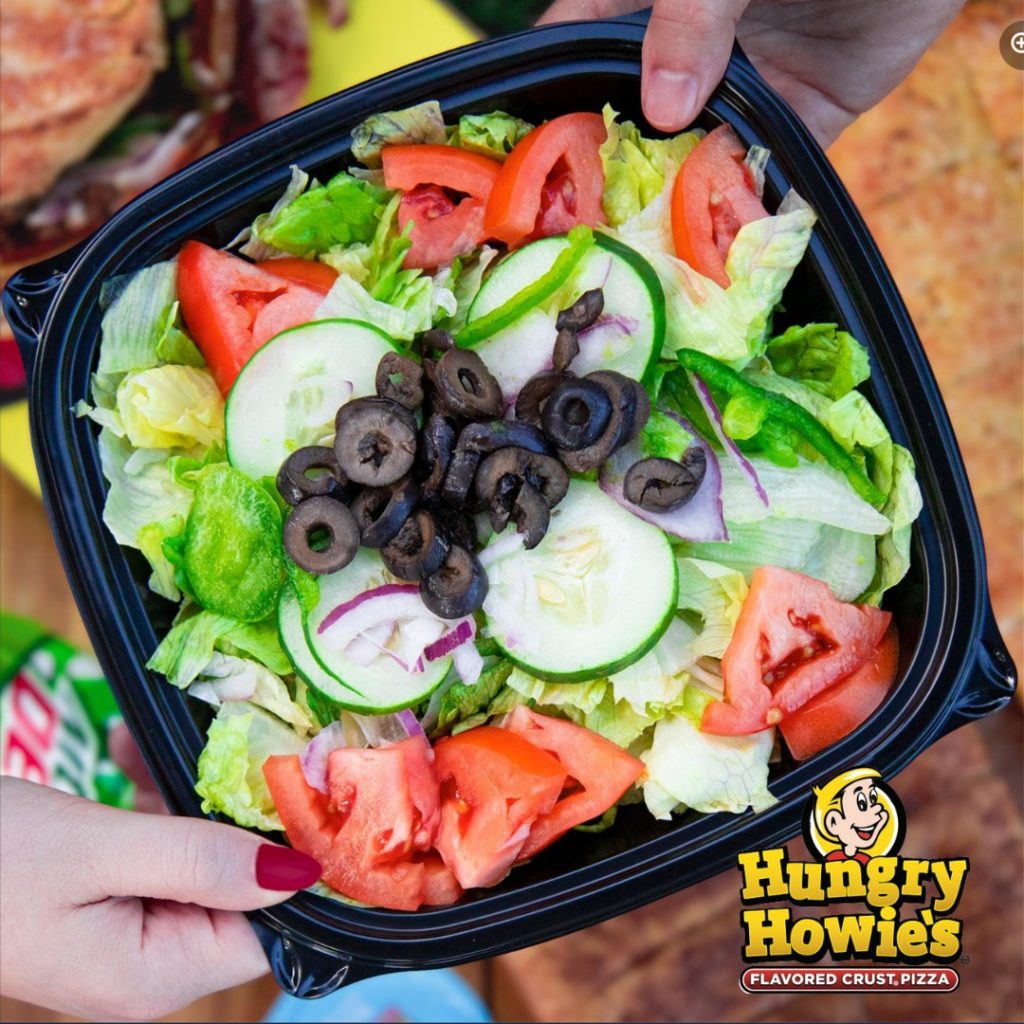 Garden Salad (without Croutons)
Greek Salad (without Cheese)
French Dressing
Greek Dressing
Creamy Italian Dressing
Fat-free Italian Dressing
Salad Oil Add-in
Cucumbers, Beets, and banana-pepper free add-ins
Keep in mind the Garden and Greek Salad, when made vegan, are basically the exact same salad, but hey, technically you can order either and veganize them easily. The other salads aren't really any different and cost more, so I wouldn't recommend veganizing them.
Hungry Howie's Vegan Side Dishes & Sauces:
Sriracha Dipping Sauce
Barbecue Dipping Sauce
Buffalo Dipping Sauce
Pizza Sauce Dipping Sauce
Asian-Wing Sauce
Red Pepper Packets
Side of Jalapenos, Black Olives, Green Olives, Yellow Pepper, or Pineapple.
Truthfully the only vegan sides are Sauces and extra vegetables, as the only other sides Hungry Howie's carries is Howie Bread and Howie Rolls, both of which contain dairy due to cheese and/or dairy from the crust they use.
Vegan Desserts at Hungry Howie's:
Unfortunately all of the Desserts at Hungry Howie's contain dairy and/or eggs, and thus aren't vegan.
Frequently Asked Questions
Does Hungry Howies have vegan pizza?
Even though Hungry Howie's is not the most vegan-friendly pizza chain, you can still build a vegan-friendly pizza there. Choose the Ultra Thin or the Gluten Free Crust, ask for their Traditional Pizza sauce and the Sugar & Cinnamon Crust'Rub. Naturally, no cheese for toppings. 
Is Hungry Howies crust vegan?
Their Ultra Thin Crust and their Gluten-Free Crust is free from animal by-products, thus they are vegan. Stay away from the other crusts, since they contain dairy products.