We have made it our mission to find the best vegan meal kit delivery services available on the market. The most recent one we have tried out is Hungryroot.
However, Hungryroot is slightly different from most meal kit services. That's because it is not exactly a meal kit service as such. With its mix and match system of grocery items that are also used in simple recipes provided by the company, Hungryroot brings together grocery and meal kit delivery.
Now comes the part that matters the most to us – is it vegan-friendly? And if so, are the meals any good and worth the cost? We tried it out and are ready to share our thoughts. Let's dive into our Hungryroot Review!
Hungryroot review – getting started
Hungryroot is another service that has made their website extremely user-friendly – props to them for that! Let us walk you through the signing-up process.
To start, you'll need to take a fun little quiz, which takes you about a minute. You will have to choose how many people you'll be feeding, your goals, and your taste preferences.
As a vegan, you will be pleased to see that Hungryroot accommodates us. The grocery delivery service has thought about many diets and dietary restrictions and asks about your preferences. You can decide to receive :
vegan 
vegetarian 
pescatarian 
dairy-free 
gluten-free 
soy-free 
tree nut-free 
peanut-free 
egg-free
shellfish-free options
Pick as many as you want, and you can always change your chosen filters later.
Once you have chosen your meal plan and checked out, you'll see what Hungryroot suggests for you based on the quiz you took. You can either accept their recommended meals and groceries or customize anything that doesn't look good to you. If you are looking for gluten-free option, you should definitely check out Sunbasket.
And that's about it! You're set to receive weekly deliveries of fresh ingredients to cook your meals and stock your pantry. All you have left to do now is wait for the delivery day!
Hungryroot's vegan options
Hungryroot is not an entirely plant-based service – a vegan diet is one of the many dietary needs they cater to. So, we didn't get our hopes up and weren't really hoping to see a wide variety of plant-based options. Boy, were we wrong. 
Most meal kit subscriptions offer a rotating menu – meaning that available options change regularly, usually weekly. Services like that tend to have around 10 options to choose from at any time. And Hungryroot constantly adds new recipes for us, too. However, they also keep all their previous meals available. The amount of vegan meals offered is overwhelming. 
Now, you might be wondering what kind of meals to expect from Hungryroot. There are 14 different categories you can look through. Those are the following:
mains + sides
grain bowls 
pasta
tacos
stir-fries
salads 
wraps 
sandwiches 
burgers 
bakes 
flatbreads 
soups + stews
roast & ready 
and veggie bowls 
The meals are simple and require minimal prep work – you might have to slice up some onions or tofu nuggets, but that's about it. Most dishes are made from 3-5 high-quality and nutritious ingredients and are ready within 15 minutes. The dishes taste good. But after a while, you might notice they are a bit repetitive.
Vegan groceries to your door
While Hungryroot offers us meal kits with recipes to follow, they are still predominantly a grocery delivery service. With their weekly deliveries, there is no longer a need for time-consuming trips to a grocery store.
Just like with their meal kits, you can use the filters to only see vegan-friendly options when searching through groceries. This makes your online grocery shopping incredibly convenient as you won't have to read through the labels and ingredient lists before adding stuff to your weekly order. Whether you need to restock your pantry and fridge with fresh produce, snacks, sweets, drinks, or bread – Hungryroot has you covered. They also carry a wide range of plant-based alternatives to otherwise animal-based products!
Some of our most exciting finds were Violife's vegan cheddar slices, Minor Figures' oat milk chai latte beverage, Beyond Meat products, and Just Egg plant-based liquid eggs. 
Our favorites from Hungryroot
After trying out Hungryroot services for a few weeks, we have gotten our hands on quite a few meals. To experience some variety, we have tried to pick out our meals from different categories – including bowls, soups, wraps, and stir-fries, to name a few. While the dishes were nothing too exciting, they were still tasty! Here are our favorites that left an impression on us.
Tofu + Rainbow Veggie Split Pea Dal – We love Indian cuisine, so we had to try this dal. It ended up being one of our favorite dishes. The split peas are perfectly creamy, and we left the tofu nuggets on the heat for a minute longer than advised to get them crispy. A delicious and filling meal.
Cozy Chickpea Curry Bowl – Do you love everything to do with chickpeas and enjoy a good curry? Yeah, same. This is such a simple comfort food, yet very filling and nutritious. However, this dish does take longer to make than most others that Hungryroot offers. If you have a spare 30 minutes, go for it!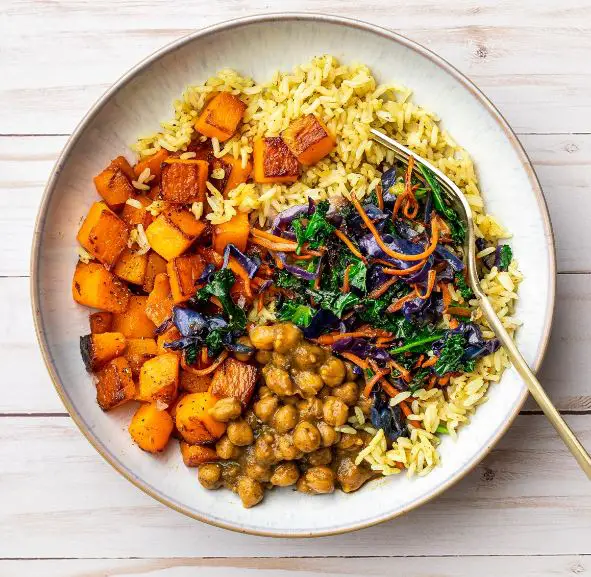 Beyond Delish Meatball + Baby Broccoli Flatbread – We never thought that meatballs and broccoli would be such a good combo, but it is! Let's be frank, everything made with Beyond Meat is delicious. 
Thai Green Curry Veggie Delight Noodles – This light stir-fry is a neat choice for a quick lunch. Or even dinner if you're not that hungry. If you love mushrooms, try it out! The portabella really brought it all together.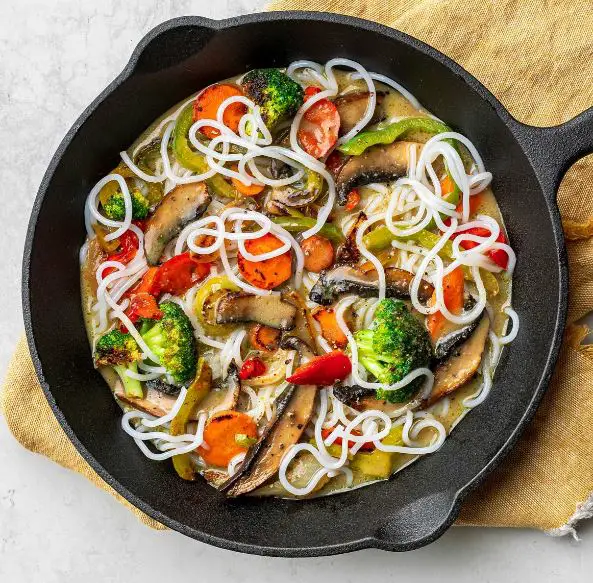 Vegan Chorizo + Pepper Pasta – Who doesn't love a good pasta? We tried out a few by Hungryroot, but this one stood out. 
The costs
Let's be honest, money is one of the main factors that affect our decisions as customers. Want to give Hungryroot a try? Unless you're swimming in money, you might be wondering how much a weekly subscription would cost. It's hard to tell how much exactly a week would cost as there are many available meal plan sizes. Here are the plans and their prices to give you an idea of what budget you need.
2-serving plan, 3-4 recipes – 10.89$ per serving, weekly subscription of 65.34$-87.12$.
2-serving plan, 5 recipes – 10.39$ per serving, weekly subscription of 103.9$.
2-serving plan, 6 recipes – 9.79$ per serving, weekly subscription of 117.48$.
2-serving plan, 7-8 recipes – 9.29$ per serving, weekly subscription of 130.06$-148.64$.
4-serving plan, 2 recipes – 9.79$ per serving, weekly subscription of 78.32$.
4-serving plan, 3-4 recipes – 9.29$ per serving, weekly subscription of 111.48$-148.64$.
Those prices are simply for the lunch and dinner meals. If you add any extras, such as breakfasts, sweets, or snacks to your order or restock some of your groceries, be prepared to pay more.
As long as your weekly order is more than 70$, you will not need to pay for shipping. A shipping fee of 6.99$ will be added to orders lower than that.
Want to skip a week or two or cancel your subscription altogether? Do so before 7 pm ET Monday or Thursday before your next delivery day so you won't be charged.
Does Hungryroot deliver to me?
Living in Alaska or Hawaii is tough. Well, at least when it comes to having your meal kits and groceries delivered to your doorstep. Like Purple Carrot and Green Chef, Hungryroot sends its meal boxes almost everywhere in the United States. With two exceptions – Alaska and Hawaii.
However, if you live anywhere in the contiguous States, Hungryroot more than likely has you covered. You can always shoot them a message through their live chat feature in case you want to check if they deliver to your zip code. Their customer service is exceptional!
Pros & Cons
Hungryroot is not just a meal kit delivery service as such. It is a grocery service focusing on delivering all our weekly groceries to us. So, we can't really compare it to services such as Green Chef or Sun Basket. 
We have listed the features that we appreciated about Hungryroot here.
A lot of vegan recipes and grocery products.
Quick meals that are ready within 10-15 minutes.
Healthy and mindfully sourced ingredients.
Nearly everything is pre-prepped for you.
Convenient and incredibly time-saving.
Free shipping on orders over 70$.
However, Hungryroot might not be for everyone, depending on what you are personally looking for. We noticed some things you might not like about the grocery delivery service.
Dishes are rather basic.
Ingredients and meals are a bit repetitive.
A lot of packaging, including plastic.
Hungryroot – is it worth it?
Grocery shopping is one of those regular tasks that come with adult life, and it is not everyone's favorite errand to run, to say the least. This is where a personalized grocery service such as Hungryroot comes in handy. The prices are higher than it would be to do your own grocery shopping (well, duh) but still quite affordable.
Similarly, Hungryroot is worth a shot if you're someone with a busy schedule and struggle to find time for cooking. While most meal kit delivery services require half an hour of your time, Hungryroot's recipes are shockingly fast to make and save so much time. 
Or are you considering signing up for a meal kit subscription to get more creative with your diet and try new, diverse, exotic dishes? You might want to skip Hungryroot in that case. The meals by this grocery/meal kit service are good but quite simple – and dare I say boring. But hey, there are so many meal delivery services on the market – sometimes you have to try out several options to find the one perfect for you!
Frequently Asked Questions
Hungryroot isn't entirely focused on catering to vegans. They offer meals and recipes for many different diets and lifestyles – veganism is one of them. And the number of vegan options is shockingly huge.
Hungryroot is a brilliant service for convenient, easy, fast grocery shopping and meal planning. The recipes offered by Hungryroot are simple and tasty. However, they can get a bit repetitive and are not too exciting.
What is Hungryroot all about?
Hungryroot brings together meal kits and grocery delivery services. It provides you with simple recipes, everything necessary to follow those recipes, plus many extras such as snacks and pantry items.
How much does Hungryroot cost per week or per month?
Your subscription cost depends on your plan size and can vary a lot. For example, a 2-serving plan with 2 lunches and 3 dinners would cost you 103.9$ per week. There is no highest subscription cost as Hungryroot offers an infinite amount of extras that you can choose to add to your order. 
There is only one way to see whether a Hungryroot subscription works for you – give it a try! It is brilliant for busy people looking for convenient yet healthy eating. However, if you like to get creative in the kitchen, Hungryroot services might not be for you.
Where does Hungryroot food come from?
Every product offered by Hungryroot has been picked out by their sourcing team. And everything is free from partially hydrogenated oils, artificial sweeteners, high-fructose corn syrup, artificial colors, and artificial preservatives! A lot of the foods have been sourced organically and are non-GMO.
Not all Hungryroot's foods are organic. However, the grocery service offers as many organically sourced components as possible.
Where does Hungryroot deliver?
Hungryroot delivers pretty much everywhere in the contiguous States, with the exceptions of Alaska and Hawaii. They do hope to expand their services all across America in the future.