Veganism is not just limited to diet – choosing cruelty-free is another essential part of the lifestyle. But how to tell whether a beauty brand is cruelty-free or not?
Let's talk about Cerave, a globally beloved and affordable skincare brand. The brand has stated they don't test on animals. So, is Cerave cruelty-free? Read on – we are here to clear things up!
What does "Cruelty-Free" mean?
In beauty products, cruelty-free refers to products produced without subjecting animals to experiments at any stage of development. That means that neither the end products nor the ingredients used in said products are tested on animals.
Animal testing has been around for centuries. The practice gained popularity in the mid-20th century when the beauty industry expanded. Safety assessments for cosmetics became required at that time.
The cruel practice is unjust to animals as the animals are subjected to harmful and painful experiments that often lead to death. But that is not the only ethical concern. The reliability of those tests can also be questionable.
US regulations
Sadly there are no legal regulations to the term ¨cruelty-free¨ in the USA. That means any brand could claim to be cruelty-free as long as they don't test their end products on animals – however, most testing happens at the ingredient level.
So, how do you know whether a brand is cruelty-free or not? Organizations such as PETA and Leaping Bunny offer cruelty-free certifications you can trust. To get those certifications, a brand has to adhere to the following strict rules.
No animal testing. The company can't test its products on animals directly or through third parties.
None of the ingredients used in the products can be tested on animals. The company has to ensure that the manufacturers or suppliers have not commissioned, conducted, or been part of animal testing.
A supplier monitoring system has to be in place.
The company can't allow animal testing to be performed in foreign markets where animal testing is mandatory.
Is CeraVe cruelty-free?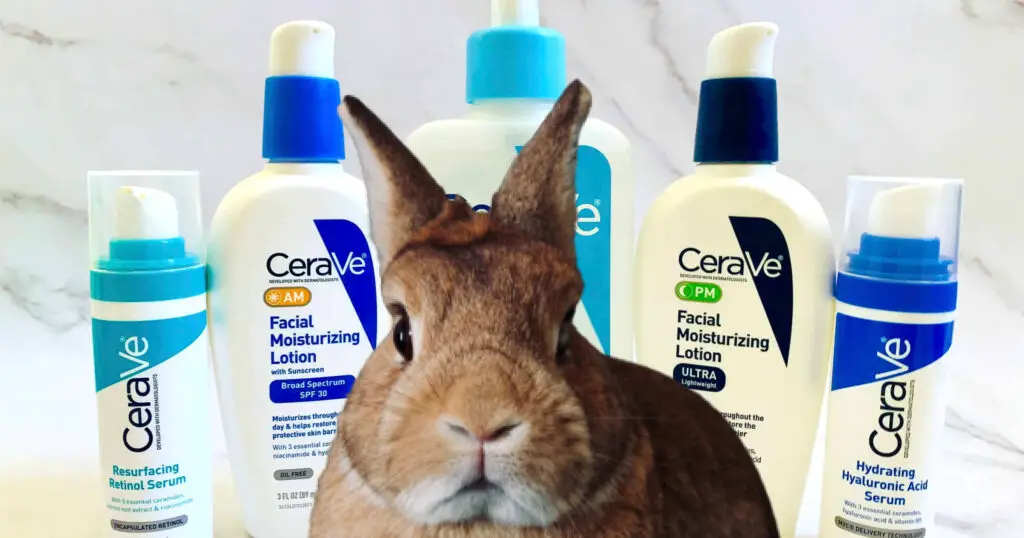 Cerave is not certified as cruelty-free by any major organization such as PETA or Leaping Bunny. The company does state on its faqs page that its products are not tested on animals.
However, it turns out it is not as simple as that. Cerave is owned by L'oreal, a large cosmetic company that can't be considered cruelty-free due to involvement in animal testing in certain markets. L'oreal has stated the following.
"Certain health authorities may nevertheless decide to conduct animal tests themselves for certain cosmetic products, as is still the case in China."

That means that while the company does not test the end products on animals, they allow animal testing when required by law. Cerave sells its products in mainland China where animal testing is required.
Lack of Transparency
Transparency plays a crucial role in determining whether a brand is cruelty-free. Cruelty-free doesn't just mean that the finished products aren't tested on animals. For a brand to be cruelty-free, it needs to ensure that the manufacturers and third parties don't test on animals during any part of the process. Cerave doesn't shine with its transparency in its sourcing and producing process.
Social proof
Social media significantly shapes consumer perception and impacts brand reputation in this day and age. Discussions and debates over Cerave's cruelty-free claims and involvement with L'oreal have sparked on social media platforms such as Instagram, Reddit, and Twitter. The public stance on the skincare brand remains varied. Some people stay hopeful for potential progress, while others remain skeptical. Many avid animal lovers have boycotted the brand altogether.
Skincare brands that are actually Cruelty-Free

Cerave is not considered cruelty free due to its involvement in animal testing and lack of transparency. However, there are plenty of other skincare brands recognized for their ethics and animal-friendly practices.
The Ordinary is a globally known cruelty-free brand appreciated for its transparency and affordable prices.
Fenty Skin is a skincare line by Fenty Beauty. The brand does not only empathize cruelty-free practices but also inclusivity.
Drunk Elephant is another brand beloved by vegans, as the company has a strong cruelty-free stance.
Recent updates
Other than claiming to not test its products on animals, Cerave has not made any other cruelty-free statements. Nor has the company shown any efforts to move towards more ethical testing practices. Cerave is currently owned by a non-cruelty-free parent company and is available in mainland China where mandatory animal testing laws are in place.
The importance of choosing Cruelty-free products
Opting for cruelty-free brands is a powerful way to give your part to animal welfare. Boycotting companies that support animal testing shows demand for ethical and animal-friendly practices in the beauty industry. Research companies, support certified cruelty-free brands, and read labels to make informed decisions and contribute to a positive change.
To sum it up
So, is Cerave cruelty-free? Unfortunately, no – the company supports animal testing when it's required and sells its products in China. With the demand for cruelty-free beauty products and consumers' awareness growing, more and more brands are finding ethical alternatives to animal testing and boycotting the cruel practice. Hopefully, Cerave will join the greener side at some point.
Frequently Asked Questions
No, Cerave is not cruelty-free. It tests on animals when required by law and is involved with a non-cruelty-free parent company.
Does cerave test on animals?
Yes, they test on animals when required by law. For example, that's the case for selling in China.
Is cerave bad for the environment?
Cerave is not as environmentally friendly as it could be. For example, most of their packaging is not recyclable, and the products contain non-sustainable ingredients.
Where is Cerave manufactured?
Cerave products are mainly manufactured in the USA and France. Their parent company L'oreal has more than 40 manufacturing plants globally.
Cerave has some products that don't contain any animal-derived ingredients. However, the brand isn't cruelty-free – therefore, it can't be considered fully vegan.