Mostly known for their chicken tenders and their house sauce, Raising Cane's is a fast-food restaurant chain with hundreds of locations all over America. Their menu is rather limited, featuring 4 total items. But what about Raising Cane's vegan options?
The 4 basic items on their menu are french fries, coleslaw salad, Texas toast, and chicken fingers. Can we be surprised with the lack of vegan options at Raising Cane's when even non-vegans don't have much to choose from? Vegans can dip their fries into ketchup and that's about it, suppose that's better than nothing? It isn't that shocking considering that ¨chicken¨ restaurants don't usually shine with their plant-based dishes. But still, they could at least add a couple more side options to their menu.
Are Raising Cane's fries vegan?
Yes, this is the only vegan food option at Raising Cane's. Extra-long crinkle-cut fries from grade A potatoes. Cooked until they're golden-brown and crispy on the outside, yet perfectly soft on the inside. Raising Cane's pays attention to quality and every batch is cooked to order to ensure every customer gets them fresh. And the french fries are tasty, we have to give them that.
The fries are cooked in vegetable oil – trans fat free blend of soybean and canola oil to be specific. It is common knowledge that many fast-food restaurants cook everything in the same oil. But good news for us vegans, Raising Cane's has stated that they have separate fryers for their fries and chicken fingers. You can see eggs and dairy in the allergens list but that's simply because of possible cross-contamination.
Raising Cane's fries are usually enjoyed with their famous Cane's sauce. However, that sauce contains eggs and fish. But hey, you can ask for a package of ketchup if you don't want plain fries.
Is Raising Cane's sauce vegan?
Something that the fast-food restaurant is proud of is this tangy sauce with a little bit of spice and a lot of flavors. A new batch is made every day so the sauce is always fresh. Unfortunately for us vegans, Cane's sauce isn't something that we can enjoy.
The restaurant chain has said the exact recipe is their top-secret that only their general managers know. However, it's known that the main ingredients are mayonnaise, Worcestershire sauce, ketchup, garlic powder, and black pepper. I'm sure you are aware that both mayonnaise and Worcestershire sauce can be made vegan but they usually aren't unless stated so. The first contains eggs and the last small forage fish called Anchovies.
Loved this sauce before you went vegan and still miss it sometimes? It's pretty easy to make your own plant-based version of it! Instead of regular mayonnaise and Worcestershire sauce, use vegan versions. Here is a simple recipe that you can try.
Is Raising Cane's coleslaw vegan?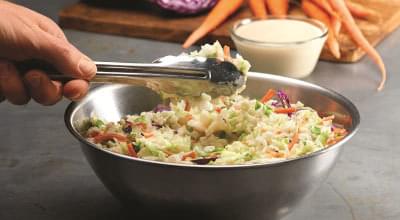 Raising Cane's coleslaw is a simple blend of red and green cabbage, shredded carrots, and creamy dressing. Just like their sauce, the coleslaw is made daily to keep it fresh and avoid sogginess. And like most of their menu, this option isn't suitable for vegans. The coleslaw has eggs in it, I'm guessing they use them in the dressing.
Is Raising Cane's Texas toast vegan?
Their Texas toast contains dairy, so no, this is not vegan either. Although, apparently some locations can accommodate us and offer a dairy-free version of it? I haven't tried ordering it myself but might be worth asking next time you find yourself at Raising Cane's and want something other than fries.
Raising Cane's vegan drinks
This is the only part of their menu where we actually have options to choose from. You don't usually have to worry about whether drinks are vegan or not. So it is no surprise that Raising Cane's has some vegan-friendly beverages.
Sweet Tea – Their sweet tea is freshly brewed several times during the day from filtered water. Seeing sugar listed as an ingredient can be frustrating for vegans. Raising Cane's has stated that they brew their sweet tea using 100% pure cane sugar, therefore it's completely vegan-friendly.
Unsweetened Tea – Like the sweet tea, their unsweetened tea is brewed from filtered water several times a day and is always fresh.
Lemonade – Made from real lemons that they cut and squeeze themself. The lemon juice is then mixed with filtered water and pure cane sugar and finally garnished with a fresh lemon wedge. This lemonade is delicious and very refreshing.
Apple Juice Drink Ponch – 100% pure apple juice with no added sugar is another healthy beverage that Raising Cane's offers.
I absolutely love Raising Cane's lemonade and their teas are quite famous, rightfully so. But let's be frank, how often do you go out just to grab a glass of lemonade?
Raising Cane's isn't the best place for vegans
I reckon it's safe to assume that Raising Cane's doesn't see vegans as a customer base to prioritize. We can't criticize them too much, taking into account that fast-food chains like these have never been known as vegan heavens. Nevertheless, I think we have the right to feel a small bang of disappointment. There are similar fast-food restaurants with slightly more to offer than just fries. 
For example, KFC has several sides to put a decent meal together, they even had Beyond fried chicken available during Veguanary 2022. Even Golden Chick has enough vegan sides to fill you up. Unless you're absolutely starving and Raising Cane's is the closest restaurant to you, you can go pretty much anywhere else and find better options.
Frequently Asked Questions
Is there anything vegan at Raising Cane's?
They currently have one vegan food option, that being crinkle-cut fries that you can eat with ketchup. Most of their beverages are vegan too.
Are Raising Cane's fries vegan?
Yes, the fries served at Raising Cane's are suitable for vegans as long as possible cross-contamination isn't an issue for you.