It isn't uncommon to find vegan-friendly loaves of bread at bakeries, since bread is basically vegan. However, not every bakery-cafe style of place has more than that to offer vegans.
Luckily for us vegans, Panera Bread has thought of people on a plant-based diet. The bakery-cafe has some 100% vegan menu items and even more vegetarian ones that can be made vegan with some modifications.
Let's see what's vegan at Panera!
Can you eat vegan at Panera?
The short answer to this – yes, absolutely! Panera isn't just a bakery – it also offers us the opportunity to sit down and enjoy a good meal. And they haven't forgotten about vegans. They offer several plant-based dishes, from breakfast oatmeal to tasty grain bowls.
You can easily find the ingredients, allergens, and even nutrition information of their meals. They even have a guide on their website on how to order vegan!
Panera vegan options – bakery
A cup of coffee and a freshly baked bagel is always a good breakfast combo, and Panera lets you enjoy just that. Four of their bagels are 100% vegan. The bakery-cafe does not currently offer any plant-based spreads, which is a shame – but hey, the bagels are good enough on their own!
It has become a tradition for me to pop by Panera a few blocks from my home twice a week. There is nothing better in this world than freshly baked bread, and you cannot argue with that. 
Finding vegan-friendly wheat bread is not difficult as many different bread types are traditionally free from animal-based ingredients. Bakeries such as Au Bon Pain and Atlanta Bread have plenty of vegan-friendly wheat bread options, and Panera is no different.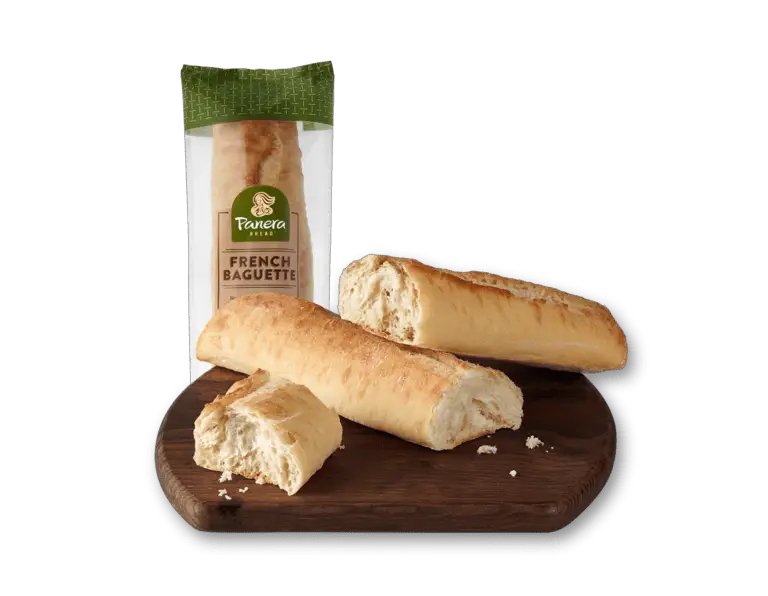 French Baguette Loaf
Classic Sourdough Loaf
Country Rustic Sourdough 
Sourdough Bread Bowl
Black Pepper Focaccia
Artisan Ciabatta Loaf
Panera vegan breakfast options
Panera has many breakfast options that they serve until 10.30AM every day. As a vegan, you won't be able to have any of the breakfast sandwiches or wraps. While the plant-based breakfast options are limited, there are a couple of menu items that you can order next to your morning cup of coffee. 
Panera vegan salads
You will be happy to know that Panera's vegan-friendly options are not limited to bread and breakfast. None of their salads is 100% plant-based, but no need to feel bummed out. Several of their salads can be easily made vegan with some tiny modifications – leave out the meat and cheese, add some creamy hummus and more fresh veggies. You know the drill. So, what are our options here?
Strawberry Poppyseed Salad with Chicken – As you can probably guess, ask the staff to leave out the chicken. You'll get a mix of romaine lettuce, pineapples, strawberries, blueberries, and mandarin oranges tossed in poppyseed dressing and topped with toasted pecans.
Citrus Asian Crunch Salad with Chicken – Request the salad without chicken. Romaine lettuce and a blend of chopped broccoli, green cabbage, carrots, and kale tossed with edamame, pickled red onions, and fresh cilantro. Mixed with tangerine soy ginger dressing and topped with crispy carrots and a drizzle of teriyaki sauce.
Greek Salad – As with any greek salad, it contains feta cheese, so order it without. Romaine lettuce, grape tomatoes, red onions, kalamata olives, salt, and pepper are mixed together with Greek dressing and topped with pepperoncini.
Fuji Apple Salad with Chicken – Skip the chicken and gorgonzola. Salad base made from romaine lettuce, arugula, kale, and red leaf blend, mixed with apple chips, red grape tomatoes, red onions, and pecans. All tossed in white balsamic apple vinaigrette.
Asian Sesame Salad with chicken – Ask for no chicken. Romaine lettuce, fresh cilantro, toasted almonds, sesame seeds, and wonton strips tossed in Asian sesame vinaigrette. Please note that the wonton chips have a warning that they may contain eggs.
All the salads come with a free side. You can choose between a french baguette, chips, and an apple – all of them are vegan!
Panera vegan options – warm bowls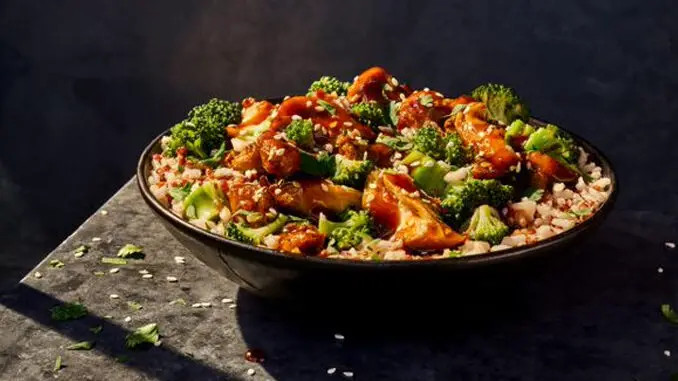 Teriyaki Chicken and Broccoli Bowl – Make sure to leave out the chicken. Cilantro lime brown rice and quinoa, broccoli, soy sauce-based teriyaki glaze, sesame seeds, and fresh cilantro.
Baja Bowl – Request no cheese and greek yogurt. Mexican-inspired bowl of cilantro lime brown rice, quinoa, black bean and corn salsa, salsa verde, grape tomatoes, and fresh avocado.
Mediterranean Bowl – As with the Baja bowl, ask for no feta and no greek yogurt to make it fit a vegan diet. The salad consists of cilantro lime brown rice and quinoa, arugula, grape tomatoes, Kalamata olives, cucumbers, hummus, and lemon tahini dressing.
Like the salads at Panera, all the bowls are accompanied by a side – french baguette, chips, and an apple are your options here.
Panera vegan soups and bread bowls
Panera has a wide variety of soups and bread bowls on their menu – they even have their own category. Although, I'm sad to say that none of them are suitable for people on a vegan diet. 
Not long ago, Panera did have one vegan-friendly soup on their menu called Panera 10 Vegetable Soup. Seems like it has been discontinued as I can no longer see it on their menu. However, it might be worth asking the staff at your local Panera if they happen to still serve it.
Panera vegan sandwiches
There seems to be no end to Panera's menu – the bakery-cafe also offers many sandwich options with fresh veggies. However, the choices for vegans are lacking. There is one sandwich that we can veganize.
Panera Mediterranean Veggie Sandwich – Ask to swap the non-vegan tomato basil bread with one of the vegan-friendly bread options. Request no feta cheese. The sandwich is topped with creamy hummus, fresh veggies like peppadew peppers, red onions, tomato slices, emerald greens, cucumber, salt, and pepper.
Panera vegan beverages
Finding a vegan-friendly drink while eating out is pretty easy, no matter where you are. Panera is no different. The establishment offers many coffee drinks as appropriate for any cafe. Or you can refresh yourself with an iced tea or lemonade. Now, this is where it gets more exciting – Panera also has many different smoothies. Two of them are vegan – those are their Green Passion Smoothie and Peach and Blueberry Smoothie with almond milk.
Unfortunately, Panera vegan desserts are something that does not exist. They don't even have a single accidently vegan pie.
Frequently Asked Questions
Does Panera have vegan options?
Panera has several vegan-friendly options and plenty of easily veganizable menu items. The bakery cafe has made it very easy and convenient to eat plant-based at their establishment.
Are Panera bread bowls vegan?
Unfortunately, none of the bread bowls are vegan. But Panera has many other plant-based options!
You can definitely buy bagels from Panera as a vegan! Not every bagel is vegan-friendly, but there are four plant-based ones. Those are plain, everything, blueberry, and sesame bagels.
Does Panera have vegan cream cheese?
Panera does not currently offer any plant-based cream cheese options. Or any other spread, for that matter.
Is Panera Greek dressing vegan?
Yes! Panera's Greek dressing is suitable for vegans as it is free from any ingredients derived from animals.
Is the tomato basil bread at Panera vegan?
No, it isn't. There are plenty of bread options suitable for vegans at Panera. However, the tomato basil one contains honey, making it non-vegan.
Is Panera 10 Vegetables soup Vegan?
Yes, It is certantaly vegan. However, It is not available all the time.