Italians are known for their historic cities, marvelous crystal-blue sea, and delicious cuisine. Dishes such as pizza, pasta, and risotto are now known all over the world and are extremely popular among vegans. And what about Gnocchi? Is Gnocchi vegan? Let's find out!
What is gnocchi?
Gnocchi is a type of dumpling made with wheat flour, eggs, potatoes, and salt. They tend to be the size of half a wine cork and are often eaten as a main dish. 
Is gnocchi vegan?
As you can easily see from the ingredients mentioned above, traditional gnocchi contains eggs, meaning that this is not a dish suitable for vegans. However, eggs are not a necessary ingredient and can be avoided. 
Gnocchi found at the supermarket often does not contain eggs. Despite this, always make sure to carefully read the label of your chosen gnocchi brand and see whether it is cruelty-free or not. To simplify your life, we created a list of our favorite vegan gnocchi brands.
Top Vegan Gnocchi brands
De Cecco Gnocchi are probably the best option for vegans. This famous brand is widely spread in Italy and mainly sells pasta, however, their gnocchi is also worth trying! 
La Gnoccheria is another great brand for vegan gnocchi. Even though this brand is not as famous as De Cecco, the product is still delicious and completely vegan-friendly. 
The Gia Russa Potato Gnocchi is a gorgeous option for vegans. This brand contains the vegan label on its package, meaning that they are fully suitable for our type of diet.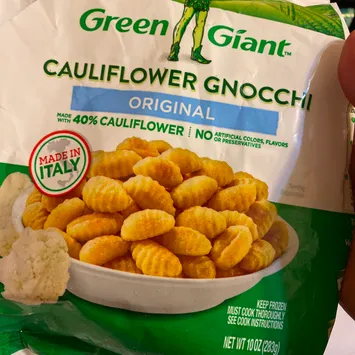 Last on our list is the Green Giant Frozen Gnocchi. The main ingredient of this product is not potatoes but cauliflower and, even though this type of gnocchi cannot be considered traditional, it is still worth trying! 
How to make home-made vegan gnocchi
If you have some extra time and would like to spend it in the kitchen learning a new delicious recipe, then you can make your gnocchi at home! This homemade gnocchi recipe is easy to follow but can be quite time-consuming. For this reason, making gnocchi is often considered a weekend activity to do with friends or relatives to spend quality time together. So, let's see how to prepare this amazing dish! 
First and foremost, we need to find the right potatoes. Ideally, you want to choose slightly old ones that have lost most of their water. This will help make the dough more firm. The best potato quality for gnocchi is russet potatoes, which have brown skin, and Yukon gold potatoes. Buy about a kilogram of and wash your potatoes carefully before adding them to a pot of boiled water until they are well cooked. Once you can easily stick a fork inside each of them, take your potatoes out of the water, peel them and smash them. 
It's now time to add the flour. In a bowl, mix about 300 gr of 00 flour, a fine white flour popular in Italy, with a teaspoon of salt and then slowly add the mix to your mashed potatoes. Once everything is combined, create a flat surface with your gnocchi dough of about two-three centimeters in height. 
You can now make stripes of about one centimeter in width and roll them on your table to form long cylinders of two centimeters in thickness. For every cylinder, you can form several gnocchi of roughly two centimeters in length. Once they are ready, you can also add the typical stripes using a fork, but this passage is unnecessary. If you don't want to cook your gnocchi right away, or if you've done too many and would like to keep some of them for later, you can store them in the freezer. 
Otherwise, bring to boil some salty water and throw your gnocchi in. No need to set a timer, you will know that they are ready once they come to the surface. This will take only a few minutes, so keep an eye on them! 
How to serve your gnocchi: vegan gnocchi soup and other serving options
Gnocchi is often served as the main dish either in a soup or with a sauce. Below you will find two of our favorite recipes. 
Mushroom Gnocchi Soup
This soup is delicious and is perfect for a cozy evening in the fall. Start by adding two liters of water to a handful of dried porcini mushrooms. Once they are soft, boil the water for about 30 minutes. It's now time to add a kg of your favorite mushrooms to the pot. Here, you can get creative and choose different varieties ranging from champignon to Cremini and portobello. If you want, you can also throw a carrot and an onion in the pot to the soup, just to add a bit of vegetable flavor. 
Once the right amount of water is left in the pot, you can add your gnocchi and wait a few minutes for them to come to the surface. Serve your soup with parsley and salt and pepper as garnish.
Gnocchi sauce
You can serve your gnocchi in all types of different pasta dressings, from the typical tomato salsa to pesto. But today we would like to give you a more unusual option. We will create a vegan pepper and ricotta cream perfect to accompany your gnocchi. Start by cooking three red peppers in the oven for 45 minutes at 220 ℃. In the meanwhile, you can prepare your vegan ricotta. 
Soak about 120 gr of cashews in boiling water for ten minutes and then add them to a mixer with four spoons of water, a spoon of lime, a spoon of nutritional yeast, and a sprinkle of salt. 
Once the peppers are ready, peel them and get rid of the seeds. You can then cut them into small pieces and add them to a pot with oil and half an onion. Let them cook for five minutes and also add a glass of tomato sauce. Cover with a lid and let it cook for an extra ten minutes. You can now combine the vegan ricotta with your salsa. Once your gnocchi are ready, serve with your salsa and a couple of basil leaves for garnish.
Frequently Asked Questions
Is de cecco gnocchi vegan?
Yes, De Cecco Gnocchi is fully vegan as the ingredients in this product are mashed potatoes, potato starch, wheat flour, rice flour, spices, salt, lactic acid, and potassium sorbate.
Where to buy vegan gnocchi?
You can easily find vegan gnocchi brands in your local supermarket. However, if you live in a small city and don't have access to it, you can also order them online from the brand's official website. 
Mochi gnocchi is often vegan; however, this is never a certainty. For this reason, make sure to always double-check the label before trying it out! 
Are Trader Joe's Cauliflower Gnocchi vegan?
Aldi sells a variety of gnocchi, most of which are vegans (like the Cucina Gnocchi). However, some of them aren't, so make sure to always read the label.