Vegan or not, we all love some good junk food now and then. With veganism rising, many fast-food places have started offering plant-based options. But those options are usually limited to rather mediocre salads and fries – maybe one veggie burger if we are lucky.
Well, that is certainly not the case at Slutty Vegan! The name of the fast-food restaurant might be what catches your attention at first, but the food is what will keep you going back. If you didn't guess from the name, everything at Slutty Vegan is 100% vegan. Instead of having one burger option that you have to request with no cheese, you can choose from more than 10 different burgers. And deciding what to order will be hard – everything is delicious!
The main attractions: Burgers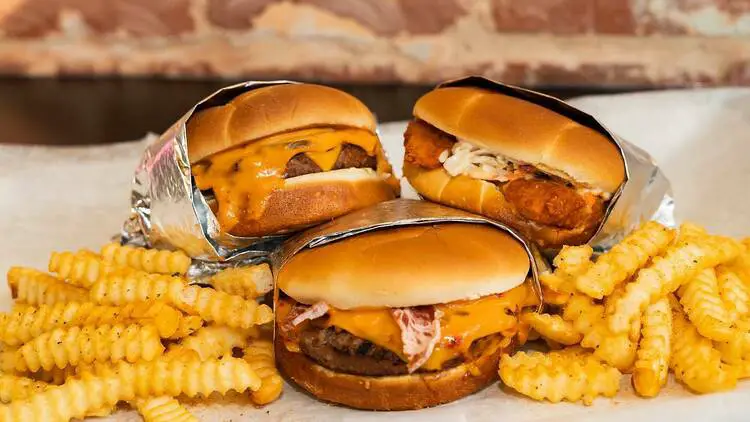 Based in Atlanta, the American restaurant chain currently has six  locations. Slutty vegan also has a food truck that is frequently touring around, and is available for bookings as well! Whether you decide to hit up one of their restaurants or see the food truck somewhere – be ready to wait for your food as the lines are always long. However, the wait will be worth every second of it. Now, the question is – what burger to go for?
Fussy Hussy
Plant-based patty loaded with pickles, caramelized onions, lettuce, tomato, vegan cheese, and the house Slut Sauce – all on a Hawaiian bun. Some folks love pickles more than an average human does – this burger is meant for them!
Sloppy Toppy
This burger features a vegan patty, caramelized onions, lettuce, tomato slices, plant-based cheese, and jalapenos. Designed to give you that slight kick of spice and make every spice lover's mouth water. The Slut Sauce and Hawaiian bun bring it all together.
One Night Stand
You'll find a plant-based patty, caramelized onions, vegan cheese, lettuce, tomato, a handful of vegan bacon, and their signature Slut Sauce between Hawaiian buns. This was the first Slutty Vegan burger I tried – safe to say I was blown away.
Super Slut
If you're anything like me and appreciate well-made guacamole – this will be your new favorite thing in the world. The burger is made with their Hawaiian bun and features jalapenos, a handful of lettuce, some tomato slices, caramelized onions, vegan cheese, a plant-based patty, Slut Sauce, and a generous amount of tasty guacamole. The jalapeno, onion, and guacamole combo is absolutely heavenly.
Heaux Boy
Now, this is a fascinating option. Instead of their vegan patty, it comes with a crispy vegan shrimp on a Hawaiian bun. The shrimp is tossed in a New Orlando style batter. Fresh lettuce, tomato, pickles, and the signature Slut Sauce compliment the shrimp.
Dancehall Queen
Slutty Vegan's classic Hawaiian bun comes with a vegan patty and is loaded with Slut Sauce, lettuce, tomato, cheese, caramelized onions, and sweet jerk plantains. The last ingredient is what makes it unique.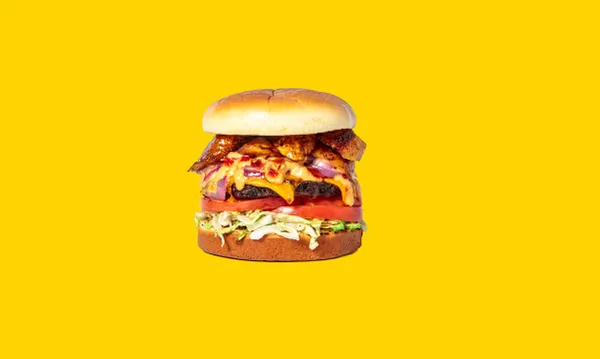 Chik'n Head
Another burger that is a bit different from the restaurant's classic burgers. You'll find a plant-based chicken that's covered with buffalo sauce, pickles, ranch, and coleslaw on a Hawaiian bun.
Menage A Trois
Plant-based patty loaded with vegan bacon, vegan shrimp, vegan cheese, caramelized onions, lettuce, tomato, and their Slut Sauce on a vegan Hawaiian bun. Want to try both the vegan patty and the vegan shrimp, but cannot make yourself eat two giant burgers? No worries, just get a Menage A Trois.
PLT
If you liked the Dancehall Queen, you might want to try this one out next time you are at Slutty Vegan. Another burger made with sweet jerk plantains. With the Hawaiian bun, their signature burger sauce, tomato, and lettuce, the burger will offer you a unique experience.
Big Dawg
As you can probably guess from the name, it's a hot dog. On a pretzel bun, you will find a plant-based bratwurst sausage, sauerkraut, and their Slut Sauce.
Hollywood Hooker
In short, this is a vegan version of a classical Philly-style burger. Vegan chopped Philly with jalapenos, bell peppers, and caramelized onions. Topped with vegan provolone, lettuce, tomato, ketchup, and vegan mayo – all served on a hoagie roll.
Side Heaux
And lastly, we have Slutty Vegan's New Orlando style crispy shrimps tossed in buffalo sauce. Comes with their tasty coleslaw, side of fries, and their house ranch. This obviously is not a burger, but I'll include it here as it will fill you up as their sandwiches do.
Don't go to Slutty Vegan on a full stomach – the burgers are big and come with a side serving of fries. Like Fatburger and Red Robin, Slutty Vegan uses Impossible patties.
Kids menu
Certainly, the burgers above could be too much for an adult, don't even mention a kid. So there is two options for children as well:
Eat Plants Kids™ Cheeseburger – Beyond Cheeseburger, with a side of fries or Fruit Cup, and an Apple Juice.
Eat Plants Kids™ Chik'N Tenders – 4 Beyond Chik'N Tenders, with a side of fries or Fruit Cup, and an Apple Juice.
A bejegyzés megtekintése az Instagramon

Slutty Vegan ATL (@sluttyveganatl) által megosztott bejegyzés
Besides the burgers
We don't have as many options here as we do with Slutty Vegan's burgers. However, the restaurant still has two sides on its menu, and both are equally tasty.
Skinny Dippers – NOLA-style fried pickles with blackberry mayo.
Slutty Fries – Classic french fries with the restaurant's signature slut dust seasoning mix.
Potat-Heaux Fries – Sweet potato fries with our signature slut dust with blackberry mayo sauce.

Everything else
The slutty vegan restaurant menu offers you the opportunity to double up on certain ingredients or add them to dishes that don't contain them.
Sneaky link™
Plant-based Dawg, slid into a warm pretzel bun, and covered with Hawt Toddy Chili.
Hawt Toddy™
Bangin' bowlful of hearty, vegan chili loaded with beans, peppers, and onions and deliciously seasoned with our signature spice blend.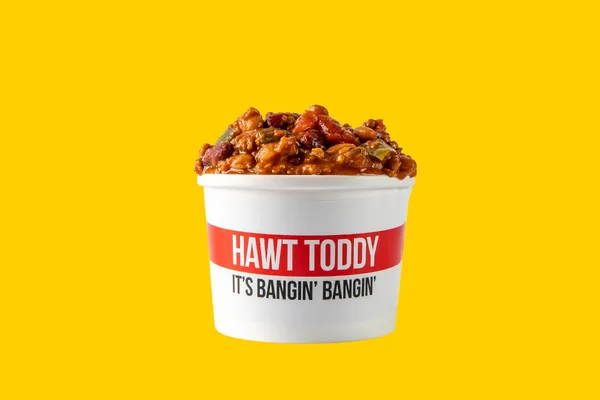 Extra toppings
The slutty vegan restaurant menu offers you the opportunity to double up on certain ingredients or add them to dishes that don't contain them. So, what are the additional toppings?
Guacamole
Jalapenos
Cheese
Caramelized onions
Sauces and dippings
Whether you ordered yourself a side of Slutty Fries or you're enjoying the free serving that comes with all of the burgers – you need a sauce to dip your fries into!
Slut Sauce
Ranch Dipping Sauce
Blackberry Mayo
Agave Mustard
BBQ sauce
All of the Desserts
It keeps getting better and better. Miraculously still have room in your stomach after finishing your burger and fries? You can let yourself enjoy a sweet treat.
Sweet Potato Pie
Seamoss Banana Pudding
King of Pops Popsicle
Slutty Slushies
This is technically a drink, but their Slutty Slushie is another thing sure to satisfy your sweet tooth.
In brief
It is hard to say anything since the restaurant chain's offer is overwhelming. There are so many burgers that differ not only in a few ingredients but are completely different. The burgers are huge and come with fries, so It is easy to fill any empty stomach there. The final score is ten out of ten. Here is the list of the best vegan fast-food options, where it is the first.
Okay-okay, maybe only 9, since it is only available at a few locations.
Where can I find the Slutty Vegan?
Finally, we arrived at one of the most important questions. Where can I find all of these vegan goodies? Momentarily you can visit one of the restaurants at the following six locations:
Furthermore, another two are coming soon to Harle (NY), and Columbus.
Last note: all of the restaurants are closed on Sunday and Monday and all of the Slutty Vegan follow the following opening hours:
Tue-Thu: 12PM-9PM
Fri-Sat: 12PM-10PM
A new slutty vegan location coming to Washington DC!
Who owns Slutty Vegan?
Let's see the brief history of the well-known plant-based fast-food restaurant. Aisha "Pinky" Cole – born in 1987 – founded Slutty Vegan in 2018. Cole first became a vegetarian in 2007, and after 7 years she abandoned every animal relative thing from his life. She graduated from Clark Atlanta University. First, she became an actress, and after that a TV show producer.
She opened her first restaurant called Pinky's Jamaican and American Restaurant (both of her parents are Jamaican) in Harlem. Unfortunately, she closed it in 2016 due to a grease fire. Then she moved to Atlanta where she first started working as a casting director, until 2018 when she opened the first Slutty Vegan in Atlanta.
It was the only one until 2018 May, when she founded her second fast-food restaurant. After that 6 additional restaurants opened in a short time, and another 10 will come by the end of 2023.
In 2022 of November, she published her first recipe book called: Eat Plants, B*tch: 91 Vegan Recipes That Will Blow Your Meat-Loving Mind.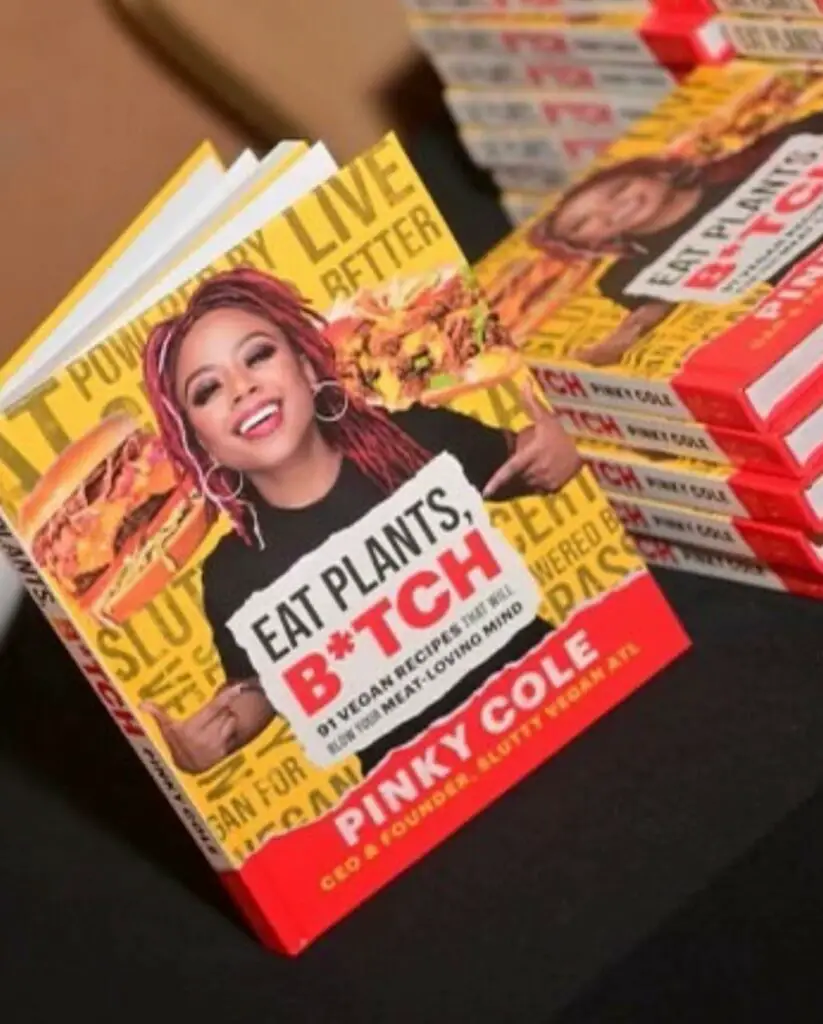 Good to know
Slutty vegan menu prices: 11$-18$ / burger. The cheapest one is PLT at 11$ and the most expensive is Ménage à Trois at 18$. The additional toppings and the sauces cost 0,75$. One portion of fries is 3$.
Slutty vegan food trucks: You can book a food truck for various events through slutty's site.